It's chilly outside and cloudy as it's about to pour rain today. I'm working on my second cup of coffee and it actually feels right to finally be writing this post about fall fashion! You can see part 1 of my Amazon fall transition for some more fall favorites. I actually think this post contains more of my favorite styles!
Amazon Fall Transition Part 2
This top comes in several fall colored plaids, but this cranberry is perfect! It is soft and because it's made with the tie front, it's far less material bunched up on your stomach.
This sweatshirt is super soft and flattering. It isn't crazy thick, but thick enough that it isn't see through at all. It comes in solids and patterns like leopard and dalmatian (it's so cute!).
This tank is super versatile and great for layering. It has a crisscross back and a bit of a sweater feeling, making it great for even wearing solo.
The reviews on this sweater are hysterical. People talk about how it's like a puzzle and they returned it because they couldn't figure out how to wear it. But, I love it! I put it out on the bed and set the straps how they are supposed to be, then put it on. Made it much easier! It is fitted, so I went with the size small and it fits great. As of the time of this post, it's also under $15!
Everyone needs some classic plaid flannel for fall! This one is long enough for me to wear with leggings, but is also a great accessory for tying around the waist (see below!). It comes in many prints, including a buffalo plaid.
If you're in need of something a bit dressier, this sweater is so classy! It would be great for the office, or with sweatpants for a Zoom call! Hehe. It comes in a couple other colors as well. It's different from a lot of things I have in my closet and I think it would be great layered over a plaid shirt, too.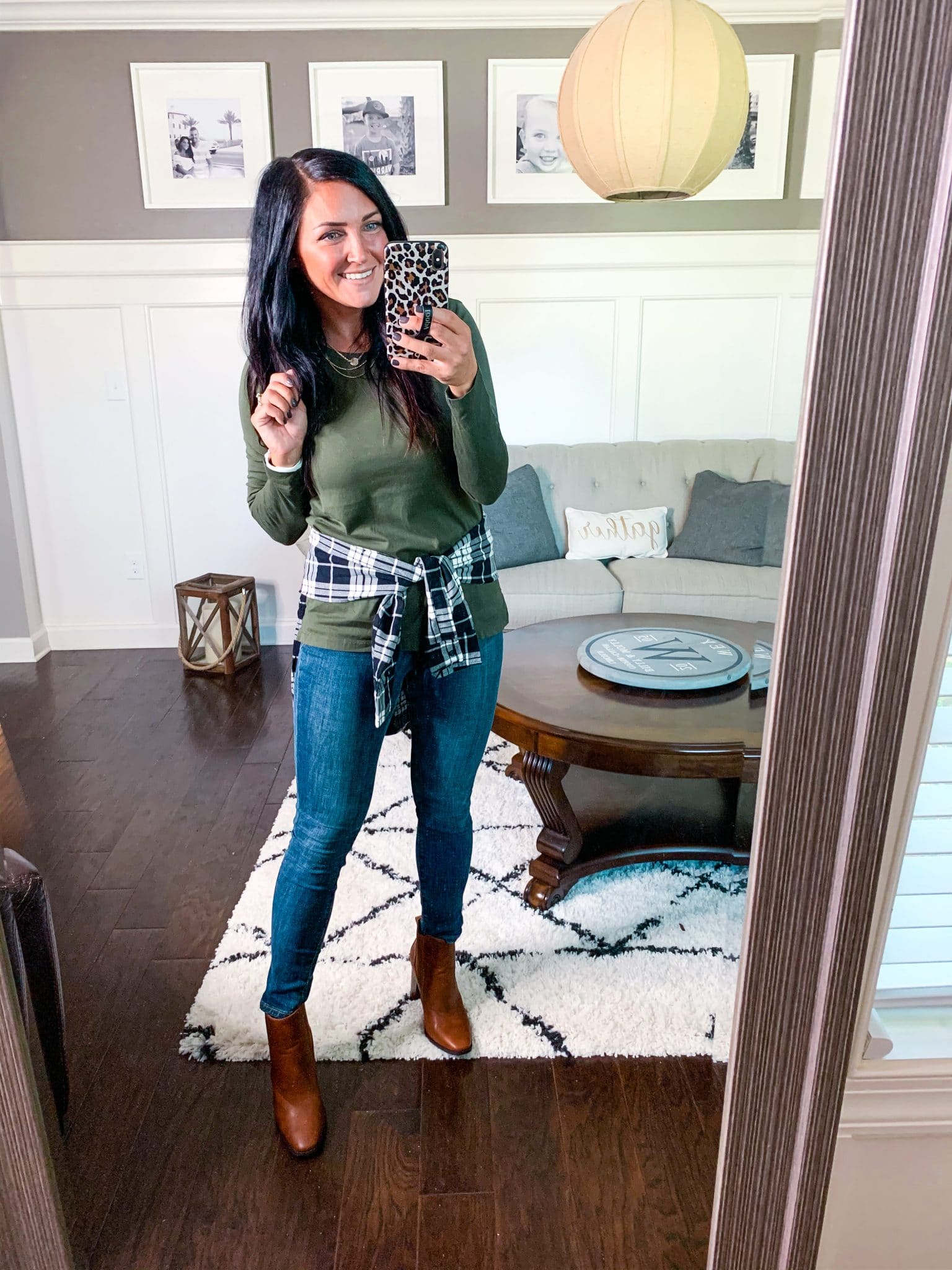 This crew neck t-shirt has side slits, giving it a bit more interested to wear solo. It's not quite long enough to wear with leggings, in my opinion, but great for layering or throwing on with a pair of jeans! Add some plaid and you have a perfectly casual fall look.
Denim Review
I got 3 different pairs of jeans this month because I wanted to try a variety of styles. These are all the same brand and size, but with different results! If you need some new denim for fall, I've been very happy with the quality of this brand and these pairs so far! They all come in more washes, so check
These are awesome to pair with booties because of the frayed bottom. They fit great, with a true mid rise and are comfortable. They have 1% elastane, so they have a bit of stretch for movement, without getting loose when you wear them. The color of these is resin dark fade.
These didn't come in a short length, but are cropped so they fit well. They have more elastane in them so the give a bit more and are slightly more roomier than the others – probably just because they aren't skinny jeans! I love them with booties, but think they would also look great with a dressier top and heels. The color of these is mid-blue.
If you like high waist jeans, these are great! These actually have the highest stretch of all of them, so they're very comfortable. They are classic skinny jeans, but the high waist gives them some interest. I like wearing high waist pants with a shirt tucked in to give the illusion of longer legs. The color of these is resin dark fade.
Hope you find some good stuff in this Amazon fall transition haul!