We are so thrilled/excited/insanely happy that we're going to be in our house for Christmas! Since we're not getting in until the 2oth, and our stuff isn't going to be delivered until the 23rd, we really weren't going to be able to celebrate the season for very long. We made the decision to get an artificial tree that we could easily transfer to the new house and some cheap Target ornaments to make this apartment all festive.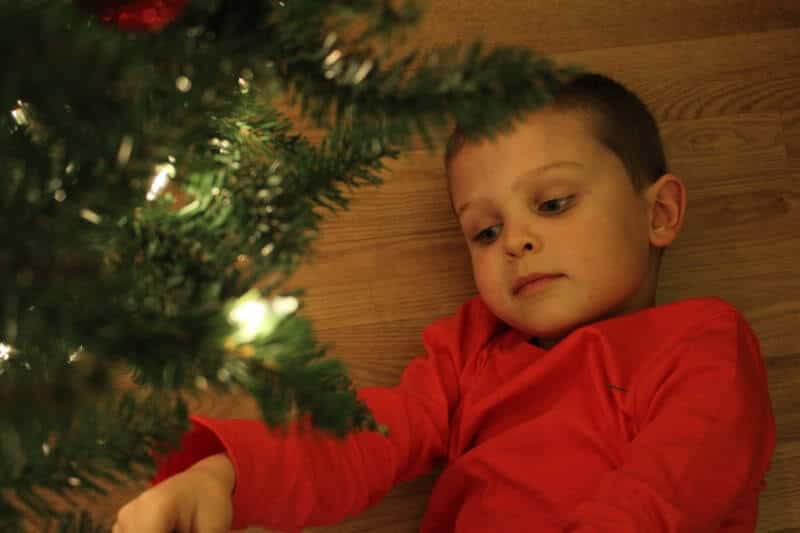 We've always gotten our tree Thanksgiving weekend, followed by a stop at Starbucks, then Christmas music and decorating. We did it a bit early this year, since we were traveling over Thanksgiving, but we kept our traditions alive.


This was also Callan's first Starbucks drink. Which he, of course, loved. Those short cups? Swoon!


We also started a new tradition this year, which is The Elf on the Shelf. I saw the boxes of them at Costco about a month ago and grabbed one. I couldn't stop thinking about all those awesome Pinterest tricks they do and how much fun it was going to be. Well, being the rookie mom that I am, I grabbed the girl version, and also the plushee pal one. Had no idea until it was all set out on the table that something wasn't quite right.
Obviously by then, it was too late to get another one, so I decided to just not say anything. He wouldn't know the difference, right? Cooper was in awe of the letter from Santa and decided to name their elf Jack. He then proceeded to ask why he was wearing a skirt, so I used the seam ripper to give our elf a gender change.
The boys are loving the tricks Jack does at night. He wrapped the tree in toilet paper (which Cooper begged to leave on, so I did), roasted marshmallows over a candle and fished for goldfish in the bathroom sink. I'm snapping pics to show all of his shenanigans at some point!


As far as behavior…I don't know. Cooper is in a really good phase right now. Thankfully. I need every ounce of energy to take care of my wildebeest 2 year old, who cares nothing about being put on the naughty list.


Are you Elf on the Shelf users? What is your favorite trick your Elf has done?