This week has been a wild one! Unexpected house stuff taking a lot of my time, The Hubs was traveling for work making me the sole carpool driver and more basketball games and practices than I can count! But it's Friday, The Hubs is home and we have a weekend of Christmas activities lined up. So before I run off to finish the week strong, I wanted to share some of my favorite things this week!
16 years
Today is our 16th Anniversary! I can't believe it's been this long. Really. We've been together for 19 years and so I really can't imagine my life without my wonderful Hubs. Tonight we're going out to a new restaurant to celebrate and I grabbed a bottle of our new favorite cabernet, Quilt.
House Updates
Paint went up this week and that made a huge difference in the progress! We are still on track for before Christmas and for that I am SO grateful! The colors were ones we picked from cards like 8 months ago, so I'm glad that I still really love them.
Denim Jacket
This is a couple months old, but this oversized denim jacket is so good. I got asked several times about it this week when I wore it in Instastories, so I wanted to share that it's under $30!
New Amazon Finds
These are pieces I wore when we were at the beach but I never got around to sharing them here. This plaid top with ruffle collar is a great layering piece. The sweater dress is a faux wrap that comes in other colors and is super flattering. Lastly the green waffle knit top (comes in other colors) is a total fave I have worn a few times already!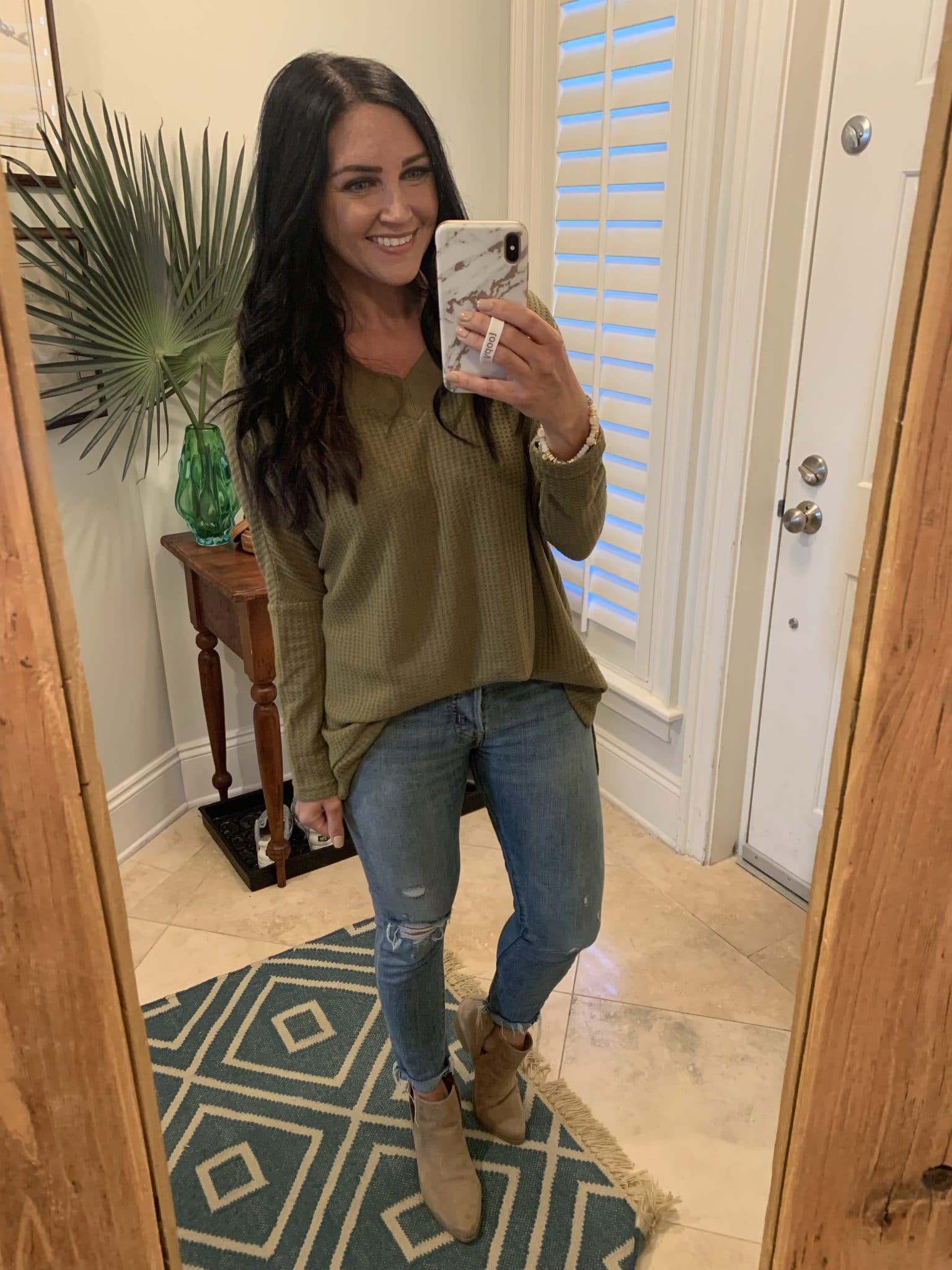 Revlon x Ashley Graham
I got this PR kit in the mail a couple weeks ago and have been trying it out. It is for a bit of holiday glam, but the colors are all gorgeous. I love the eyeshadow kit and the lip liner color (nude), but the mascara is probably the best drugstore mascara I've ever tried. Seriously not being over dramatic here!
First Snow
Y'all, I was terrified of this one. I've been dreading the snow and driving in it, but this week, I had to conquer my fears while The Hubs was out of town. I had one bad night of driving on back roads home from basketball. It was snowing pretty heavily and I saw cars off the road. I just drove so slow, while trying not to panic! I had some tears, but we made it home safely and I felt like I crossed a big hurdle. The next morning, the roads were clear and everything else was covered in this pretty sheet of white. Michigan sure does handle snow better than North Carolina! I probably won't be out driving during a storm if I can help it, but I know I won't be so scared if I have to.
Happy Friday, y'all! Go enjoy your weekend and fill it with good memories!