Last weekend, one of the hubs coworkers got married in Michigan. The hubs and his team were already there working, so another one of the wives and I flew out together. Leaving at 4am was torture, but sunrise from a plane is pretty much awesome.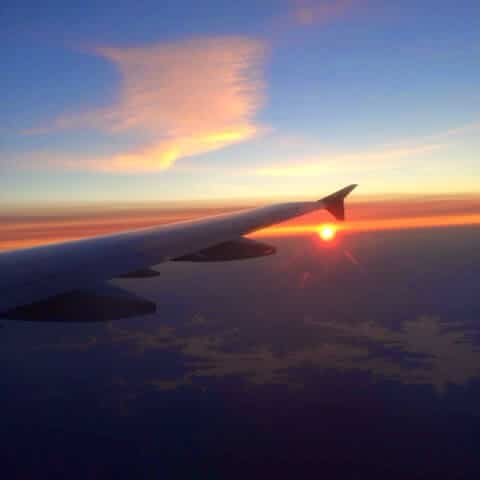 We landed in Chicago and drove the 1.5 hours up to Michigan.
What didn't suck one bit, was the car we drove. (And my comfy scarf from Evelyn's Shoppe!)
It's not every day that I don't have to worry about car seats, diaper bags and room for half of my house to fit in the car, so while I didn't, I opted for something small, fast and standard.
I drove the 2014 Mazda MX-5 Miata convertible. It was a 6 speed manual, with 167 horsepower. Most of you reading may not care about that, but I sure do. Since the past several of my 14 cars have been SUV's, I was ready for some speed. I sure got it, too!
It was a hard top convertible, so not super noisy inside when I was pushing 90 75 on Chicago's freeways. I may have had to open the door at the toll booth because I couldn't find the window buttons, though. (They're in the center console, fyi!)
Where did all the luggage go? Surprisingly, I packed in a rolling carry on, that sat down in a lowered section of the trunk, leaving enough room for the hubs larger bag on top of mine. I completely expected to carry a suitcase in my lap at some point, but never had to!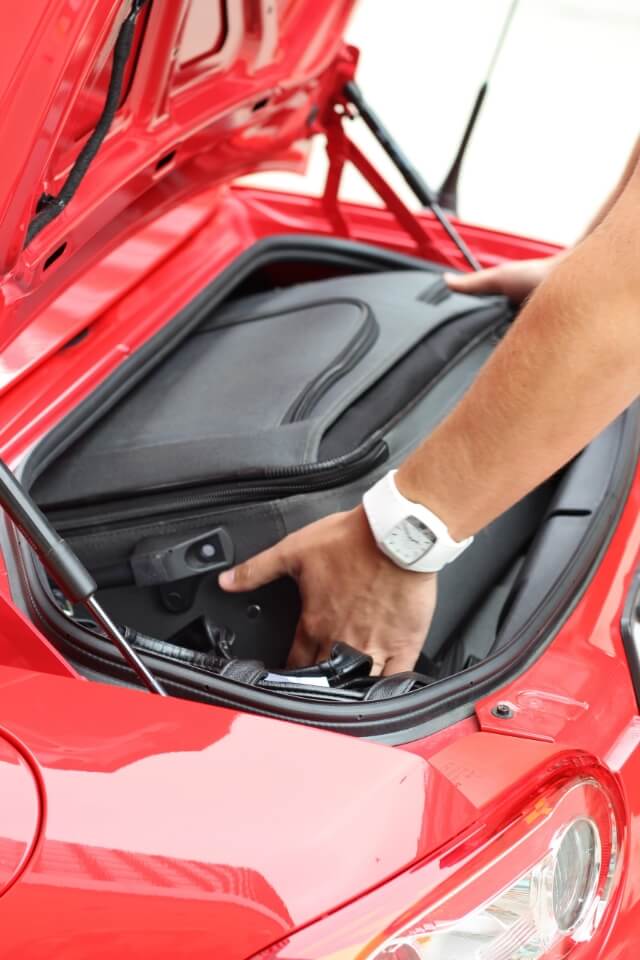 The hubs 6'3″ self had hair grazing
the roof, but that wasn't anything putting the top down and hitting the beach didn't fix! Who knew Lake Michigan was so beach like?
Some of our great friends that we met through the hubs work and lived near in California, now live in the town we were in and I loved time sitting on the beach and catching up.
Saturday morning, I tried to sleep in, since we were kidless and all, but I couldn't! I opted for a morning run since it was only 60 out, followed by a riverside brunch with the hubs. It's weird and delightful and essential to sometimes eat with your spouse sans children. Seriously. The conversation! The eating! The quiet!
The wedding was outside on a golf course and absolutely gorgeous!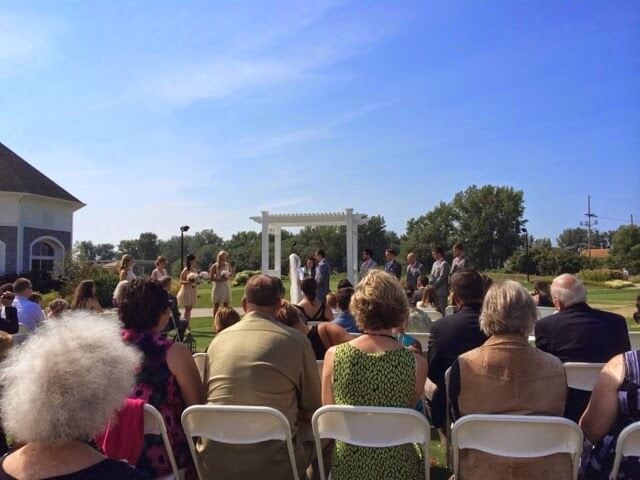 I had every single intention of wearing a colorful dress to this wedding. I tried on everything I could find and fell in love with this dress, which they did not have in pink in the store! I just added in some colorful heels and clutch and called it a day!
You know when you get a picture and your eyes are just starting to blink but it's the only picture you got? Um, yeah.
So grateful for the fun weekend together and the in-laws keeping our boys. We've been together nearly 12 years and it's so great to occasionally have that time just the 2 of us!
I was provided the MX-5 Miata for the weekend in exchange for my review. All thoughts are my own.