I have really slacked on the gift guides this holiday season. I did get the boys gift guides done around Thanksgiving, but life has been crazy with moving and building a new house! A lot of my shopping this year has been last minute. I bet I'm not alone in this, so I'm coming in last minute on the gift guide for my fellow shoppers!
Last Minute Gift Guides for Him and Her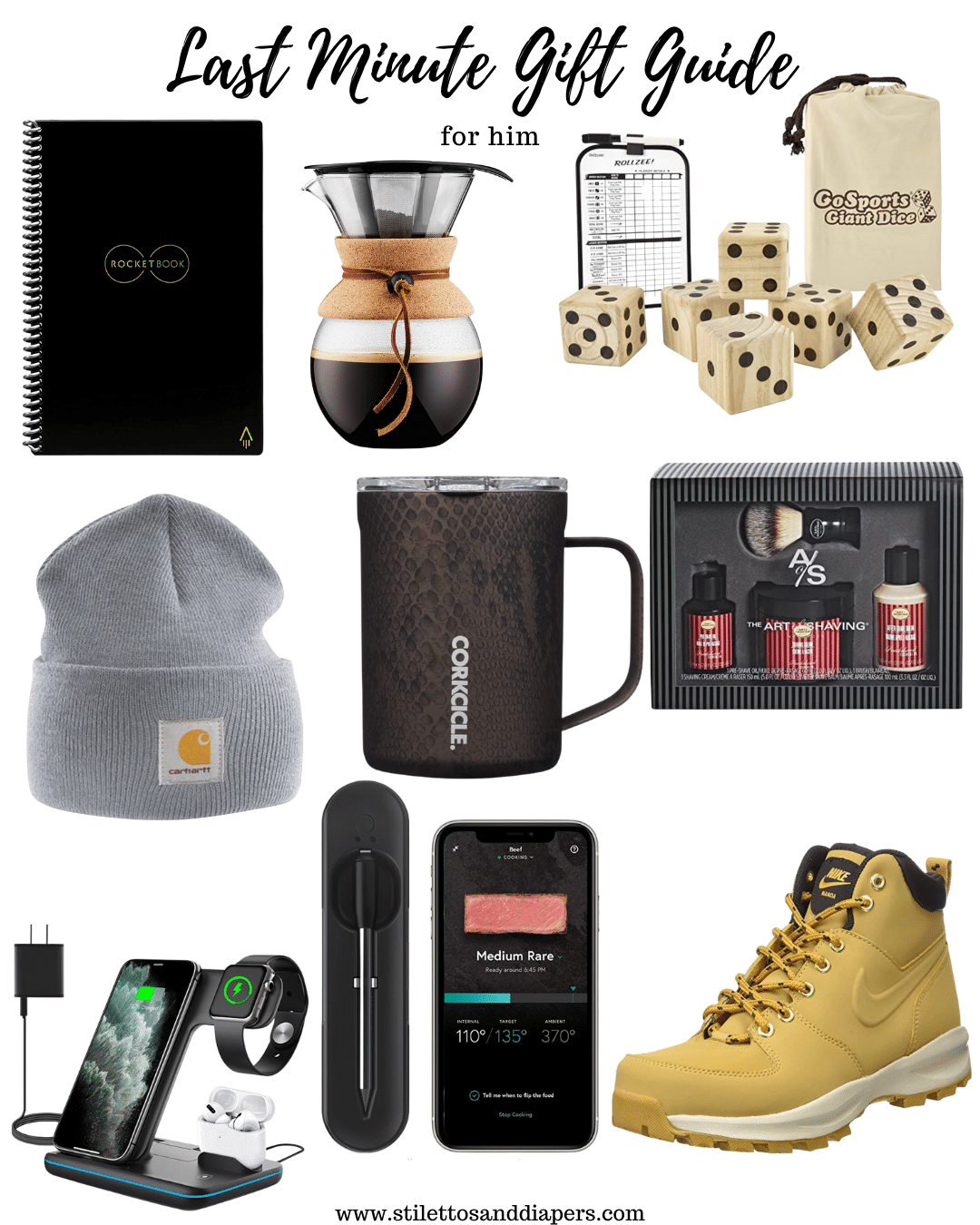 Rocket Book Erasable Notebook: Got this for The Hubs last year and he uses it a ton! You can save your pages in the app, then erase and keep using!
Pour Over Coffee Pot: This is such a pretty coffee pot with a permanent filter for the coffee lover in your life.
Giant Yatzee Game: This is just so fun looking! We have a giant jenga game and love it, so I thought this would make a fun indoor or outdoor game for grown ups or the whole family.
Carhartt Beanie: I think my whole family has these now and they are not only trendy at the moment, but so warm.
Corksicle Mug: I think this pattern is awesome (and has a 30% off coupon at the time of posting!), but it comes in lots of other prints and solids. Perfect for morning coffee or afternoon cocktails!
Art of Shaving Kit: I've gotten line for The Hubs a couple times and it's a great line of mens skincare. The kit comes in really nice packaging that makes a perfect gift.
Charging Station: Streamline that bedside table with a station that charges it all! Super convenient and comes in other colors, too.
Yummly Meat Thermometer: This is a favorite appliance in our house! It was originally used for grilling, but I have used it tons for fish, pork and chicken lately. So a gift for your man that can totally be for yourself, too!
Nike Winter Boots: Winter boots are a big purchase item here this year! I love that these are so on trend, yet get great reviews for comfort and durability.



Butter Leggings: I got a pair of these a couple weeks ago and they are so insanely soft. I also feel like they're warmer than most of my other leggings and come in lots of colors.
Silk Pillowcase Set: I just ordered myself this set! It's got an extra coupon today and comes in lots of colors.
Swig Mug: I love a good travel mug and this one in particular has the best design options.
Initial Necklace: BFF, daughter, mom, sister…this necklace is perfect for every girl on your list!
Belei Brightening Daily Duo: This is a great set that truly does brighten. I love how affordable this line is, while working amazingly well.
Jade Facial Roller: I have one of these that I use most mornings right after I wake up. It's in the refrigerator and helps decrease puffiness.
Towel Warmer: I mean, I did just move to Michigan, so this is TOP of my list!
Pajama Set: This cozy set is new, so affordable and comes in lots of colors.
Wine Glasses: These have been on my wishlist for the new house and I LOVE them.
Furry Slippers: I have been wearing this pair for months and love them! They come in other colors and are so affordable.
Gold Bracelet Set: A perfect stocking stuffer for the girl in your life to stack with other bracelets or wear alone.
Hope this list is helpful in grabbing any last minute gifts you have to shop for. Happy gift giving!