Here I am, writing this on snow day #8 in the past 2 weeks. I mean, we did get some decent snow, but the temps are now in the 40s and today they called school off for "frozen fog". What does that even mean?!

Having lived in New York for 4 years and the fact that the hubs was born and raised there, makes me know the northerners are laughing hysterically at us. It is different here, simply because we aren't equipped at all. There was still thick ice on our roads 2 days after the ice storm last week, because the roads aren't treated and the "plows" we have were getting stuck. Yeah, not that helpful. I bet it was pretty comical to see me try to pull the hubs car up our driveway. All I wanted was to go to lunch with a friend! After 3 failed attempts, the hubs took over, driving all over the grass and making it to the street.
So what has the past 2 weeks looked like around here?


8 snow days
7 days with bored kids
6 episodes of Kirby Buckets watched
5 northern friends texting to see if we're alive
4 dance parties
3 cups of hot cocoa, per person
2 days with actually falling snow
1 snowman built


Last week, we had a day of sledding in ice. It was thick, but a blast to fly down the street on. Then yesterday, we had a good dumping of snow, which was beautiful! Here's our backyard.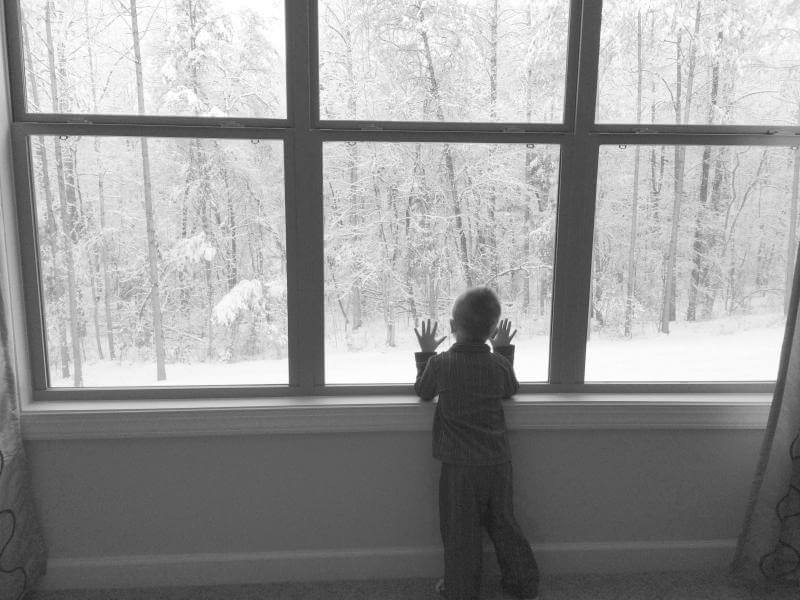 Breakfast in (my) bed. Which means, no, I didn't get any for myself.

Callan didn't understand that I did not want to get pelted with a snowball every time I tried to take his picture. It may have made for wet pants for me, but a cute picture was worth it.
Our snowman, adorned with leftover Christmas Reeses for eyes and conversation hearts for mouth and buttons.
Did you get any snow where you live? And were your kids out of school for an unreasonable amount of time?!
Happy Friday everyone!