My second half marathon experience was so incredible. The excitement around this race was massive. There were 15,000 runners that got accepted into the lottery for the Nike Women's Half and I'm so happy that I was one of them! 
They put the names of every runner on the wall at Georgetown Nike, where we went for the expo and to pick up our race packets.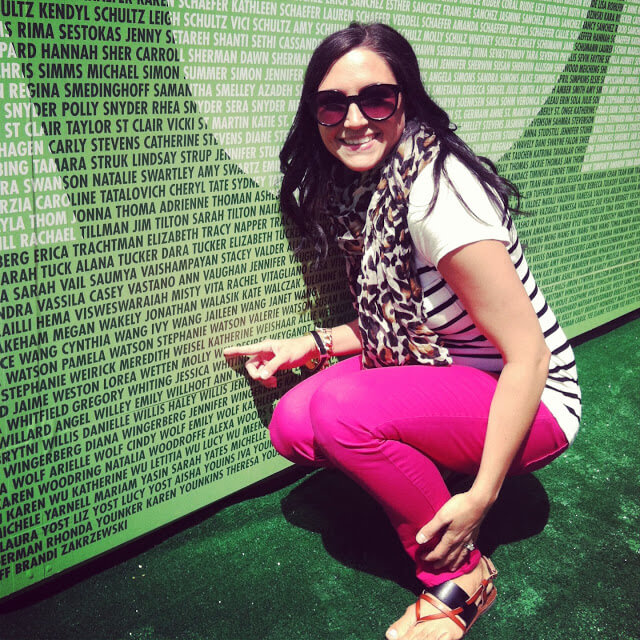 Even 2 days before the race, you could feel the energy. There were so many people, all so excited to race!
The boys dropped us off and waited a while in the car before coming to watch. I could just imagine, as I packed their clothes and snacks the night before, what would go down. The hubs would drive forever trying to find parking. He would park, Callan would be asleep and Cooper would suddenly have to pee like a race horse. So, I took matters into my own hands and put an empty screw top wine bottle in the car. I think the hubs was extremely grateful that he didn't have to wrestle 2 pajama clad boys in a port-a-potty. I also think I'm kind of brilliant. Hehe. 




The race started early with a view of the Capitol. The weather was perfect and I could hardly stand still because of my nervous jitters. 
They seemed to let everyone through the gate at the same time. A couple times, we had to almost come to a complete stop because the crowds were so thick. I had my 2 hour goal in my head and was getting so frustrated that we couldn't move! After about mile 2, it cleared a bit and we caught a little break. 


I felt really good until about mile 8. I got so exhausted. I forgot to eat my energy chews before the run and I don't know if that affected me or not. I hurt my leg after my 8 mile run during training and never ran further than that. All I could think was, I don't know if I can actually do this. Mile 10 was bad at 10:05 minutes. But at about mile 10.5, I saw this. 


I actually didn't see them before I passed because, apparently, Rachel was over my left shoulder. I was probably singing "girl look at that body" to her. 

By the time I knew they were there, I was passed them. But, it gave me a push that I needed badly. 


But my little Cooper didn't see me as I passed and I was yelling back for him. It was all I could do to not turn around and go give him a hug!


The hubs took some cool shots while he was waiting on us! 

At the 11 mile mark, I knew I had to step it up if I was going to get there in less than 2 hours and I ran a 8:05 minute mile. My legs felt like they were going to fall off and my feet felt like bricks. At mile 12.5 I stopped and I wanted to quit. I seriously thought I would be happy just sitting and not finishing. I could see the finish line, but it didn't seem to be moving any closer to me. After about a 10 second stop, I realized I was ridiculous and bolted all the way to the finish line. 


With 16 seconds to spare, I made my goal. 


The Nike Women's Half is so cool because there were firemen in tuxedos waiting at the finish line giving out Tiffany necklaces. There were people posing with them but I just grabbed mine and kept moving for the water.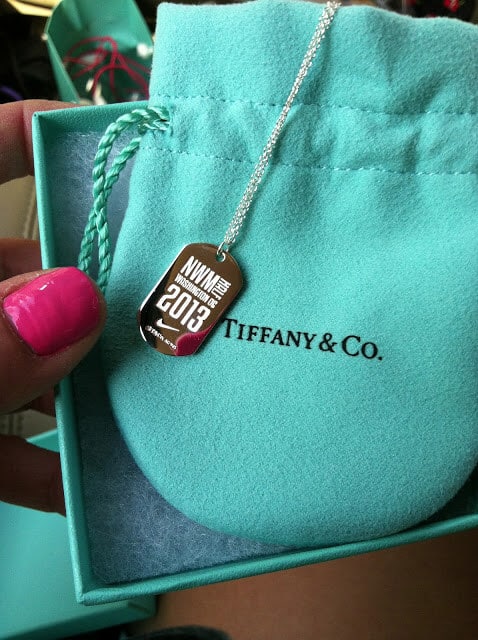 We were so happy to be done! This was Rachel's 10th half. The girl's a superstar. 
After we rehydrated and got our little blue bags, we were off to find the boys. They greeted us with an impromptu photo op. 


I was a happy girl to see these guys! 

Back home, I surprised myself by being in one piece and still smiling. But we had to make sure we got a shot of our matching ruffle booties. I adored the Lululemon skirt we ran in! 
Showers were immediately followed by celebratory pink champagne, of course!
And even Cooper took part with a little pink lemonade. After all, he pushed me over my hump!
The finisher shirt and the Tiffany necklace were pretty awesome race swag, if you ask me!
I'm so happy I hit my goal, even if it was by a hair! That crunch time at the end made me find strength I didn't know I had. This was an experience that I'll never forget!