The changes that happen in your body after pregnancy and childbirth are no joke. Most of you are moms and totally get what I'm talking about. Having 3 boys, big ones at that, has changed my body for sure. It also changed my mindset for a long time. But I'm beginning (finally after 9 years of motherhood) to be in a place that I'm really comfortable in my skin again. Maybe getting older has something to do with it, or just finally coming to grips that there is no going back? Haha. But I want to share some tips with you that have really helped me.



– Workout


I want my kids to want to be strong like mom! I workout at home with DVDs, apps I've downloaded or running on the treadmill. I'm in the middle of a 12 week, at home program that I'm loving and I'll share all the details with you soon. My goal is M-W-F, plus 1 weekend day. My kids hate going to a nursery so gyms just don't work for me right now. I love group classes, so in a couple years, I'll get back into those. But for now, I'm doing what works with my family and schedule. Working out not only helps me be fit enough to keep up with my kids, but it also makes me feel more confident and helps keep my diet more on point.

– Eat Healthy
Speaking of diet…Since doing Whole30, my eating habits have been much better. My body shows a big difference with my diet is on point, so I've been mostly eating Paleo during the week, with a little more wiggle room on the weekends. Once you get into the habit, it really becomes second nature. For me, keeping it up means enjoying the things I want sometimes and not depriving myself. I would say this means I'm at about 80/20. I do try to stay away from dairy and lots of carbs, simply because I've noticed they don't make me feel great. But that doesn't mean I'll say no to the occasional slice of pizza. Oh and I still drink coffee creamer, because I want to enjoy life!
– Dress for Your Body
A key for me in dressing now, is comfort. That doesn't mean sweats all the time, it means wearing clothes that fit my body well. It means buying clothes that flatter my mom figure. I'm pretty much over low rise pants now, because they just don't fit well anymore. While I like to wear bikinis, I typically wear a 1 piece, because I'm just more comfortable baby chasing in them. Sometimes, getting clothes that fit great means you have to invest in better quality pieces. But your new mom body is here to stay, so getting pieces that fit right are a great investment. Get yourself some great bras while you're at it! That's one of the biggest changing areas for moms and you're going to need to get shopping!
– Take Care of Your Skin
I started a new skincare routine about 2 months ago that has made a big difference in my stomach. I had seen some fantastic before and after pictures, as well as my neighbors results from using Nerium Age Defying Night Cream and Firming Body Contour Cream and figured it was worth a try. Well, I've been pleasantly surprised with my results! I've been alternating the creams morning and night to help with the loose skin and stretch marks that I have. Honestly, this has been one of the hardest body changes for me to come to grips with. It's frustrating to feel like you can lose the weight and get more fit, but still have the loose skin over it all. Thankfully now, this skin care routine has helped me!
I'm admittedly super uncomfortable to post an up close and personal pic of my stomach. I've had 3 big babies and a short torso, which caused more skin stretching than I would have ever wanted. But. I can tell a pretty good difference in using the combo of the creams. My 2 biggest problem areas are the loose skin right above my belly button, which has improved a lot! But even more than that, is the pooch of skin right above my c-section incision. I think it's a pretty normal issue for c-section mamas, but I don't dig it! It's not the easiest to tell in these pictures, but on the bottom left, you can see a bump out right underneath the waistband of the shorts. But as you can see on the right, it's nearly completely flat right now, which makes me REALLY happy!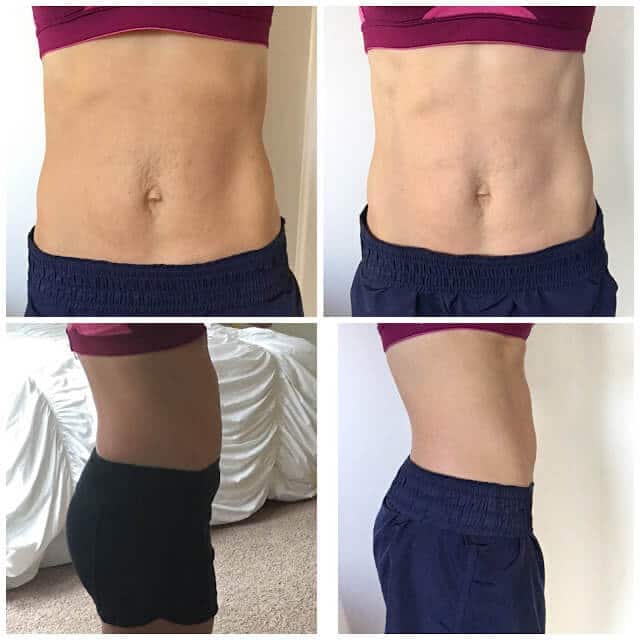 The Hubs was impressed with my results and decided to try a Nerium product for his dark circles. The Hydrogel Eye Patches go on for 20 minutes and make a big difference in a little time. He kindly agreed to let me show off his up close and personal pics, too.
We're both really happy with our Nerium results and I love that they offer a money back guarantee if you aren't for any reason. They also offer a business opportunity that might interest any of you looking to make money on the side and you can see more about that here!



– Love Yourself
Justin Beiber style, y'all! Your body might not ever look exactly the same, but we all have to learn to love what our bodies have done for our babies! My goal is to make sure that I'm confident in my body and that I'm showing that confidence to my kids. After all, they copy everything we do!


My friend Heather, of My Life Well Loved and I team up monthly for Littles Style and today, we're teaming up for this fab giveaway!


She has also been using these Nerium products to prevent aging on her face and is writing about her results today, so don't miss it! And FYI, Heather and I are starting a fun project in April that you don't want to miss, so follow her!



Now for a really fun part! The folks at Nerium have generously given this prize pack, valued at over $800, to give to one of you lucky folks!


And on top of that, the first 10 people to place an order will get a free set of Hydrogel Eye Patches! Enter using the widget below. Good luck!


a Rafflecopter giveaway