Our family travel guide to Outer Banks/Duck, North Carolina! Including where we stayed, our family friendly activities and places we ate!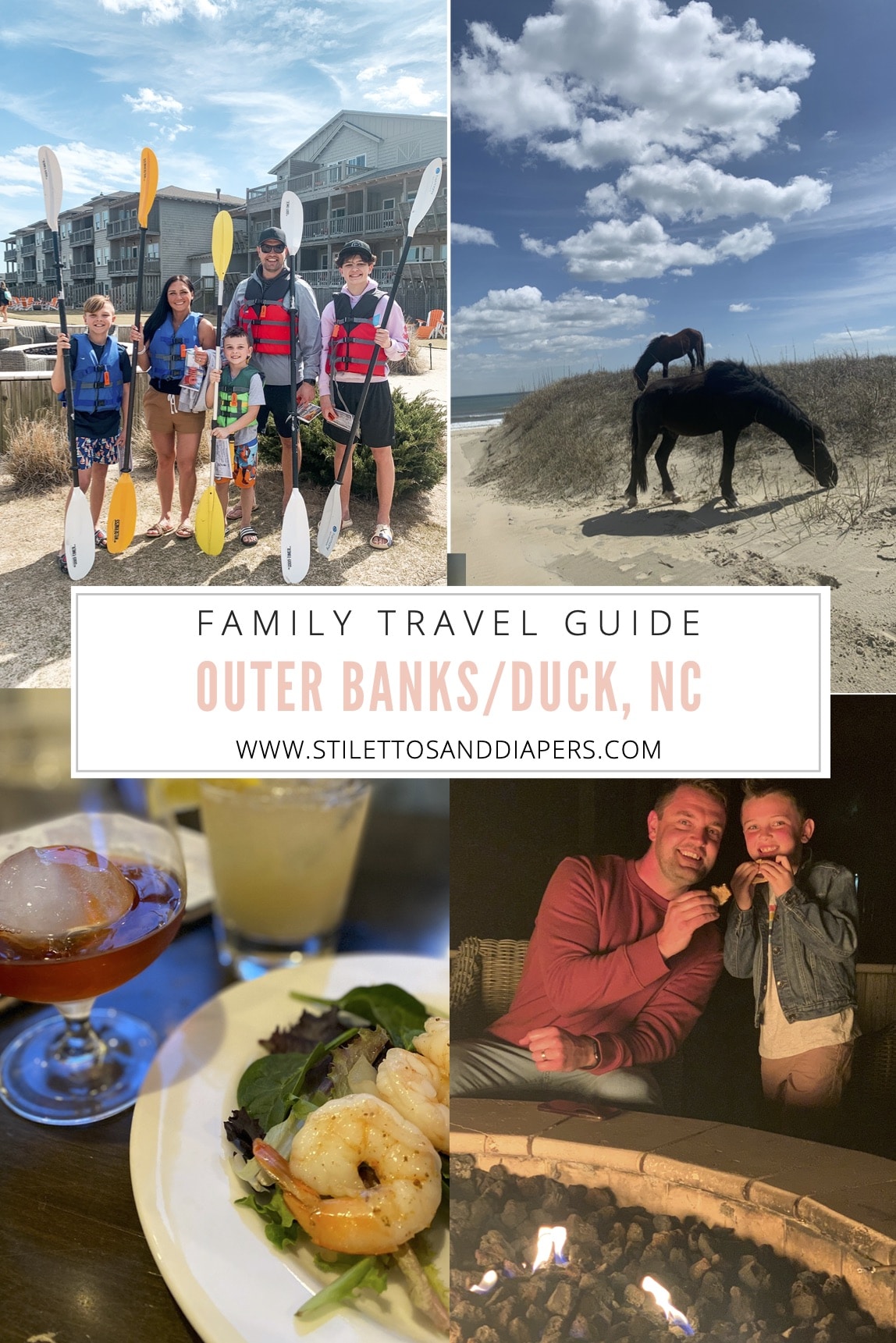 Spring Break 2022 was one for the books! We had a wonderful trip and one part of it that was completely new to us was Outer Banks/Duck, North Carolina. We lived in Charlotte for 8 years, but it took us moving to Michigan to get back to the Carolinas and experience the Outer Banks! Our trip was just for a short time, but we packed in so much fun!
Day 1
We started off our stay by checking into Sanderling Resort. The whole vibe of the resort was exactly what I expected from OBX. Inviting. Rustic. Peaceful. The resort lies on both sides of the 2 lane highway, offering the sounds of the waves crashing from the Atlantic ocean and the calm stillness of the Currituck sound.
We wasted no time settling in before changing clothes for dinner at the Lifesaving Station. The building was a true lifesaving station back in the late 1800s to help shipwreck vessels and has been renovated into a 3 meal a day restaurant. It was casual and comfortable for bringing the whole family, while offering impressive food and cocktails. I've seen it touted as having the "best breakfast on the Outer Banks", so that will be on our must do list next trip!
After dinner, we stopped by the front desk for a s'mores kit to bring to one of the several outdoor fire pits. The outdoor space is so big and well equipped at the Sanderling. In addition to 2 outdoor and 1 indoor pool, they have ping pong tables, several fire pits, corn hole and a tiki bar that sits near the ocean.
Day 2
I started my day off in the gym, followed by grabbing coffee (it's free!) in the main building and a quick walk on the beach. I don't think there is much quite as peaceful as walking on a quiet beach in the morning.
The activities center that is on the Sanderling property is able to book all sorts of adventures for you during you stay. They booked us both a wild horse and kayak tour that were incredible!
On our way to the wild horse tour, we stopped at Lighthouse Bagels and Deli. Oh my was that a delicious breakfast sandwich! Apparently this place gets pretty darn busy in the Summer, so I suggest using their online ordering so you don't have to wait in line!
We got to Corolla Outback Adventures and loaded up in the back of a truck (with seats and seatbelts) for our horse tour. I literally had no idea there is such a large area of land that has only sandy roads at the end of the Outer Banks! The ride itself was so fun, driving down the beach, wind whipping our hair. When we started spotting the wild horses, that was incredible! I highly recommend the company we went with, because they own some private land out there that they took us on and we were able to see even more horses!
Once back to the Sanderling, we met our Kitty Hawk Kites tour guide for a kayak trip on the Currituck Sound. It was a little cold and we almost bailed for fear of tipping into the chilly water, but I'm so glad we did it! We saw several different types of birds and enjoyed the calmness of the sound. My 6 year old was my partner and I was impressed with how much paddling he put in.
That night, we ventured down to Steamers in Southern Shores for dinner. They had plenty of fresh fish offerings in a pretty, 2 story building with ocean views. We all enjoyed our food!
Day 3
After another morning in the gym, I brought a couple cups of coffee back for The Hubs and I to enjoy on the deck. Even though the clouds were trying to block our ocean view, it was still a great spot to enjoy the morning brew. A family walk on the beach and it was time to pack up and head home.
On our way back south, we stopped at Tullio's Bakery for some breakfast. I had never heard of this place, but I had so many suggestions in my Instagram DM's that I knew we had to stop! They had amazing breakfast sandwiches and they boys loved their donuts!
Thank you to Sanderling resort for hosting us during our stay! We loved our memories made on the Outer Banks and will absolutely be back in the future!