I have bought very few maternity clothes during this pregnancy and people have been shocked at how many things I wear that are non-maternity. I decided to break it down for the preggos out there that are trying to decide what is really essential for the maternity wardrobe.
Must Haves:
A basic white maternity shirt
Go ahead and buy a maternity one. It will be long enough to last to the end and you will wear it constantly. I have this one from Target, and I got it on sale early in the summer. You can wear it alone in the summer or layered with cardigans for fall/winter. A couple neutral colors wouldn't even be a bad idea.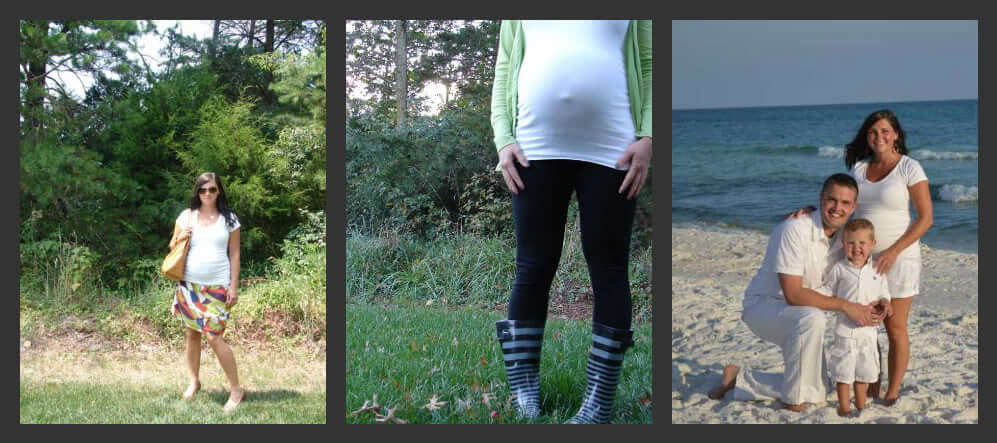 Leggings
I don't care if you love them, (me) hate them, (the hubs) or have never worn them before. You will want them. You will live in them. They will be the most comfortable thing you wear…outside of your husbands boxers. I have 3 pairs of black ones and a couple other colors. None of them are maternity and my fave ones were $5 at Old Navy. Just make sure the waistband is low and not too tight.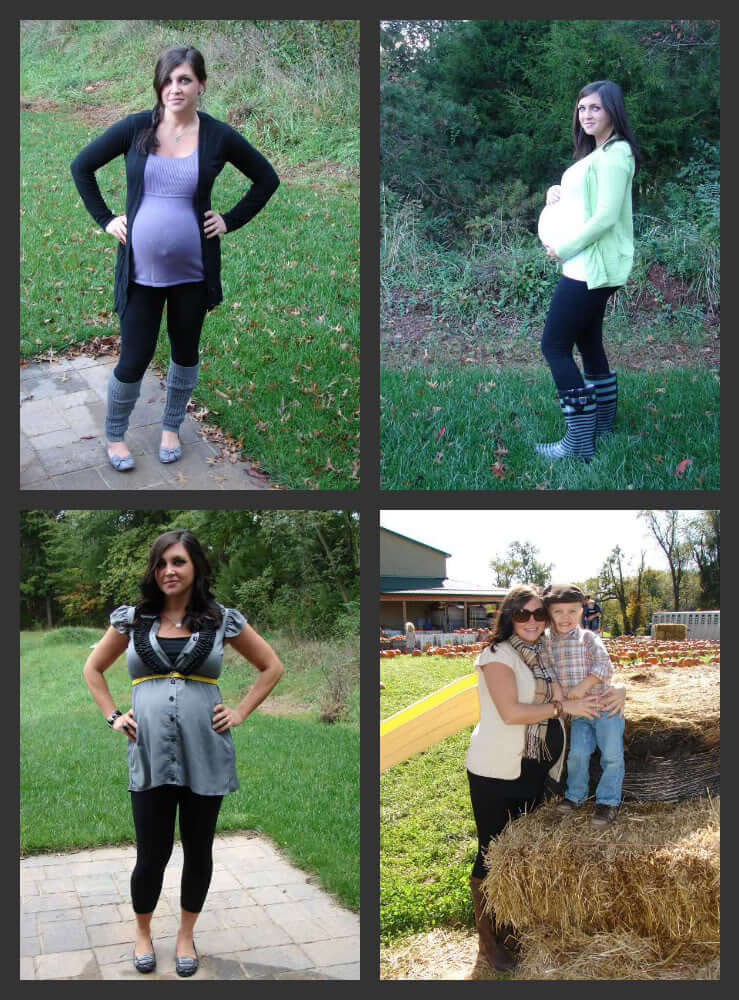 I have a white and a black maternity one that are this one from Target. In the first trimester, I wore them to make them the "baby fat" smoother. Now, I am still wearing a lot of my regular shirts, but they are a smidge too short. I wear the tanks under pretty much everything so I don't give a belly peep show.
Maxi Dresses
These are just crazy comfy. The one in the middle is maternity, but the other 2 aren't. All still fit me now. Maxi dresses are perfect in summer and are still a big fall trend with a cardigan or jacket over the top.
Some things I think are just crazy to buy.
Regular cardigans/open sweaters can be worn just fine with your maternity tank or shirt underneath. I can't find a reason to buy maternity ones.
Shorts I found much easier than pants, but look for non-maternity ones with the wide elastic/drawstring waistband. I bought a few pair at Old Navy this summer and they will still be great to wear when I'm not pregnant.

(See the white shorts in the layering tank pics)
Maternity Sweatpants are an oxymoron. Everyone has big, comfy sweatpants that are perfectly fine for pregnancy. I am wearing some now, along with a regular zip front hoodie, opened over my maternity tank. You just have to make sure they are low, or you can fold them under your belly.
Jeans are personal preference. My favorite jeans happen to be a very low rise and have spandex in them. I wore them comfortably until I was about 7 months pregnant and still do now with the Bella Band. (I have this Target version) I do have these under belly maternity jeans that I love and they didn't break the bank. Of course, there are many people that love their designer jeans, just a maternity version. I am way too cheap for that!
A Winter Coat is another either way kinda thing. I wore one open with my first pregnancy. With baby #2, I found a maternity peacoat on clearance

(at Target, of course!)

for $16. I bought it because I knew it was a classic piece I could wear for every pregnancy.
Tips and Tricks:
When you're totally board with your clothes and feel like nothing fits, accessorize. Add scarves, jewelry, leg warmers, or belts. I love how skinny belts over the belly look.
Be creative! Try something that you don't expect to look good. It may become your fave outfit. The length is the hardest thing to compensate for, but I love layering my long tanks underneath. Just beware that if you wear regular tops, they may become permanently stretched out. This only happened to a couple things for me. I bought a few different tops along the way that were on clearance, just a size bigger than my normal. It is way easier to find a deal on regular clothes than maternity.
Obvi, Target is my maternity store of choice. I love Liz Lange's clothes and Target's prices.
When you put something on that totally doesn't fit, move it to a different section of your closet, or into another one altogether. You won't remember what fits and what doesn't and you don't want to end up sitting on your bedroom floor in your skivvies crying about nothing to wear.

(Been there)

Oh, and speaking of skivvies, plan on buying 3 new bras. About 1 per trimester as you get bigger. You do not want to be uncomfortable as your belly and boobs meld into one giant bump.
Your changing body is a lot to take in sometime, so you should feel cute as much as possible!
Hope my random advice helped some of y'all fellow or soon to be preggos!