We had friends here for dinner over the weekend, which meant my house was actually clean enough for some pictures of our Christmas decorations!
This is our sitting room. It's more of a rustic look, which I love!
The fur lined stocking ornament is one of my favorites and one of The Hubs least favorites! Haha.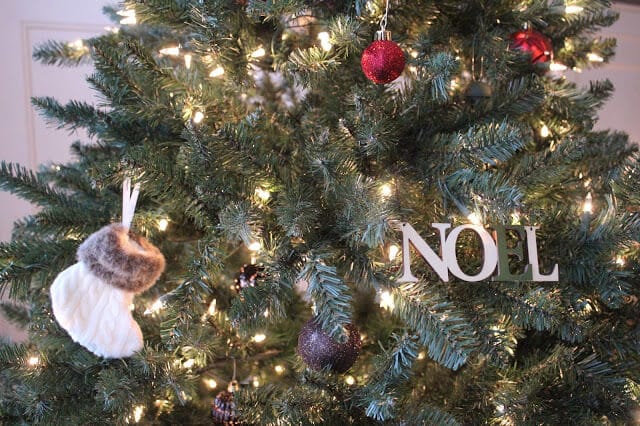 Snowman and trees: Pier 1 (They're both on sale and free shipping today!) | Peace marquee: Target last year. Not sure about in store, but online, they have Joy and Noel right now.
Across from the sitting room is the dining room. It's my winter wonderland. The bowl of silver bells are the Wallace bells that my grandma and mom have been giving us every year. I love collecting them!
Through the dining room is the butlers pantry and one of my favorite spots in the house!
This room is brought to you by Target. Kidding. But really, fancy straws, glasses, coasters bottle tags…Target is my jam.
The kitchen doesn't have too much festive, but some cute little towels on the oven will do.
The breakfast nook has a cookie jar gone candy jar and the heaviest ornament I've ever seen hanging from the light. It would totally make the tree fall over if it was there!
The living room is busy these days. The mantle is getting full and there are toys in every nook and cranny.
These are the Danbury Mint ornaments that The Hubs family gives us each year. They're beautiful and a different design each year.
Last but not least, the boys tree upstairs. This was our first tree when we got married and now is theirs to decorate however they like! My sweet friend just gave them the train to go around the bottom. It makes it perfect!
Thanks for checking out our Christmas house! I'm sure I'll regret the 3 tree thing as soon as we have to take them down!