On Saturday, I ran my first 10K! I seem to do races backwards, seeing that my very first race was a half marathon, followed by a 5k, then another half. I needed to give myself a little push since I've been really lax in the workout department lately and this pushed me enough to really want to get back into it! They encouraged festive "costumes" and while mine wasn't the most exciting, there were lots of great outfits as entertainment.
The morning started off around 60 degrees, but it was cloudy and drizzly. Unfortunately for me, it got cooler really quickly and started raining harder. I've never run in the rain for a race and I can tell you, it wasn't that fun. 1/2 a mile in and I seriously considered turning around to hit up the hot chocolate cart.
The course was through a business park and it was extremely hilly. Like, straight up hills. It was kind of a mess. The only thing that kept me going up the hill was a lady that had to be in her 60s, who had her outfit covered in jingle bells. She didn't stop, so I sure couldn't.
After mile 4, I felt pretty good. It was a 2 lap course (which totally sucks), but I felt like I knew exactly what parts were going to be tough and I could do it. It felt so good to cross the finish line and hit my goal! My official time was 55:37.
The hubs got there just as I crossed the finish line and was pretty irritated that he missed getting a picture as I crossed.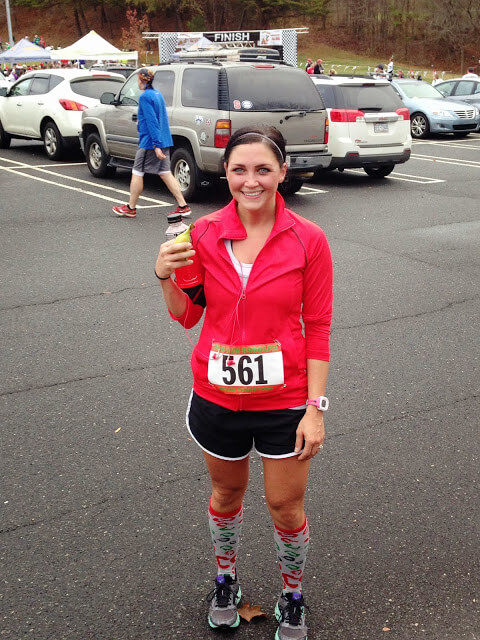 But he brought these little guys who were so sweet in cheering me on!
I couldn't believe when they posted my results that I actually placed 3rd in my age group! I jumped up on the podium so the hubs could snap a pic after I got my medal, but then got embarrassed and got down. Most people had left because it had gotten so cold, so I didn't want to be up there waiting!
After the race, we went to get the last bit of furniture we needed for the house. I wore the bib and medal the whole time we were at the store. Ain't no shame in my game!