Wasn't it just Monday? Time seems to be going extra fast these days for me. These boys are getting so big and staying so busy that it's making my head spin!
This weekend, we got the big 1 year old's swing up on the swing set. To say he is a happy camper is an understatement.
We also finished up a project we planned out a bit ago. We have this big open wall on one side of our kitchen. The Hubs wanted a long, narrow table, but being right around the corner from our room and in the walkway, I knew I would trip on it in the middle of the night when I'm on my way upstairs! We agreed on a gallery wall and I couldn't be more pleased with the results!
We took a new picture of each of the boys and printed some of our favorites from everywhere we've lived. Top row is DC, New York and Florida, bottom row is Hawaii (just because we have great memories visiting there), California and North Carolina. We got the IKEA RIBBA frames, which are almost 20×20 and then printed 12×12 squares from Persnickety Prints. They were only $1.99 each and the quality turned out great. Some of those are just pictures from our old point and shoot that have been on our hard drive for years and some are iPhone pictures.
Cooper had his second baseball game. I was only at half of his first because Callan had soccer practice, but spending Friday night at the ball field was a lot of fun. His team is undefeated and he's playing great! The Hubs is coaching for the
millionth
10th or so time. I'm not sure how he does it!
The next morning, Callan had his first soccer game. He was nothing but proud of his goalie skills, and he fit the part perfectly!
But school and sports all starting in the same week left us with a tired babe!
Make that 2 tired babes. Hehe.
But not to worry, I have one more to keep me company, who doesn't seem anywhere near as tired as the rest of the family.
We cheered the Jets on from the lake on Sunday afternoon and even though they lost, I'll still wear my gang green! My new "fall suit" is from Target (top here, bottom here) and I love it!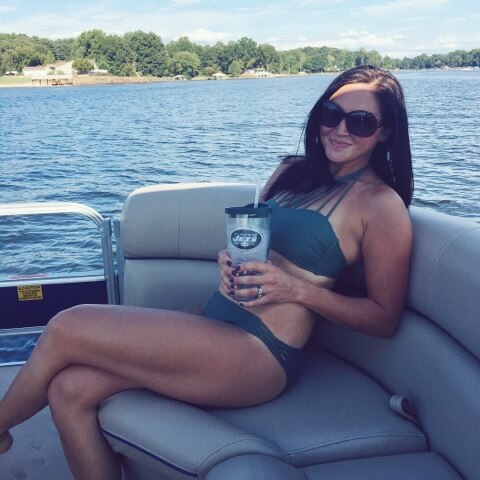 Through all the weekend fun, I've been fighting a cold, or allergies or something not fun and have had one very swollen eye. Thank goodness for massive sunglasses, right? I'm finally feeling much better today, look almost normal and am ready to take on this week!