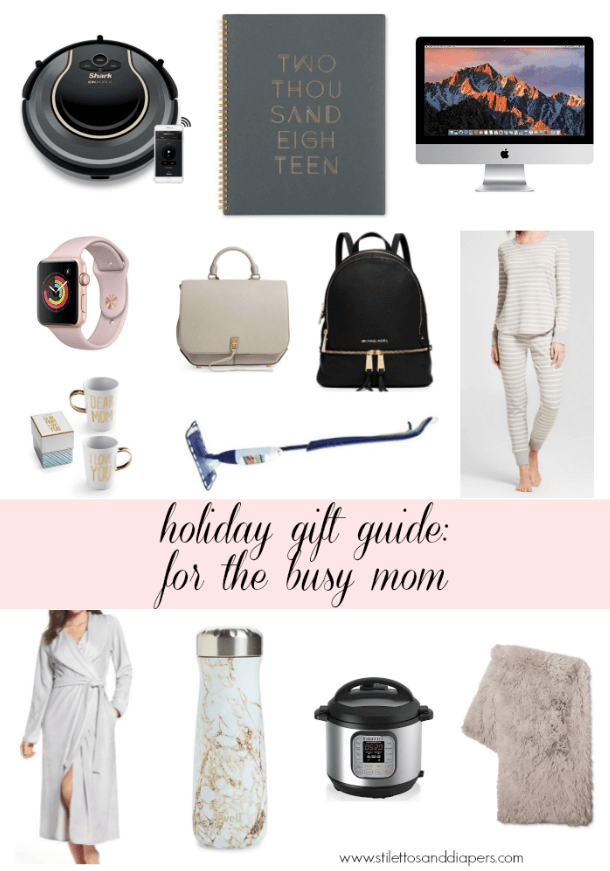 I recognize the fact that the majority of the people reading this are busy moms. So why would you need this gift guide? Well, I wrote it with items I think you need. So this post should be shared with your significant other, your parents and anyone else you can convince to buy you a gift. You're welcome! 🙂
Shark ION ROBOT 750 – This thing is a busy mom's dream. You can use your phone app to schedule it to run at a certain time every day, see the path it's taken and also start and stop it. It's compatible with Alexa, so all I say is "Alexa, start Shark cleaning" and it does it's thing! Now if I could just get every cleaning device in my house to work like this…
Planner – I use my phone some, but I love a hard copy planner. Something that I can fit in my bag, but also lay on the counter where everyone can see or add to the plans. (Here is also a version of this that is a bit smaller)
iMac – This is a bigger ticket item for sure, but I absolutely love my Mac. I especially love how it syncs with my phone. Pictures, notes, documents; they're both all in both places. Mine is 6 years old and I don't know what I would do with out it.
Apple Watch – I think these are really cool to use, especially during a workout. It can track your miles, heart rate and distance when you're just doing stroller pushing around the neighborhood, too.
Backpack Purse – I love a good backpack purse/diaper bag because they're just so darn easy. You can throw it over your shoulder and its not on your hip, where you need to put a baby when you go into the store. This leather one comes in a few colors and is really chic, or you can go with a sportier yet fashionable version.
Coffee Mug – Give me a coffee mug as a gift any day and I'm a happy girl! This one is so cute because it adds a sweet I love you message on it.
Bona Mop – This is as easy as floor mopping gets! The mop has washable and different options for pads, (dusting, regular mopping or heavy duty mopping) plus cleaner that is built right in. All you do is squeeze the trigger and go. It's easy enough for your kids to help with the floors, so if you gift it, make sure you add in some free floor cleaning coupons!
Pajamas – I'm willing to bet if you're a mom, you need pajamas. Something cute to sleep in that isn't your husbands oversized shirt is always a good thing! I love a cute set and these come in several patterns.
Robe – I wear a robe every day. Usually far too long into the day, but that's beside the point! It's so comfortable and just makes everything feel more relaxed.
Pretty Water Bottle – Water bottles are easy to come buy, but not often nice to look at. I love this white and gold marble pattern!
Instant Pot – I've looked at these 9 million times and wonder if I need one. All my friends are raving about how amazingly fast they can get dinner on the table, which all of us moms need!
Cozy Throw – When my kids wake up far beyond a reasonable time, all I want is to curl up on the couch and try to slowly wake up. A cozy throw blanket will at least make it possible to pretend you're still in bed.
What's on your Christmas wish list?