My sister is due tomorrow with her third baby, and first girl! I missed one of her births by minutes, and one by 1 day. I am hoping she will hold out until Friday morning for me to get there!
I made wooden letters for Cooper's room, and decided to make some for her little Avery. My sis knows I made them, but what they look like will be her surprise. Here is the outcome.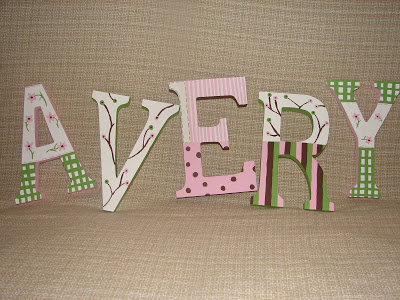 Here are a couple close ups of the detail.
I am so excited that they are adding a baby girl to their already beautiful family!
I also made a hair bow holder, but it isn't quite finished yet. I enjoyed every minute of making these and I am thinking about putting them up on Etsy. What do you think?