My April Amazon haul is filled with pieces for Spring Break, Easter dress options, a couple bathing suits and more! One of my favorite hauls to date!
I just love Spring clothing! There's something about that slow transition from bulky sweaters and jeans, over into pastels and light fabrics! I had a bunch of fun Spring stuff in my
March Amazon Haul
too, since I was hard core wishing for warmth then! This month, I have lots of dresses, a couple bathing suits and some great Spring separates. Make sure you check
my Instastories
for video try ons of everything!
Wearing a size small in this cute maxi! It comes in 2 colors and I especially love that it is a bit adjustable with the tie on the back of the neck, making it easy to fit different heights.
I was so drawn to this dress, which is weird for me, because I don't normally do a midi! But I LOVE how cute this dress is! I'm wearing a small and it's true to size. It comes in 3 different colors and has faux buttons, so it isn't going to open up on you.
Don't let the description fool you, this isn't a halter dress at all! It has a full back that has one button right at the neck. I think this is perfect for a beach trip, a bachelorette party or just for general warm weather! It is on the shorter side, as I am only 5'2″. But it's fully lined on the front and around the whole bottom.
This thing is just too stinking cute. Turn any bag into a fun summery bag instantly! Here is the circle straw bag, which is adorable in itself! But you could throw this charm onto your key ring, your luggage or your regular purse!
This skirt surprised me with how great it is! It's lined, has a hidden back zipper and is super versatile. I styled it with both a chambray shirt and black tank top. I'm wearing a small.
This is THE SOFTEST dress! It would be so perfect for traveling, errands, or literally anything you wanted to be comfy for! It has good stretch, has a slit almost to the knee on one side and comes in several colors. I'm wearing the XS.
I've been eyeing this one awhile and I'm so glad I grabbed it! It comes in a white with black and black with white stripes and is so soft. There's a bit of stretch, it's a little longer and fits slightly large. I'm wearing the XS.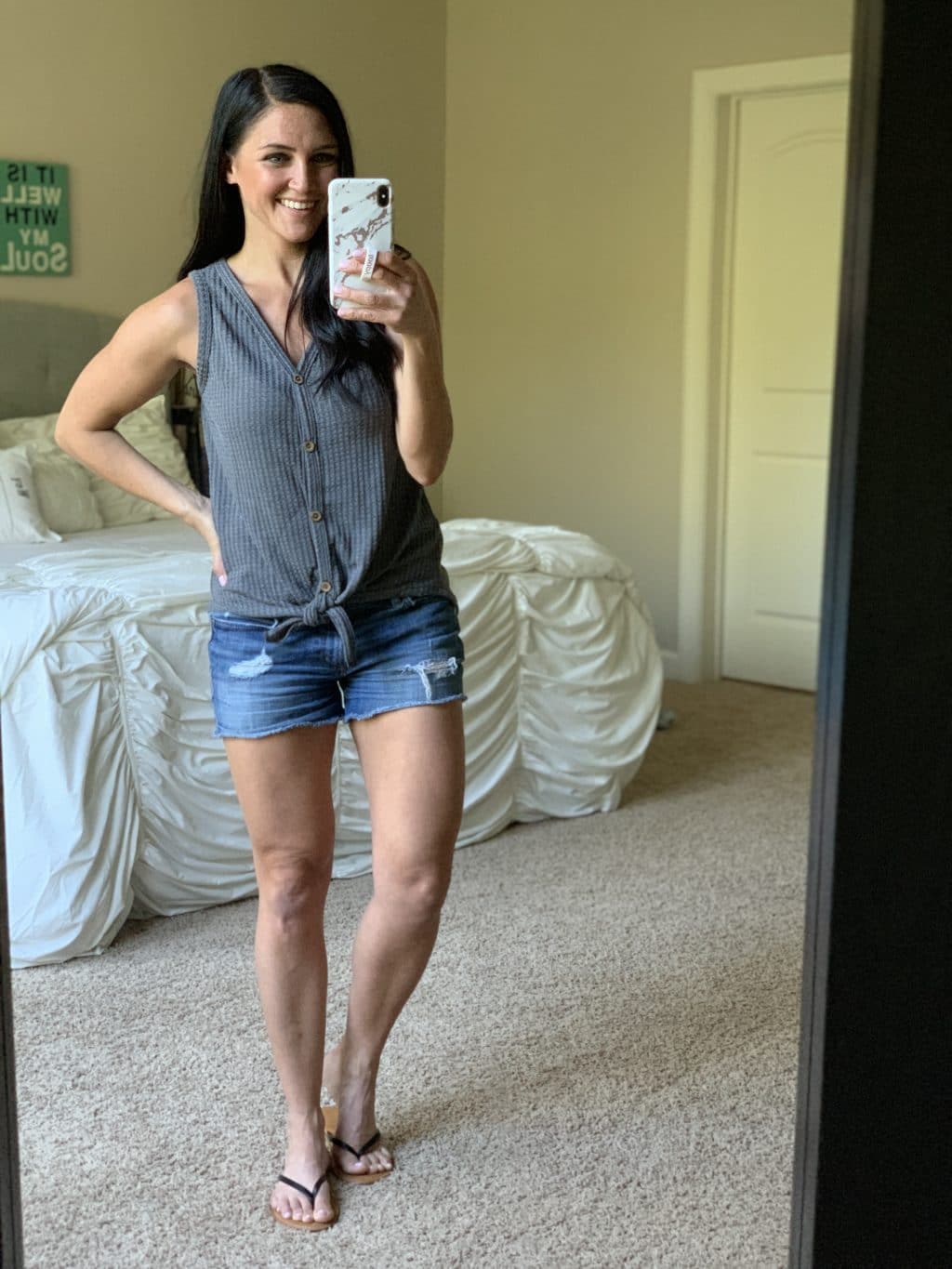 The long sleeve version of this top was a best seller from y'all in the fall, so I knew I needed to grab a sleeveless version! It comes in tons of colors and I'm wearing the XS in dark grey.
I was super torn between black and the cute blue and white stripe version of this suit! It fits so great, has good support and is very adjustable with the back lace up straps. It's a total steal and I'm very impressed with the quality. I'm wearing a small and highly recommend this one!
I was so drawn to the cute scalloped edges on this suit! The floral comes in 3 different colors and I'm wearing a small. It has good booty coverage, straps that can adjust from straight to criss cross in the back and a built in bra.
The bottom of this dress is so cute with the cutout pattern! This dress comes in 2 colors, has good stretch and an exposed back zipper. Oh and POCKETS! Why do we love pockets so much?! I'm wearing a size 4 because they were out of 2 when I ordered, but I could have gone down to a 2.
This dress! This one is a little pricier, but would be so gorgeous for Easter or a Spring wedding. The quality is so great and it's fully lined. I'm wearing a size 2 and it's a bit snug. If you're in between sizes like I am, I would go up.
Shoes in this post:

Other items in this post:

Hope you enjoyed this month's haul! If there is ever anything specific you're looking for let me know!