This is a fun kid-friendly dessert that you can make to match whatever theme you want. I remember our pastor's wife making it for every event when I was little so eating this brings me right back to childhood.
I did springy colors since its getting a bit warm here!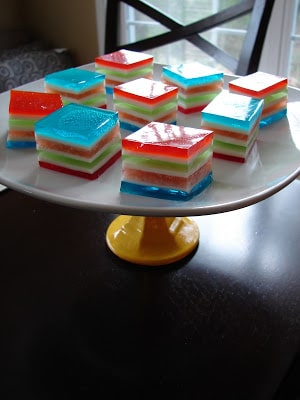 The Players:
4 different flavors of Jello
1 can Sweetened Condensed Milk
7 packets Knox Gelatin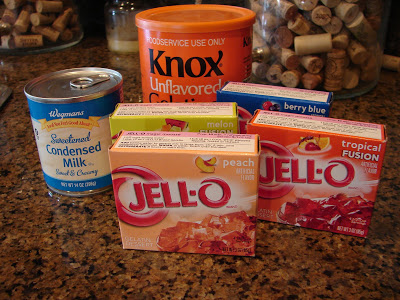 Jello layers – 1 box of jello, 1 packet of gelatin, 1 1/3 cups boiling water.
Pour 1 layer into 9×13 and chill 1 hour.
While chilling, mix 3 packets gelatin, 1 2/3 cups boiling water, and sweetened condensed milk.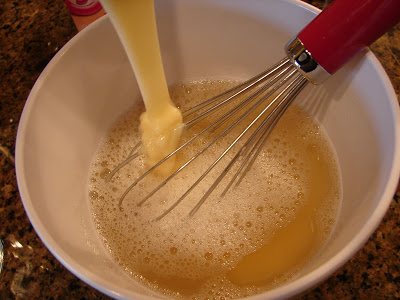 Divide evenly into 3 glasses
Once jello is set, add milk layer and chill 1 hour
Repeat jello layers and milk layers chilling until firm in between.
Slice into 1″ squares.
Here are some tips.
Mix all the jello layers in separate bowls in the beginning. You don't want to pour hot liquid onto the other layers or it will break them. If the jello or the milk mixtures get firm, microwave for 10 seconds and stir before pouring in the pan.
I bought the Knox gelatin in a big container since I've made these multiple times. 1 packet = just shy of 1 Tbsp gelatin.
I've done red and green for Christmas and red, white and blue for July 4th. You can make colors to match birthday or party themes. You can also put a couple drops of food coloring in the milk mixture to make it something other than white. Have fun!