When we go on vacation with my family, we make a meal plan and all take turns cooking. Last night was my night and I made a mexican fiesta complete with the salsa I always make. Well, grocery selection isn't quite what it is back at my house and they didn't have jalapenos in a can. No biggie, I just got fresh ones…
My iPod was thumping, I was shaking what my Mama gave me, drinking a Bud Light Lime and cooking away. Peeling seeds out of jalapenos with my bare hands.
Within 20 minutes, my hands were burning. My rings started feeling tight. I kept cooking thinking it may have been from the high heat, but it kept getting worse. So bad that I had to dunk my hands in ice. I was so confused by what it could be and then it seemed to hit everyone but me, that whoa, you shouldn't handle jalapenos with bare hands.
Everyone started googling things to try. Milk, sour cream, alcohol, dish soap, Orajel, sand, salt water, vaseline, lemon juice…you name it, I tried it…with no relief.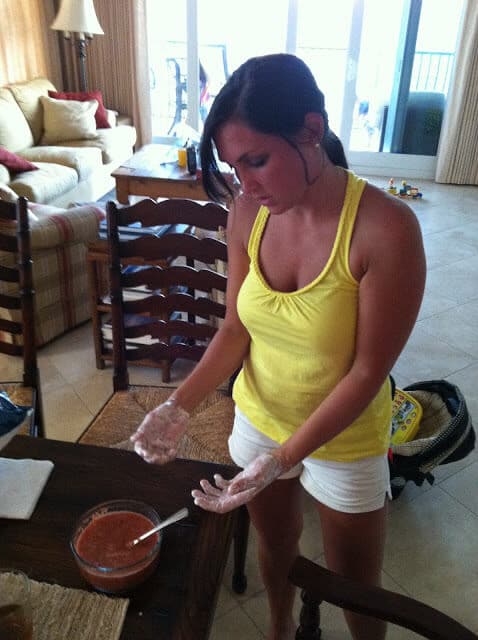 The pain just kept getting worse and my hands felt like they were on fire. Literally a miserable pain. I kept my hands in a bucket of ice because that was the only relief. But, I had to keep taking them out because they were getting so cold. I finally broke down and cried. I didn't even cry for the first 38 hours of labor, but these jalapenos were kicking my butt.


The hubs ordered me into the car to go to Urgent Care. We got there at 7:59pm. They closed at 8. And they wouldn't see me. I was standing outside the door, with my bucket of ice and I cried some more. From all the stuff I read online, it seemed that getting morphine was the only thing that took away some peoples serious pain. I just didn't want to go to the ER. The ice totally numbed my hands, but withing 1 minute of being out, the pain was raging. I figured if I could keep my hands in ice for the 12-24 hours they say the pain last, I would make it.


So that's what I did. All.Night.Long.


I drank wine through a straw, my sis fed me cookies and I soaked, soaked, soaked. Then I slept in a chair with my precious ice bucket.
When I woke up this morning (after the hubs having to get my pj's on and not washing my face) I was feeling better. Tingly and numb (possibly from frostbite), but better. But there are still oils on your hands that could spread, so I'm rocking tube socks and am terrified to touch my babies. You know how weird it is to type with socks on your hands?
So that awful component of jalapenos, capsicum, is the same stuff they use in pepper spray. It has a chemical reaction with the sensory nerves causing the feeling of a chemical burn, just without the actual tissue damage.
I will never, NEVER be cooking with any kind of hot pepper again, unless it is safely in a can. Write it in your recipe books and tell all your friends to glove up if you're touching these things! Am I the only one that had no idea this could happen?