Spring Break is just around the corner for us here in North Carolina. Like it or not, it's almost time to break out the bathing suits! I have several one pieces I absolutely love and I just prefer to wear them when I'm with the kids. Way less chance of a nip slip, ya know what I mean? It used to be that finding a great quality suit would really set you back. Not anymore! I've found tons of great rated one piece bathing suits under $50!
This is my absolute favorite from last year and it was, I kid you not, from Walmart. I found 2 similar this year, this one for $25 and this one for $40.
If you're looking for a classic black suit, I can't recommend this ruffle strap one piece enough! I wore it a ton last year and it's back in stock this year in both black and white!

More great options for one piece bathing suits under $50!

I ordered
this two tone pink one
because I couldn't get over how adorable it is and the insane price! I'll share some of my favorite bikinis soon, but if you like a more modest top, I just ordered this
ombre bikini top
and
bottom
as well as
this striped bikini top
and
bottom
. When I go for a bikini, I like to have it more covering up top.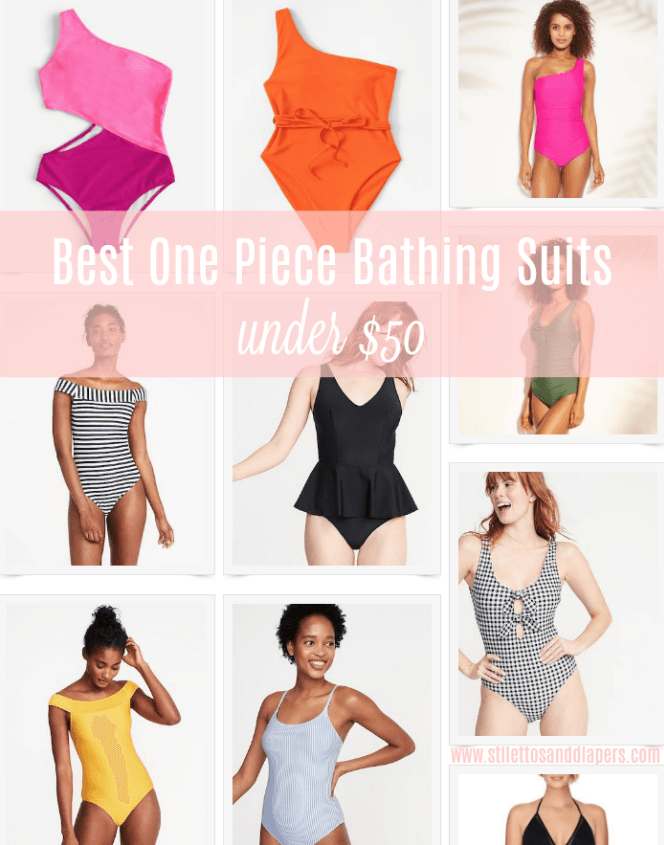 Are you team one piece, bikini or both like me?