Happy Monday! We had such a relaxing weekend that was much needed! I told y'all on Instagram during the week that I was making a transition from a diaper bag to a mom purse! I'm not sure why I waited so long, honestly. It's been so nice carrying around a smaller bag and my back is sure thanking me!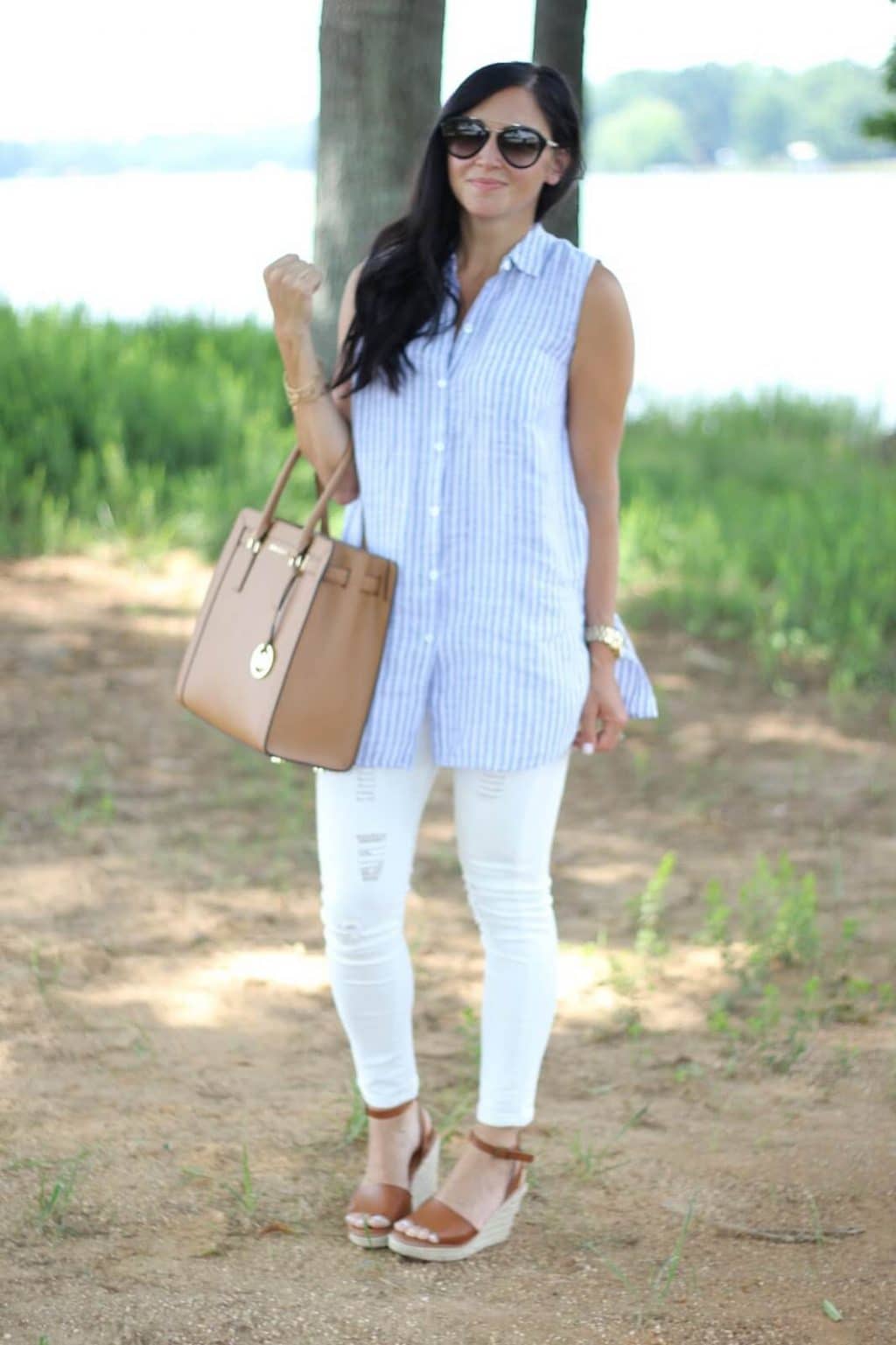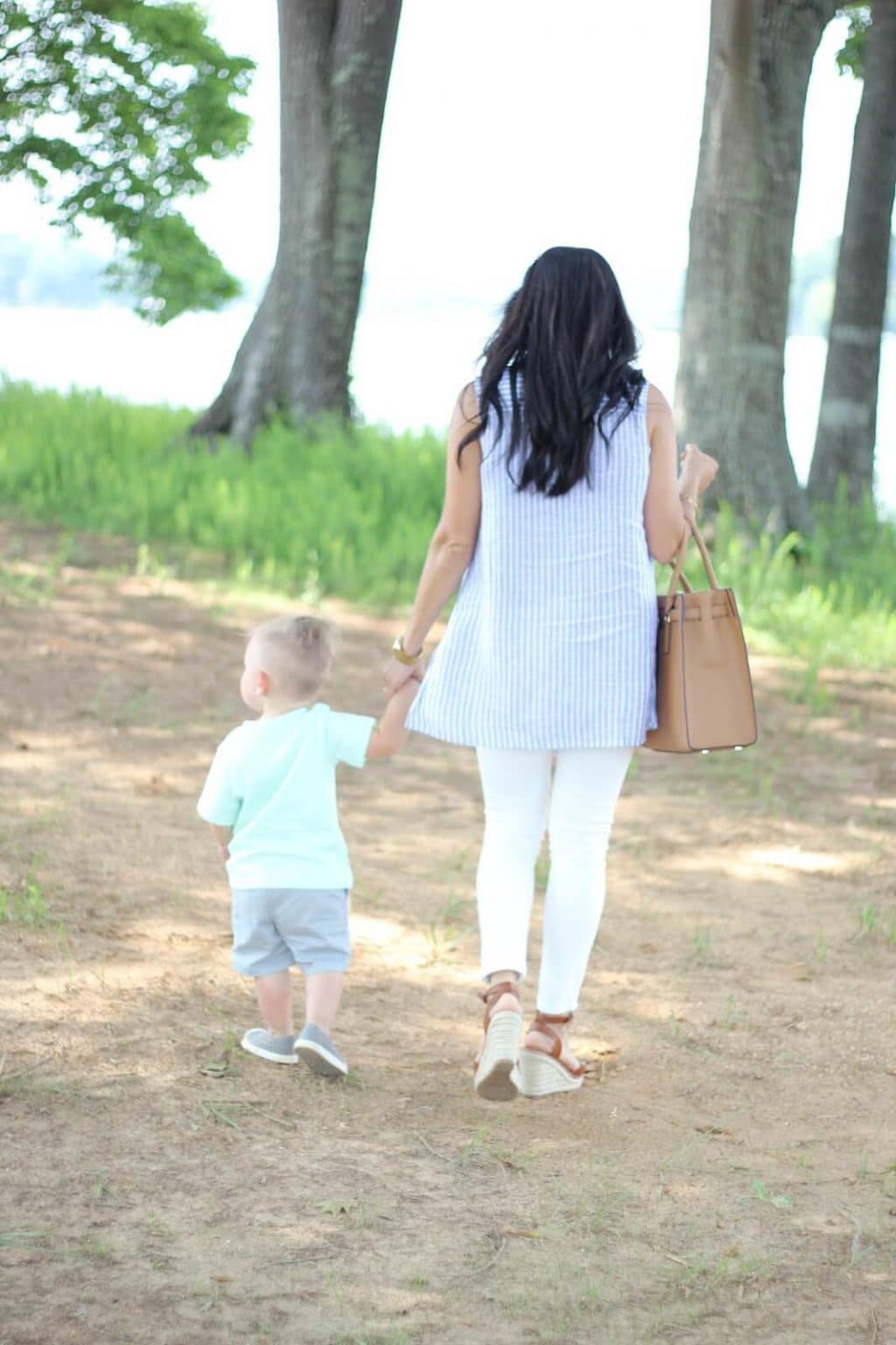 I knew I wanted a nice neutral color that I wouldn't have to worry about changing to match different outfits. I also knew I needed a bit of space, as well as some inside pockets to make it all work. I went to Concord Mills Mall here in Charlotte, since they're having their Annual Bag Sale, and found this Michael Kors beauty for a great deal.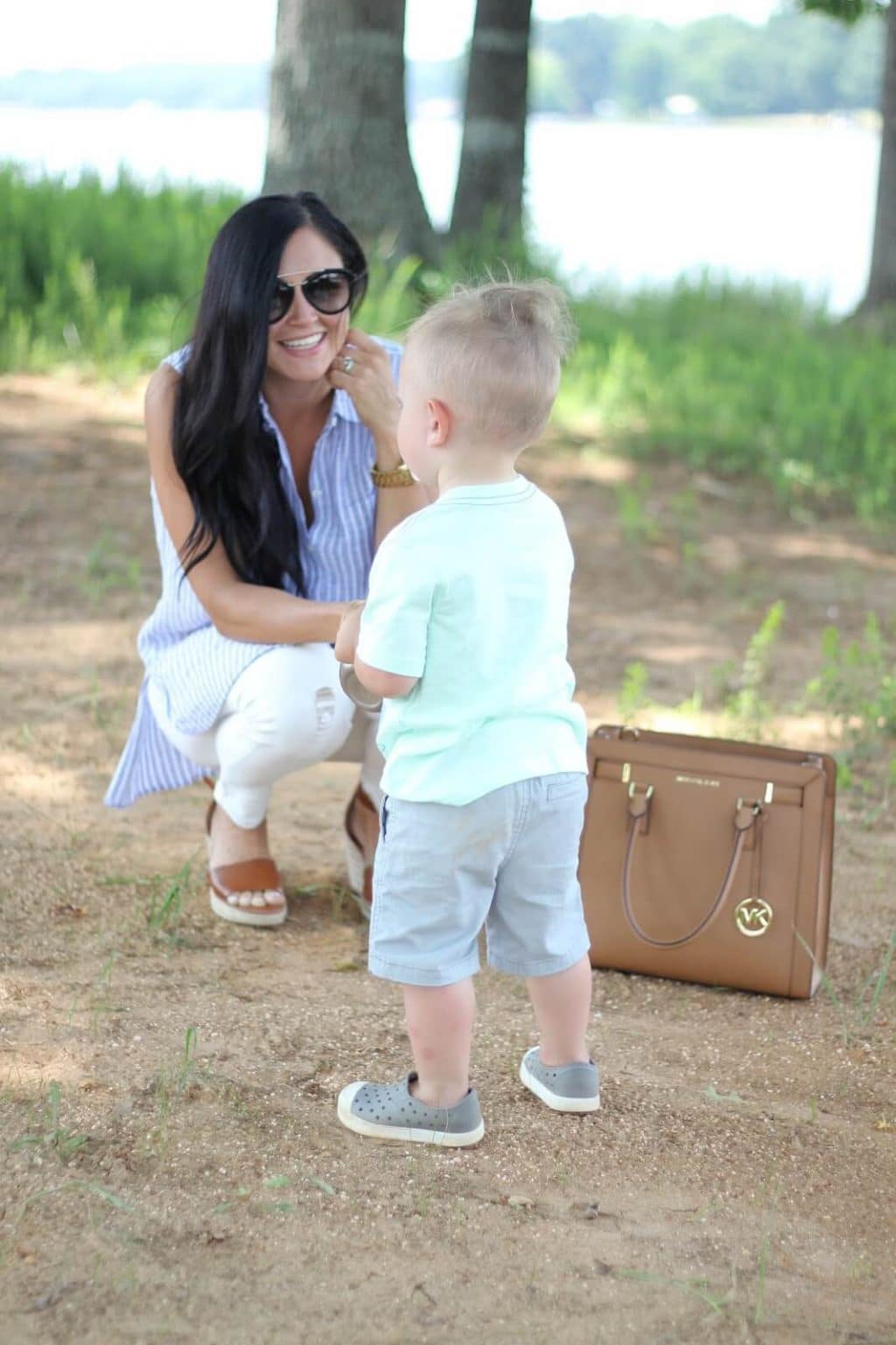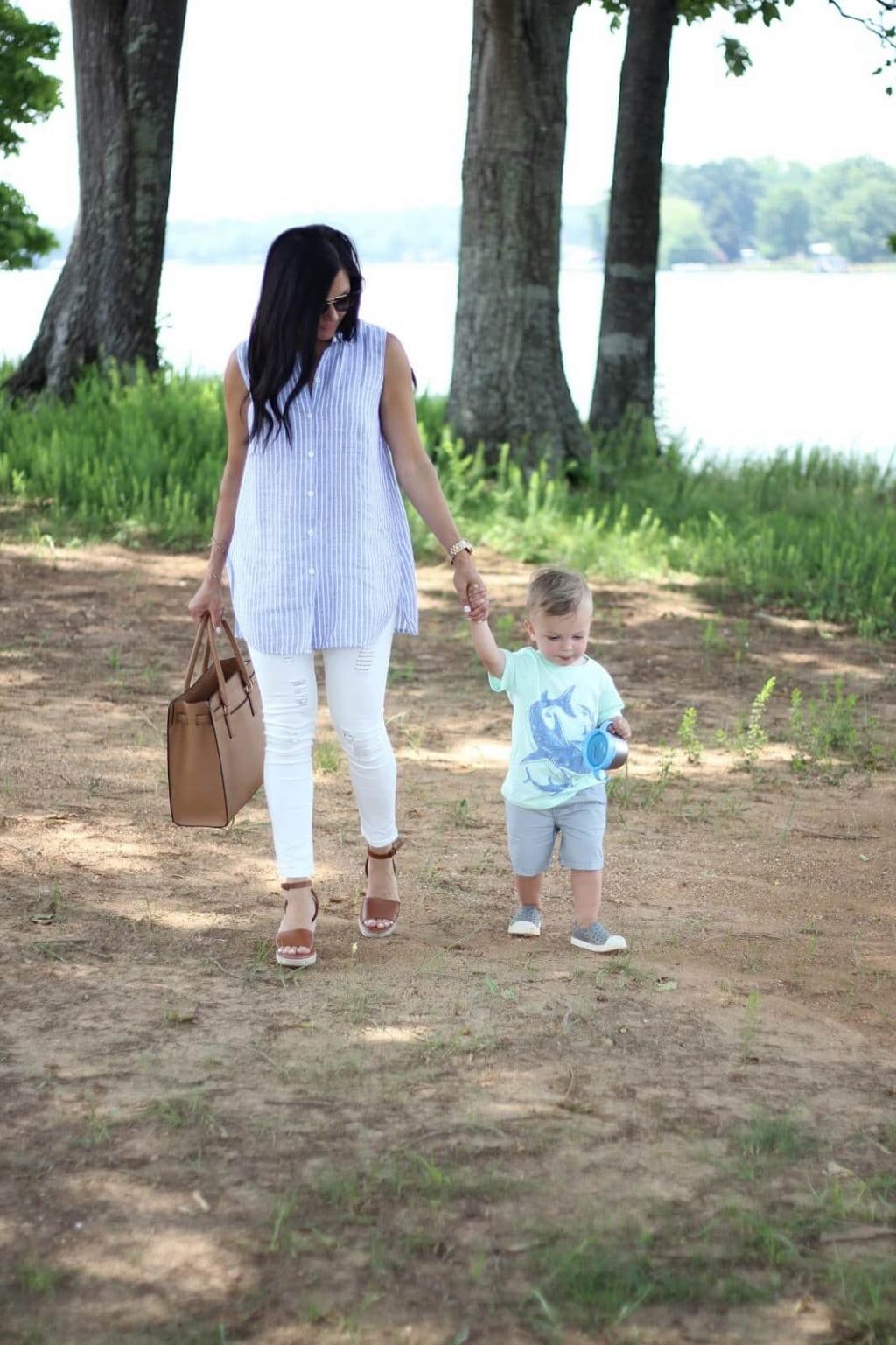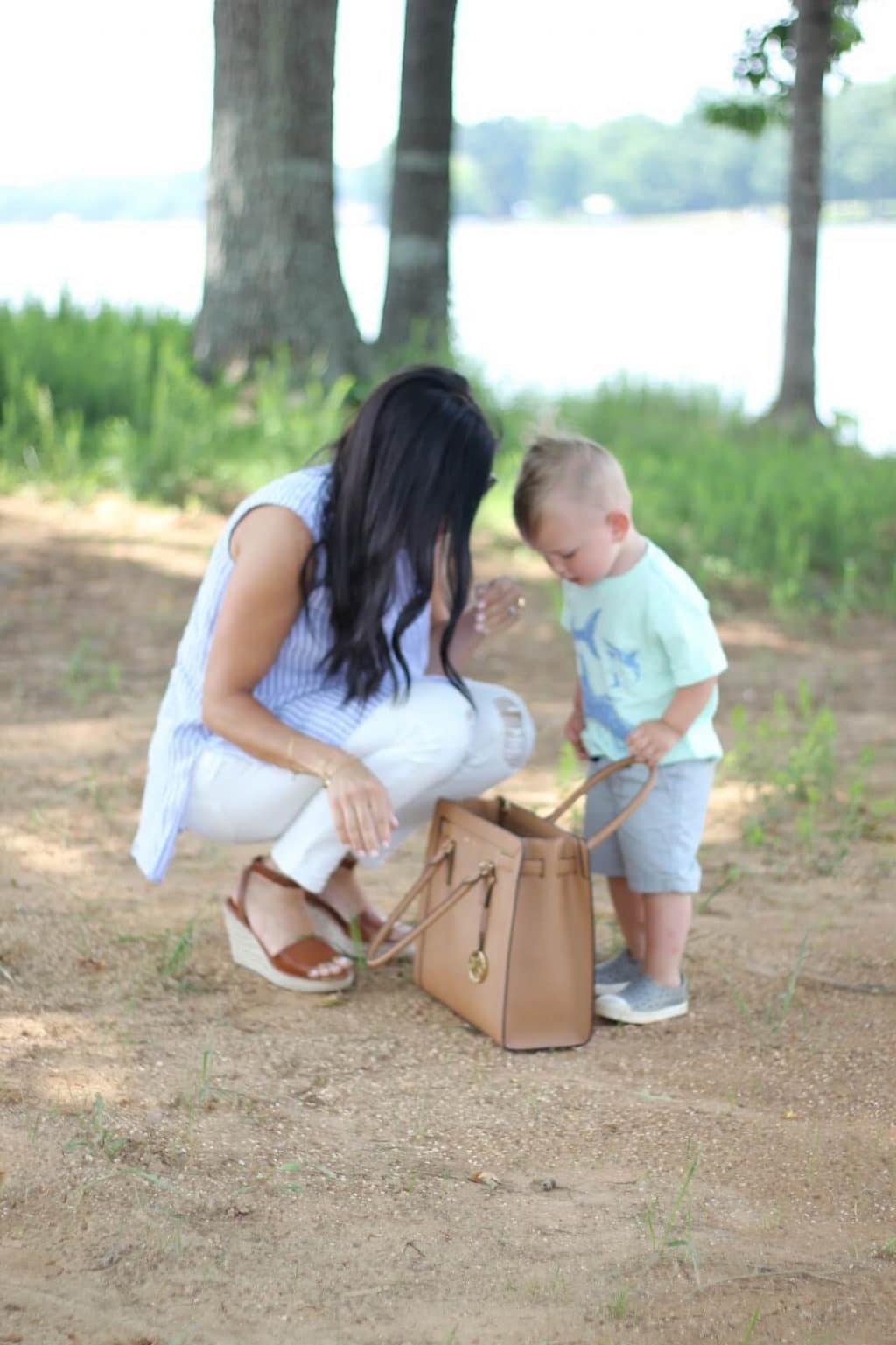 So let's talk about what is actually in my bag now. I thought about what I really use on a regular basis while I'm out, then started filling based on most important things. With Lincoln being 21 months, we really don't need tons of stuff anymore and I probably could have done this several months ago!


Wallet. I have a Michael Kors folding wallet that I got from the Concord Mills store a few months ago. It's the same color of the bag and the long, skinny design fits great.


Small Cosmetic Bag. I have a small, zip top bag that keeps my lipstick, chapstick, a little brush and a couple makeup items in it.


Diaper and Wipes. I just keep 1 diaper and a small wipe clutch in my bag now. It's very rare that Lincoln would need more than 1 diaper change while we're out and usually he doesn't even have any.


Snack Cup. I like this Munchkin Stainless Steel one because the flaps are soft and it doesn't hurt his little fingers.


Sippy Cup. These Munchkin 360 cups are my favorite lately. They don't leak unless they're violently thrown onto the floor. Haha.


Small Toy. He is really in love with his Blaze race car and I love that it's a little toy that keeps him entertained when we go places.
To make this smaller bag work, I still keep my Mom Car Essentials basket in the trunk with backup diapers, snacks and a change of clothes, just in case. Usually the only thing I use out of it is more snacks!
Concord Mills Annual Bag Sale runs May 26 – June 30, so you locals still have time to shop! There are additional savings off bags from many of the retailers, including Michael Kors, Coach, H&M, Vera Bradley and more! My bag was 60% off, plus the bag sale discount of 20% off on top of that! Head to their Facebook page to enter to win a $500 Simon gift card in the Handbag of Your Dreams Sweepstakes!
What is the most important thing you keep in your purse?
Have you ever made a diaper bag to purse transition? If so, when?
This post was sponsored by Simon and Concord Mills.
All opinions are my own.