I feel like I have been away from home forever. Well, I kindof have been. I have learned alot since I left, and I am happy to pass on my wisdom.
Flying a red eye with a 16 months old is miserable then, and for the next 2 days that he is behind on sleep.
If your baby gets pink eye in Disney, it cost $105 for Vigamox to be brought to you.
If your baby is tired enough, he will sleep anywhere.
Never assume a baby will be born on or around her due date just because you flew across the country to be there.
Also, do not assume that because Disney World is only 6 hours away, that you can get back before the birth. You will end up in tears, making a U-turn on I-75.
Do not entrust your husband to keep your 16 month old while you race to the birth that you missed anyway. Your baby will fall in the pool. TWICE. At least I have a honest husband, huh?
If you are driving alone, a DVD player is not an option. It is a requirement. Or else you will be yelling at every other driver on the road and look like this.
You will do anything to entertain your child. Even this: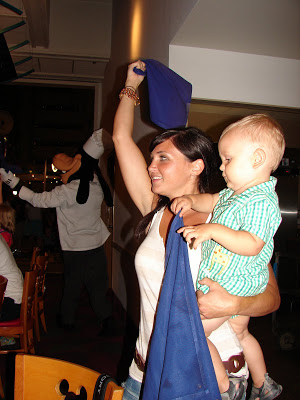 Ok, so I was having a total blast.
BUT, if you get to be at the beach with your family, and stay here,
then go to Disney with the in-laws,
See your little man smile like this,
And meet your new niece, who happens to be gorgeous,
Then it is all worth it!