Remember my little penguin?
He hit the streets for his first official trick or
treating
night. (That's an excited face, really)
Until his dad stole his candy, and I have footage to prove it!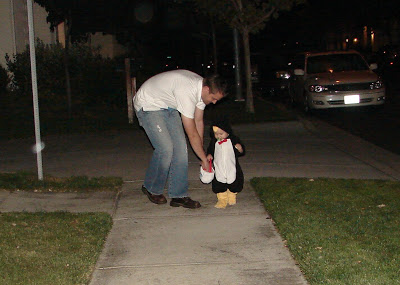 Cooper the penguin, and his buddy, Ty, the dill pickle. Too bad I have like NO shots from the front!
This was the jackpot house. Candy on the porch!
Cooper LOVED it. He rang the bell, and then tried to go into every house.
Kindof
started to melt down towards the end. I tried to keep him up an extra hour to compensate for the time change, but it totally didn't work.
Ugg
, I really hope I don't have to wake up before 6 another day…