I am one of those "crazies" headed out at 4am tomorrow. Are you? Honestly, I don't buy much, but I love the crowds. Its tradition in my family anyway. I have been doing it since I was about 10 with my mom and sisters, and I don't think I'll ever stop!
These things will make your shopping extravaganza much better.
A watch. You gotta keep track of the time so you get everywhere before noon.
Snacks. There is no time for stopping to get food. I repeat. NO TIME. (Starbucks is exempt!) Throw a water bottle, granola bars, trail mix, and CHOCOLATE in your purse. While you are in lines for forevas, you can snack! Keep some extras in the car so you can refill your purse in between stores.
Sunnies. It will be dark when you leave the house, but once the sun comes out and everyone can see the bags under your eyes, you will be ever so grateful for them.
Now on to the fashion. I'm posting FF a day early today to get you girls ready for tomorrow! It will be ever so tempting to roll out of bed, put on your fav sweat suit and tennis shoes and go. BUT, you have other options. Here are my black Friday tips.
It may be cold when you run to the car, but you are going to work up a sweat when you start throwing punches over the last $3 appliance at Target.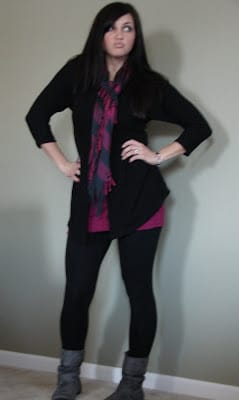 Just say no to tennis shoes
They may be comfy, but they are a real pain to get on and off. Go with flats that you can walk all day in.
Comfort, Comfort, Comfort
Leggings are the most comfortable choice, in my opinion. Your pants have to allow you to do the happy dance when you find great deals!
Hope you all had a wonderful Thanksgiving!
Go see Summer for more Fashion!