I buy most everything from Amazon, why not home decor?! I'm not sure I've actually bought anything decorative for the house with my handy dandy Prime deals before this week, but I just broke that trend! I didn't need much, but grabbed a few things just to festive it up without breaking the bank.
Amazon Fall Home Decor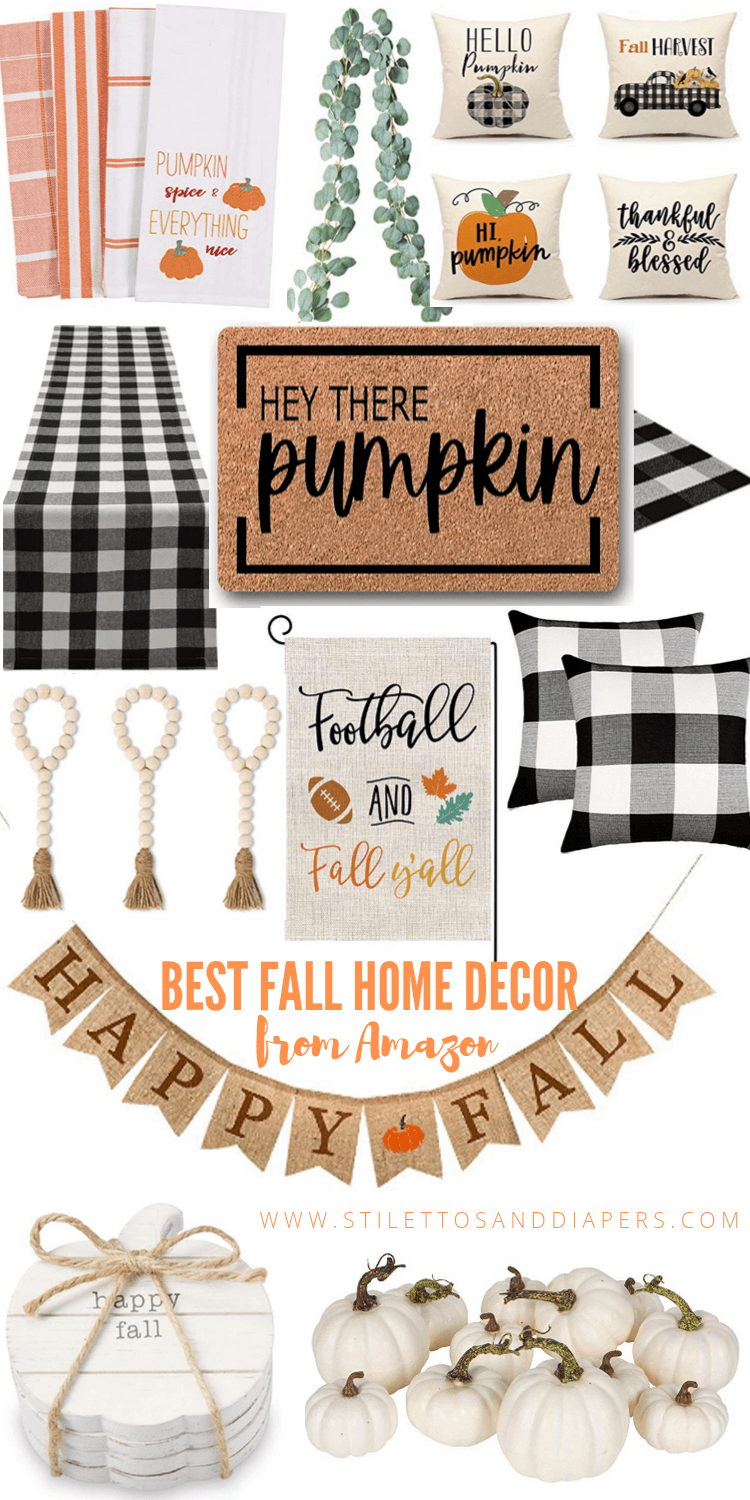 Each season, I change out the towels that hang on my oven and bar cart. I don't typically use them, just have them out for decoration. This set of 4 comes in several different patterns, including another fall, a Halloween and more.
I love the pop of green in fall decor and this looks really pretty draped over a mantle, mixed with pumpkins and candles.
I don't know where this idea has been all my life, but I just realized that I should stop buying actual pillows and get covers. (I know I'm so late to this game!) Most of my pillows are actually the same size, so it worked out perfectly to grab some covers to put over my existing pillows. This way is much more cost efficient, with these 4 coming in under $20!
I got this to run down my side table in the sitting room. It really adds a pretty touch to the fall decor.
You've seen this one on every Instagrammers porch, but it's because it's so darn cute!
This is a great, thin, yet weather friendly mat to layer under your door mat. It comes in 4 sizes to be sure to accent just enough around the edges.
I'm using these to hang off of some lanterns by my fireplace. They are even good to use year round in a more country chic decor style.
If you have a football lover in your house, how cute is this flag for outside? It comes in 2 different sizes and is printed on both sides.
I really debated between the black and orange in these! But sticking with the theme, I got the black ones and am going to put them over my existing pillows. They come in 12 colors and several sizes.
I love a banner hanging off the mantle and that's where this one is going!
This set of 4 have cute sayings on them and add a really cute touch to your coffee table.
These are so great for decorating a mantle, filling a bowl or using in a centerpiece. With 12 pumpkins, you can make these go a long way.
Like these Amazon Fall home decor finds? Check out my latest Amazon fashion post!