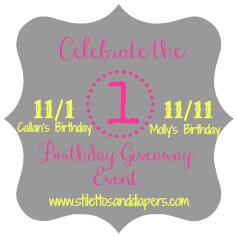 Welcome to the last day of giveaways to Celebrate the 1! Callan was 1 on 11-1 and my Birthday is 11-11 and there will be a fabulous giveaway here every day between them! We have a lot of reason to celebrate the 1's!
I decided that today being my Birthday, it's finally time to reveal a secret I've been keeping. Something I've been working on for a little while now and something that I'm just thrilled about!
In about 2 weeks, there will be a grand opening of my very own online jewelry and accessories boutique, Molly Suzanne!

I'm a big believer that jewelry can make an outfit. As a Mom, I feel like I don't always have the time to perfect an outfit, but throwing on a favorite statement piece makes my clothes come together. I decided I wanted to sell pieces that are gorgeous and fashionable without breaking the bank. The fabulous Jenn created my logo and I'm so excited to start this venture! Here's a sample of what you'll be able to find in the store.
Before the website is actually live, I wanted to ask you amazing readers to like Molly Suzanne's Facebook page and follow on Twitter. This way, you'll be up to date with when the store opens, new products coming and of course, sales! Thank you!!
Now onto the giveaway. 1 reader will win a grab bag filled with some of my new pieces valued at $100! Simple enter the Rafflecopter widget below!