Holy crap. I can't believe it's true that I actually have a middle schooler! It's been quite a different experience already, starting with me sending bags of supplies into school on the first day…apparently they don't all share like elementary school and Cooper brought them all straight home! Since we started school a couple weeks ago and most people are just now, or yet to start, I wanted to share some tips and also our middle school essentials with you!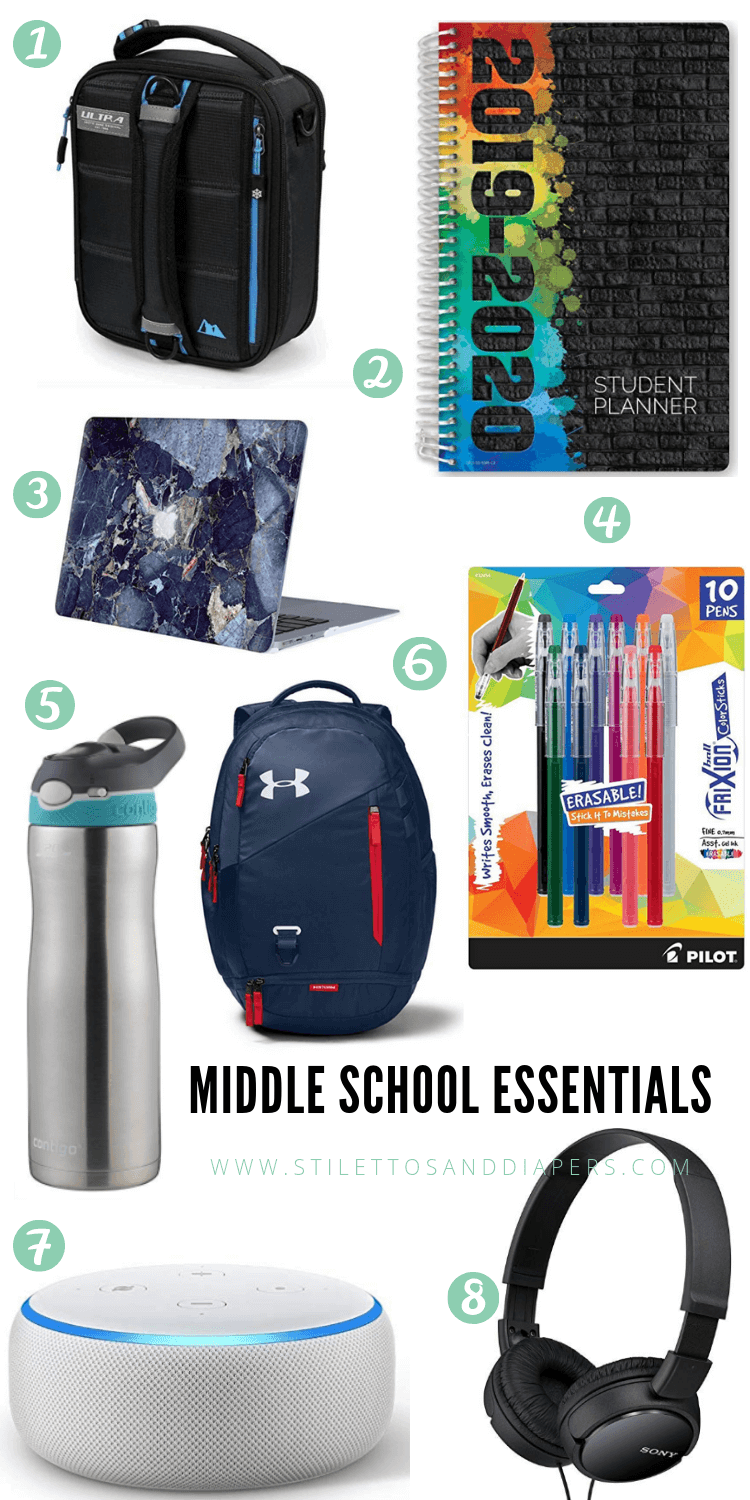 This lunch box is the best we've ever used! Both boys actually have it. It comes with dry sealed sections, 4 containers and an ice pack. It is expandable and has a carrying strap that can be used 2 different ways.
This planner has been great for Cooper so far! It has monthly and weekly space, allowing more space during the week and less on weekends. It's broken down into blocks to keep everything organized.
If your child is begging to cover their laptop in stickers, grab one of these! They're dual purpose in keeping the computer safe and allows them to customize the computer that will ultimately go back to the school.
These are so cool and I personally love using them as well! They allow for all the colorful writing, but you can erase any mistakes or schedule changes.
I snagged these a couple months ago and both boys have been using them. The mouthpiece locks into place and they don't leak! I like that they're stainless steel and they keep ice in them all day long.
We got this specific Under Armor backpack for Cooper since it's pretty lightweight, has a place for his laptop and a place in the bottom for his shoes/gym clothes. It also looks pretty cool!
These are AWESOME for kids and we use them for many things! Morning alarms (which can be set on a weekday basis) to play music, set homework timers, ask questions and so much more!
These are a great deal for good quality headphones. Our school was specific in asking for corded headphones instead of earbuds and these work great.
Here are some other middle school tips that we've discovered over the last 2 weeks!
Create a space for rotating supplies
Cooper has "A" days and "B" days. With so much stuff that needs to go each day, we only send him with the items needed for that specific day. The other stuff stays in a spot in the mudroom and is easy to access and swap folders, books, etc.
Set homework time
The homework is already quite a bit more than it used to be! We have set a time and place for homework, so that it's as easy as possible to not fall behind. Cooper usually multi tasks after school snack with homework so he can get it done before sports practices.
Plan downtime
We have already seen just how much more the workload is between elementary and middle. Add in sports and it's a full time job these little ones have. We've decided that we are going to have dedicated down time. Even if their rooms aren't clean and if the chores aren't done. We all need that time to rest and recharge to avoid burnout. Even our kids!