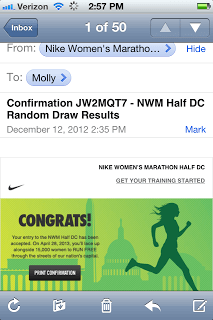 Not sure if I mentioned it yet, but I got chosen in the random draw to run in the Nike Women's Half Marathon in DC this year! It will be my second half marathon and once again, I'll be running with my bloggy bestie, Rachel!


Training with kids is tough. It's just a lot of time commitment. I've been doing fine, getting in my 3 milers around the neighborhood when the hubs gets home from work and sneaking in the long runs on the weekends.


Well, they've all become long runs lately. Yesterday I was slated to run 6 miles. And while I should probably just get a treadmill and solve all these problems, I could buy a lot of clothes for the price of one. So I won't.


On Sunday night, it totally hit me. Why don't I just get up early, get to the gym and get home before the boys wake up? OMG. Why haven't I thought of that before!? It's perfect! So off I went at 6am yesterday for my 6 miler. I was home by 7:30 and all the boys were just waking up. I was patting myself on the back for being such a genius as I made breakfast then scurried off for a shower while everyone ate.


Then around 10am it hit me.


I found myself sitting in pure zombie mode in the basement while the boys played around me. I think I may have fallen asleep for a hot minute before my head slammed against the back of the couch. I was exhausted. At 10am.


I shuffled around the rest of the day, with my wet hair still piled on top of my head and fell asleep at 9 on the couch. I didn't even see who got kicked off the bachelor!


How you moms do it, I'll never know. I do not have the energy to wake up early and run, then function properly all day. Maybe I'd be good if we had siestas around here?


This morning, you better believe my bootay was parked in bed until the kids woke up. After that, it was snuggle time on the couch while watching Mickey. Aka, a little more sleep for Mommy. Just how I like it.