There are a lot of lists out there with what to get your man for Valentine's Day. If yours is anything like my husband, a tie isn't exactly on his wish list. He want's cool stuff that isn't your run of the mill, but he hates buying impractical stuff that is just going to sit around. Here is a list of things that fits the bill here and may work great for you, too!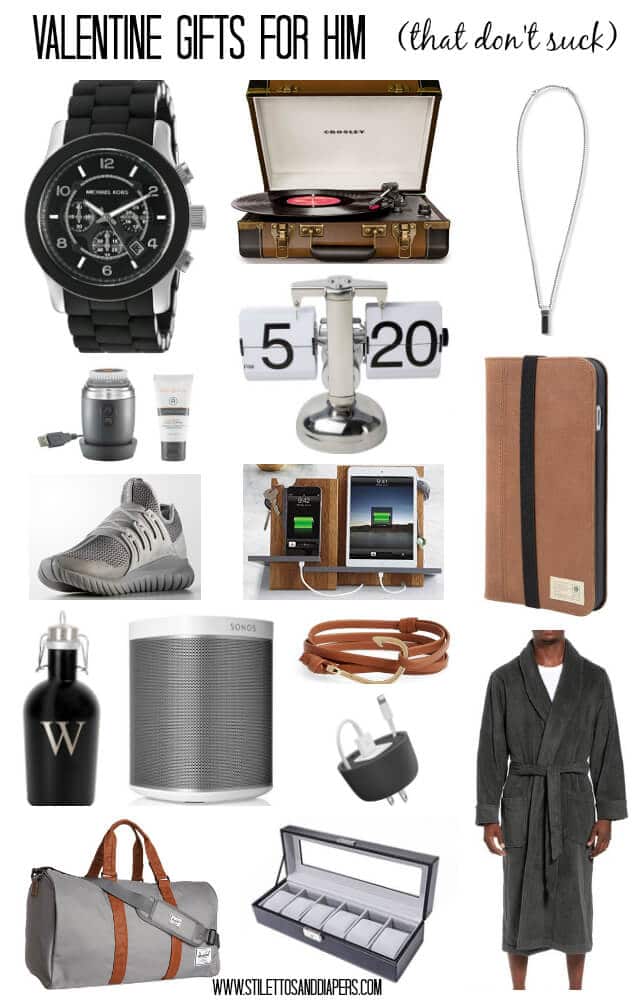 Rubber Band Watch: I've seen this trend a lot lately and am loving it. The face is dressy enough to wear to work, but the band makes it comfortable enough for a casual day out. The Hubs got one for Christmas and he's been wearing it tons.


USB Turntable: How cool would this be in your Valentine's office or man cave?


Necklace – Men's jewelry is in right now, mostly in the form of necklaces and bracelets. I got this custom necklace for The Hubs when Lincoln was born and it has all 3 boys and my name engraved on it. If you're not looking for something that personal, this is a very versatile necklace at a great price point.


Clarisonic for him: Maybe it's because we're in our 30s now, but we've both been putting a bigger emphasis on skin care. I have a Clarisonic and love it.


Retro Flip Clock: This may not be a necessary item, but it sure looks cool! It would be a nice addition to an office space.


Adidas Tubular Sneaker: Yeezy's were a wishlist item from my husband. Umm, yeah. Instead of selling a kidney, try out this cool version instead.


Charging Station: I hate cords and electronics everywhere. We just got a family sized station, but I love this one for a guys bedside table.


iPhone case and wallet: Some guys (ahem…mine) need an all in one. Or else they'll be leaving all sorts of stuff behind.


Monogrammed Growler: Most beer guys have mugs, koozies and openers, but I think this is a good and different option that would also look great on a bar cart.
Sonos: This is on every men's gift guide of mine. But trust me on this one. Your man will love it. We currently have 3 in different parts of our house. You can sync them up to play the same thing at the same time, or be totally different music. It's all controlled from your phone and I actually use them all the time. Win-win.


Bracelet: Back to the jewelry thing. I think this is a cool, yet manly piece that would go with a lot.


Power Cord Curler: This little gadget rolls your charger right up inside so that you only pull out all that length when you need it.


Herschel Weekend Bag – I love the look of this brand's products and would totally carry them myself! This quilted version of it is nice, too.
Watch Case: If your man has a collection…you're going to need to get him this. Or not. Then he'll just want you to keep filling it up!


Cozy Robe: I am a robe fan and have created quite the robe loving kids. I think it's about time The Hubs gets in on the action as well! If you want something lighter weight, this knit one looks like a great option as well.


Does your man have a wish list?


Any other great ideas you have for him?