Since becoming a mom, I have quickly realized that carrying around a child covers up at least 1/3 of your outfit. This just makes your baby a huge accessory. I usually dress Coop up to coordinate with me when we go out for something important. This is what he will be wearing to Christmas Eve church, to go along with my red and black outfit. I just dressed him up for this photo shoot and then
immediatly
stripped him down.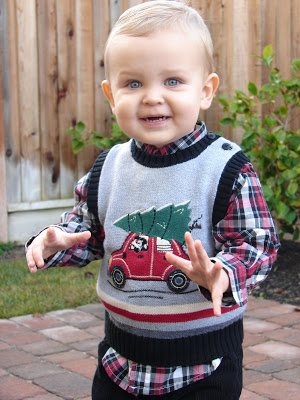 He had enough, and started walking away!
Plaid Shirt – Children's Place
Vest – Children's Place
Black Cords – Old Navy
Children's Place is like my
FAV
store for kids. They are affordable, have great sales, and have super cute clothes. Sign up for their mailing list and you will get coupons in the mail, too!
Fashion Friday is brought to you by the fab, Summer.