This week's meal plan with easy, family friendly dishes to keep you on track this week!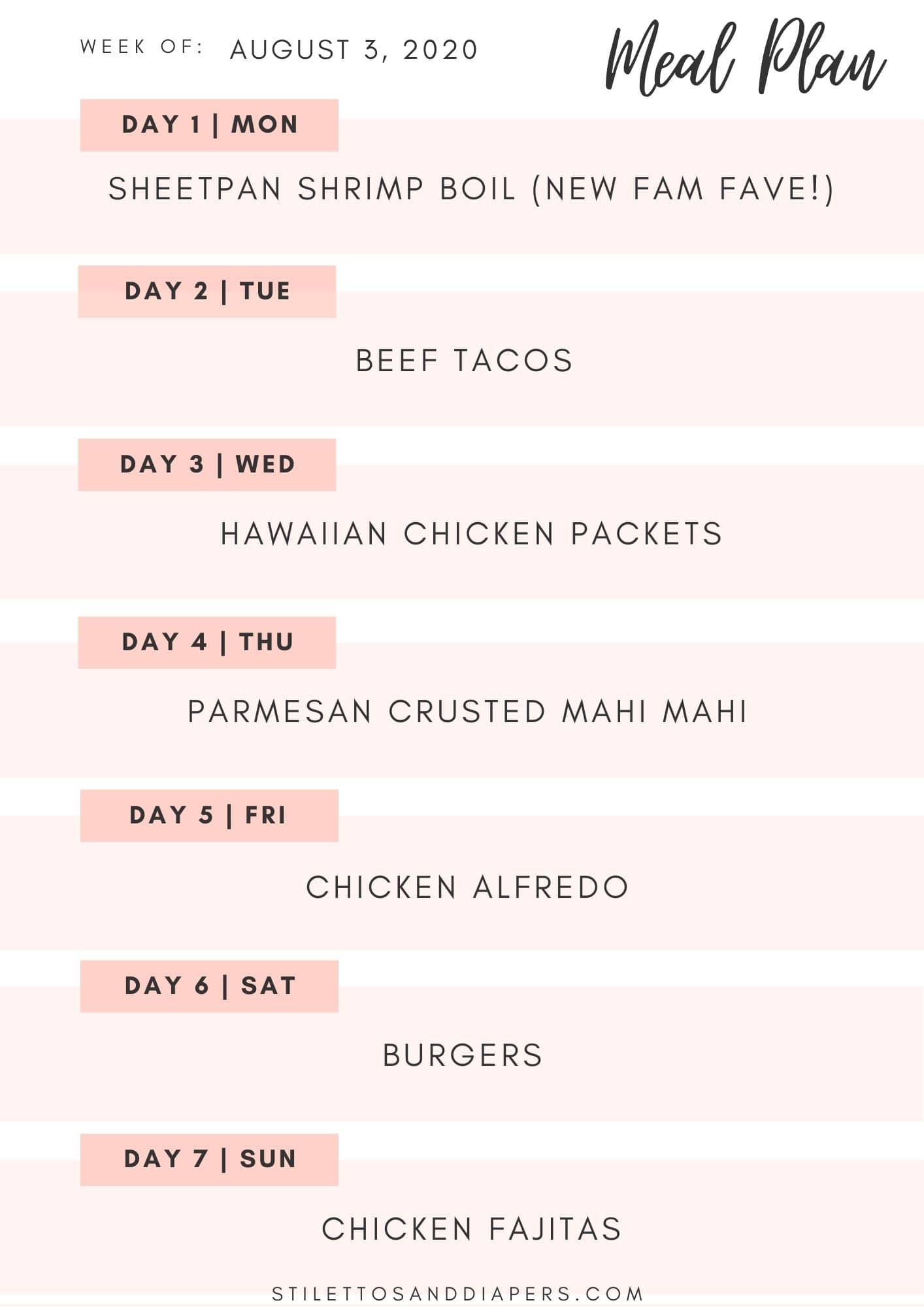 We're at the beach right now, but we aren't eating out and are trying to minimize our trips to the store. Meal planning is my only way to do that, so after church yesterday, I sat down and planned the week out. I do have a couple seafood meals in, since we can get some really great seafood here from a local market. We are all huge seafood fans and I encourage you all to give these fish dishes a shot!
We have made this several times lately and the whole family LOVES it! You can leave some without the spices if your kids don't like it too spicy. It's so easy and a fun alternative to the boiled version I normally make.
Beef Tacos
I like to make my Spaghetti Squash Taco boats when we have taco nights. All you need to add is the squash! I also have been wanting to try these baked beef tacos, so this might be the week!
Another easy, summer meal that we love! This one wins because of the little clean up! You can exchange the veggies and we usually do a pepper/onion mix.
We're having fish twice this week since we're at the beach and can get really good seafood! My kids really love mild white fish and if it's breaded like this recipe, it's even better. Don't hesitate to get your kids to try some fish!
This was a dish I made a ton growing up and I loved it! It's fallen off our menu, but I was reminded of it when the boys were asking to go to Olive Garden. I said you know, we can make the same things at home? And they were sold. So this has been a top hit on our regular menu!
These are a forever staying meal that we first ate during Whole30. You can absolutely have these on a bun, if you'd like! But they're so good, I don't even miss the carb!
I'm such a sheetpan/easy dinner/one pot kinda gal. You can make these the classic way in a wok, but this one is hands off and easy. Just how I like it!
I'll be enlisting help from the boys to make these meals. They love helping me cook and I chose recipes that are easy for them to make and hopefully retain the memory of how to cook them!
Hope you all have a wonderful week!