Thank you, Corona, for sponsoring this post!
How to create a beer charcuterie board for simple fall entertaining. Grab a few friends or family members for this beer themed gathering!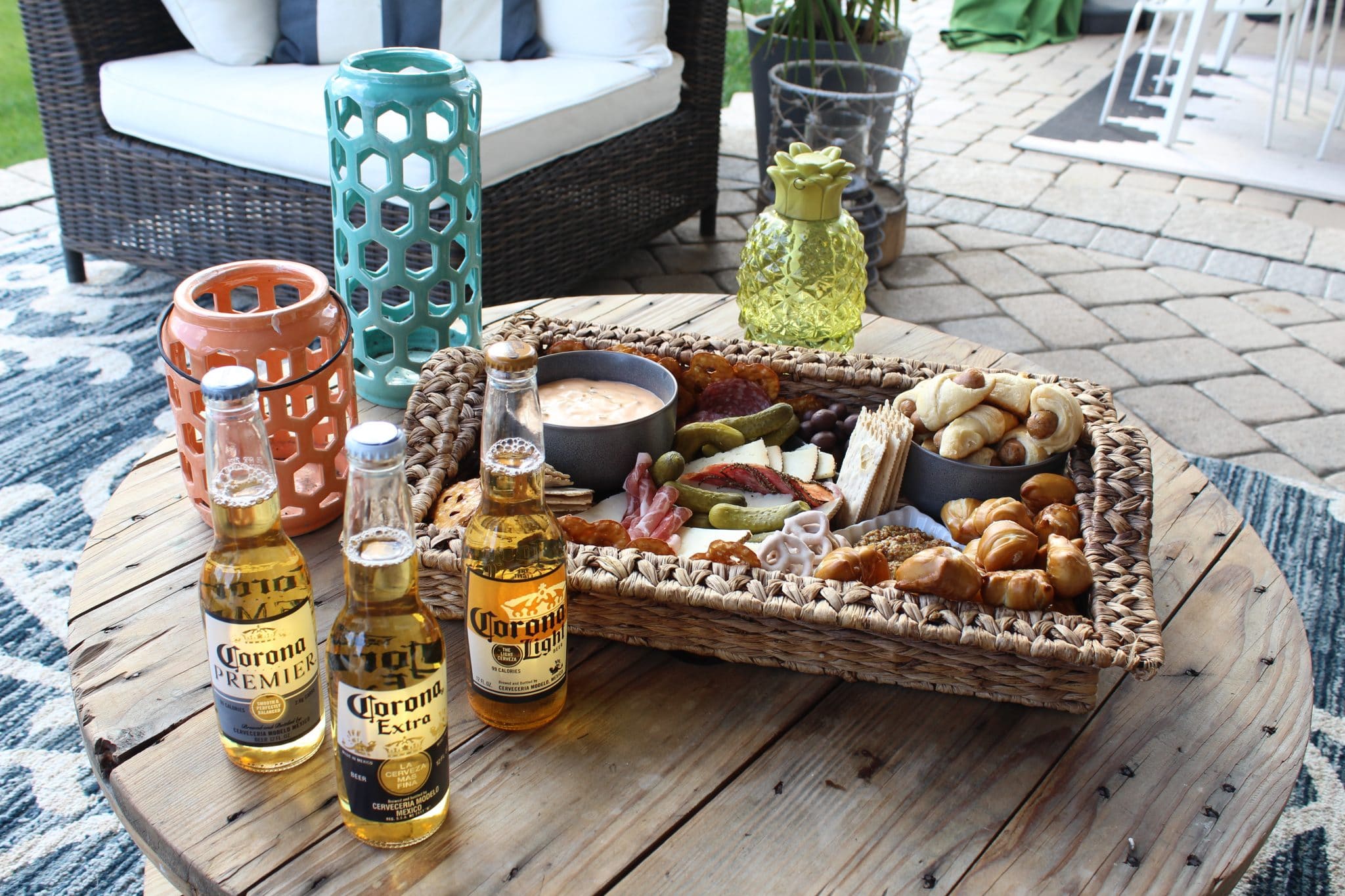 Family. Friends. Laughs. We've all been missing these things over the last several months! I was SO excited to finally be able to see my sisters and their husbands a few weeks ago, after not being together since last year. We had such a great time together and while it wasn't a crazy long visit, it was incredibly special.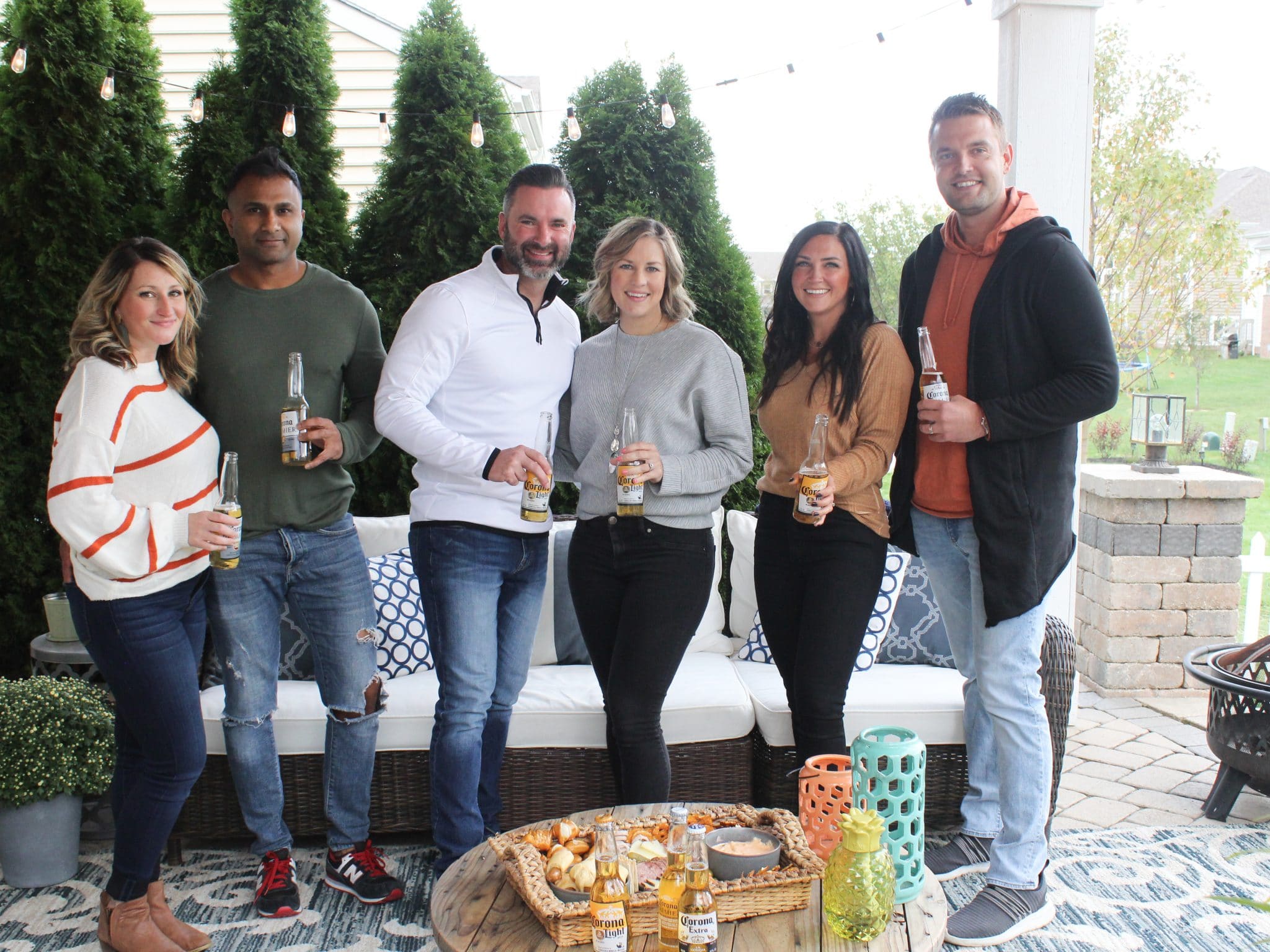 The temperatures were dropping and the patio was calling, so I offered to be in charge of the snacks for the afternoon. Y'all know how I love a good cheese board! I had been wanting to make beer cheese dip with Corona Extra®, so that was the start of my beer themed charcuterie board vision. It came together so well and paired perfectly with the Corona that we had filled the fridge with. I hope this simple, yet beautiful board inspires you to grab some friends or family and enjoy time together this fall!
Beer Cheese Dip Recipe:
(shop the recipe below!)
1 block Cream Cheese
8oz Shredded Sharp Cheddar Cheese
1 4oz can Diced Jalapeños, drained
1/2 – 1 bottle Corona® Beer (the flavor of Corona Extra® makes it my preferred variety for the recipe)
Melt cheeses in a pot over medium heat, stirring frequently until smooth. Stir in Corona slowly until desired consistency is reached. (I typically use 3/4 of my bottle for a bit thicker dip.) Stir in diced jalapeños and serve immediately.
How to Create a Beer Charcuterie Board:
My vision for this board was beer, pretzels, fall colors and comfort food. I knew we would be eating it with football in the background and the air feeling a bit chillier. My vision totally came to life with these ingredients:
Beer Cheese Dip
Pretzel Bites
Pretzel Thins
Cheese Assortment
Meat Assortment
Dijon Mustard
Candy Apple Pretzels
Cocoa Covered Almonds
Mini Dill Pickles
Crackers
Crescent Roll wrapped Maple Sausages

My goal in creating the perfect charcuterie board, is filling in all available space. Start with your bowl of cheese dip, a plate for the cheeses and meats to sit on, a small dish for the mustard and a bowl for the sausages. Once those things are in place, you simply need to fill in the surrounding areas with pretzels, crackers and other small items. I like to use a tray or basket like this with edges so that I can stack things up a bit on the sides.

With our snacks ready to go, we spent the afternoon laughing, eating and enjoying a couple of Corona beers. I've always chosen Corona Light® as my go-to for under 100 calories*, but I enjoyed trying Corona Premier®, which is also a smooth beer at just 90 calories and 2.6 carbs**. There is something in the Corona family of beers for everyone!

*Per 12 fl. oz. serving average analysis: Calories: 99, Carbohydrates: 5.0 grams, Protein: 0.8 grams, Fat: 0.0 grams

**Per 12 fl. oz. serving average analysis: Calories: 90, Carbohydrates: 2.6 grams, Protein: 0.7 grams, Fat: 0.0 grams

What are you waiting for? Grab a couple friends and take the pretzel and beer combo to the next level with this charcuterie board!

Relax responsibly. Corona Extra®, Corona Light® and Corona Premier® Beers. Imported by Crown Imports, Chicago, IL.