Found some of the most amazing pieces in this May Amazon Haul! It's just turning Spring here in Michigan, but these pieces are so good into Summer, too. If you want to see a try on, head over to my Amazon Live try-on from this week!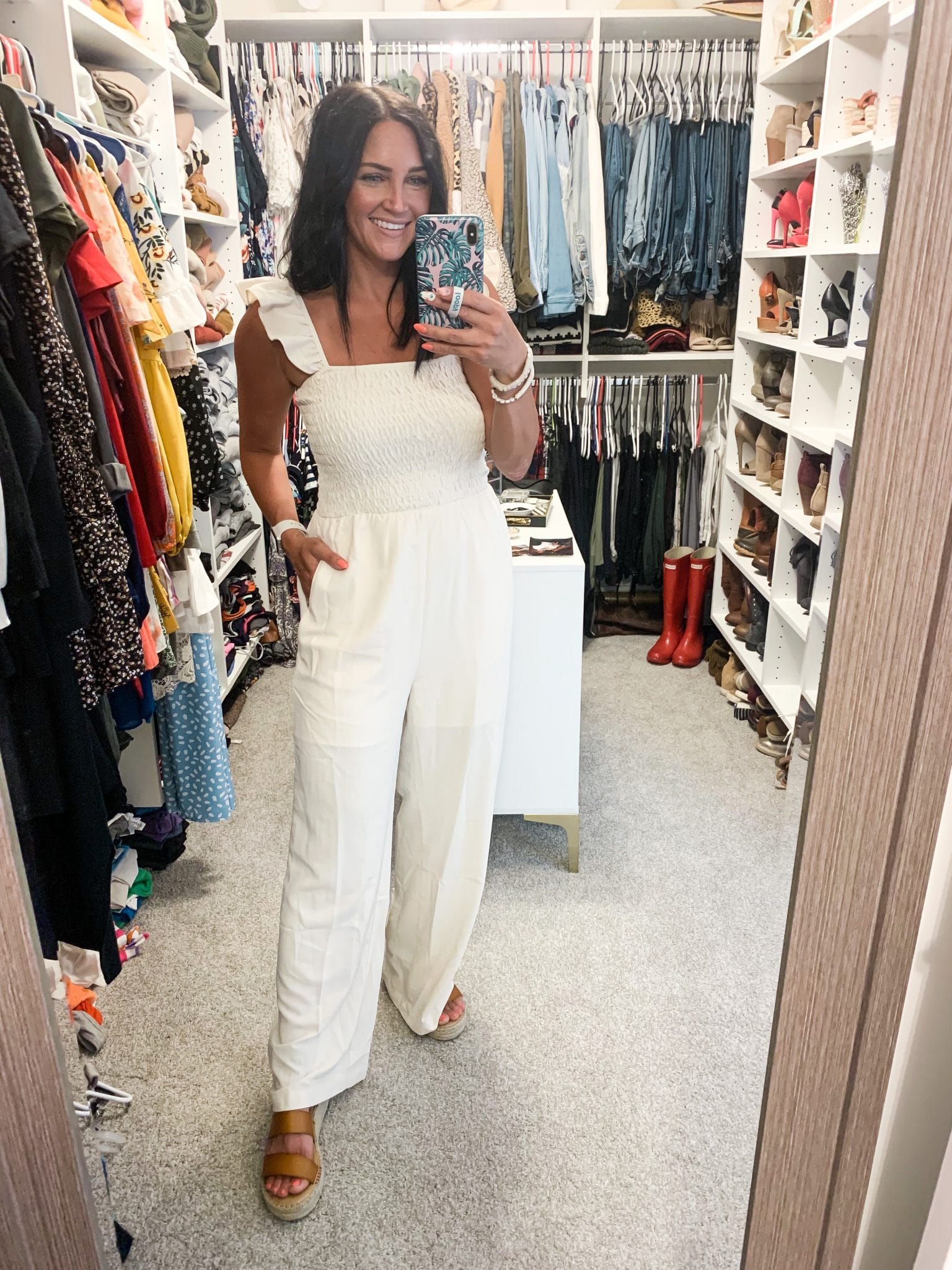 This is a favorite of mine! I read the reviews and saw that the darker colors do not show the shorts liner like this one does, but it's still subtle on this apricot color one. The straps are adjustable, the bodice is very stretchy and it's just the right amount of flowy and structure. It comes in several colors and has an additional 10% off coupon right now.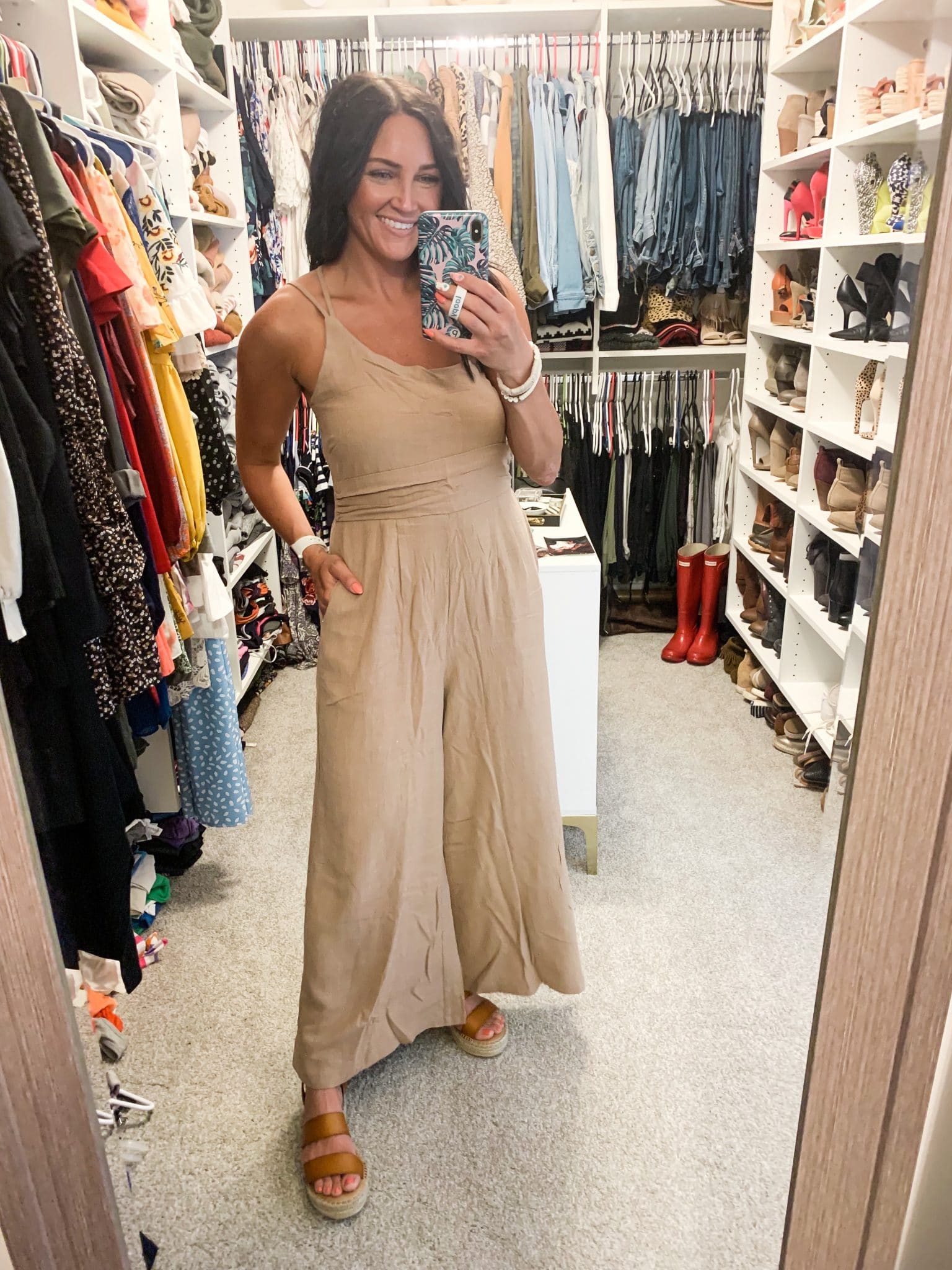 This jumpsuit is such an amazing quality. It's a linen blend with adjustable straps, well hidden pockets and a stretchy back. It was overall slightly large on me, so I would say if you're in between, size down. It comes in lots of great colors.
This maxi dress is SO flattering! It has perfectly placed cutouts, a side slit to the knee and small shoulder pads that give the top structure. The length is perfect on me! While it is a t-shirt material, I think this one could easily be dressed up.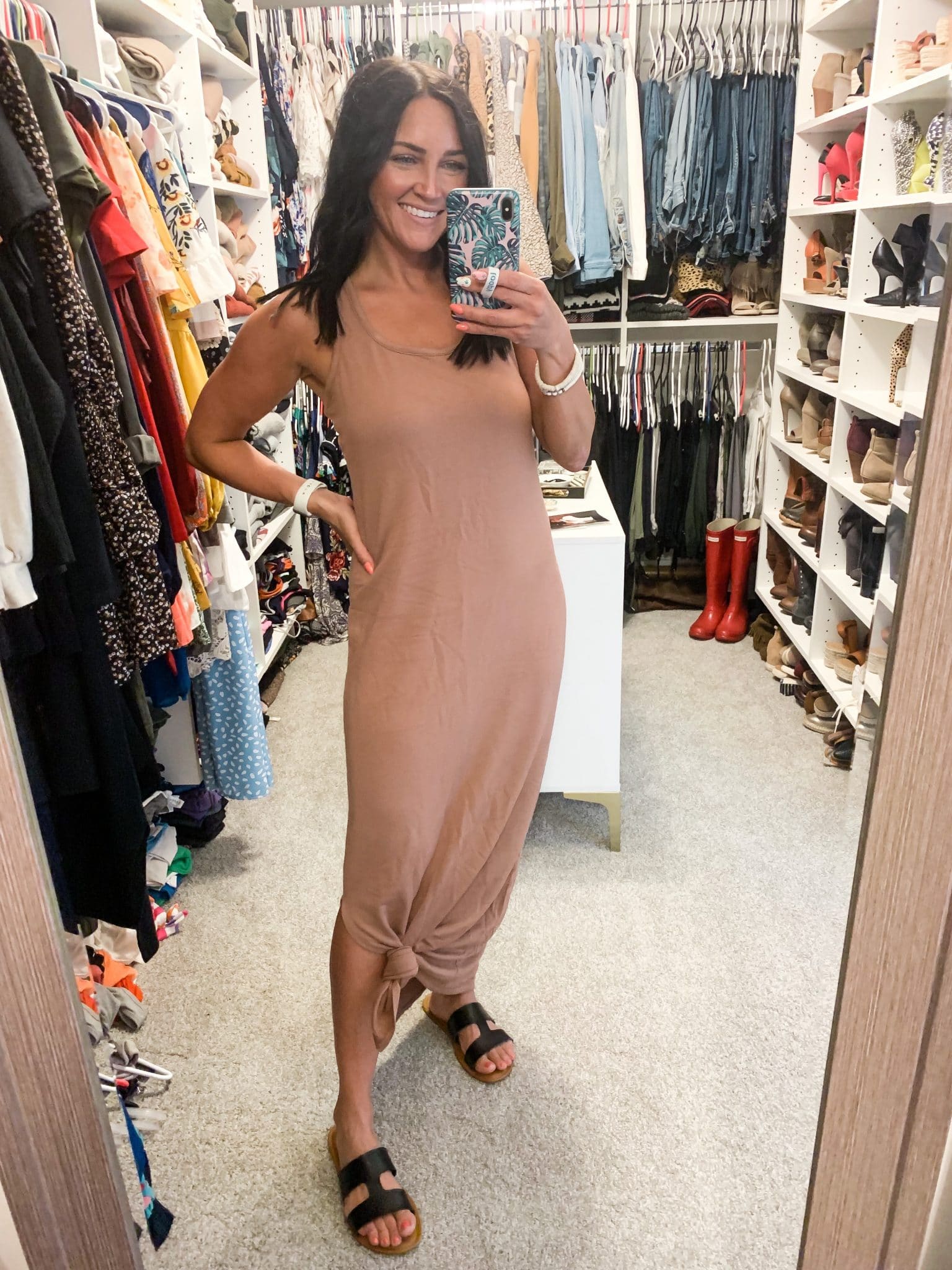 If you want a stinking soft maxi dress, this one is for you! I love the color (dark taupe) and how well it holds it's shape. The inside is a fleece feeling material, without being too thick. It has one slit that let me tie it up in a knot on the front and it comes in several other colors. At around $20 currently, it's one you might want multiple of!
How cute is this dress for Summer?! It would be so good for July 4th or Memorial Day, too. It's not too short, has pockets and fits perfectly.
The slight dolphin hem and the rolled sleeves give this shirt dress a bit more interested than most. It's lightweight, but not see through. I'm wearing the Dusty Pink color, but it comes in plenty of solids and some prints. Some are as low as $11 right now!
I'm always excited to get tops that are not super casual, but not overly dressy. This one is great for Spring! I love this fun floral and it comes in lots of color combos and solids. There is an elastic piece on the shoulder, making it fit really well. I really like the elastic on the cuffs!
This one can actually be worm on or off the shoulder and fits so well. I've already worn it twice since I got it in! It has elastic on the bottom of the sleeves and a whole fitted bodice. It comes in 26 color options!
I think this linen ruffle skort is adorable! It does run small and while it doesn't look it in the pic, it's tighter on the booty than I'd like. I already ordered it in a medium! It comes in lots of colors and is a great way to wear a "dressier" shorts outfit.
I love the look of this suit that is such great quality. It has adjustable straps and a clasp in the middle of the back. It is a bit lower on my hips than I love the look of, so I think this would work great for a longer torso, or someone who wants a bit more hip coverage. There is an additional $2 off coupon right now and it's a great deal!
I know this is a big style right now, but I'm not feeling this one for me. I think if I was taller, I would like it more! I did want to share, though, in case people are interested. It comes in several colors and solids and looks really cute on the tall model! I would size down one or more if you're in between.
You can always see all my Amazon finds on my Storefront, with home, fashion, Amazon lives and more!