This May Amazon haul includes great pajamas, cozy loungewear and some pieces to buy in hopes of making plans soon!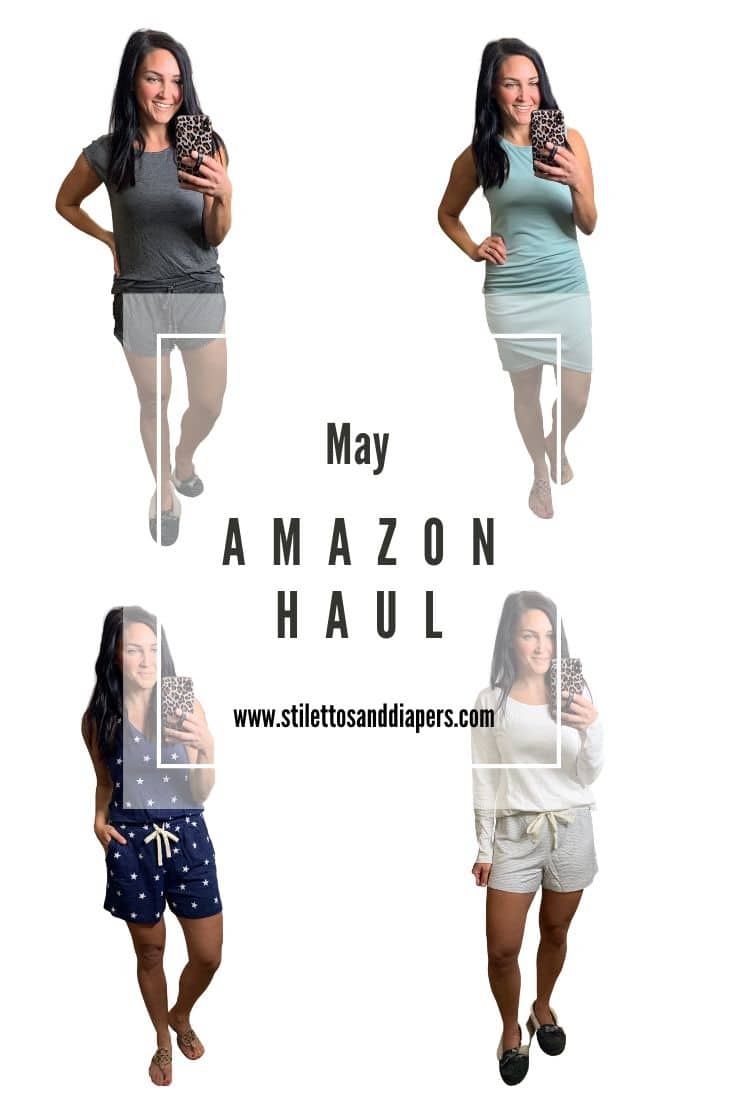 May Amazon haul time, y'all! This month is mostly cozy still, with some good measure pieces thrown in. I hope we get to get out of the house to wear them sometime before the month is over! I noticed many pieces were in stock in certain sizes and colors, while other's aren't. Things have been restocking frequently, though, so check back if they don't have your specific size, or try some other size/color combos!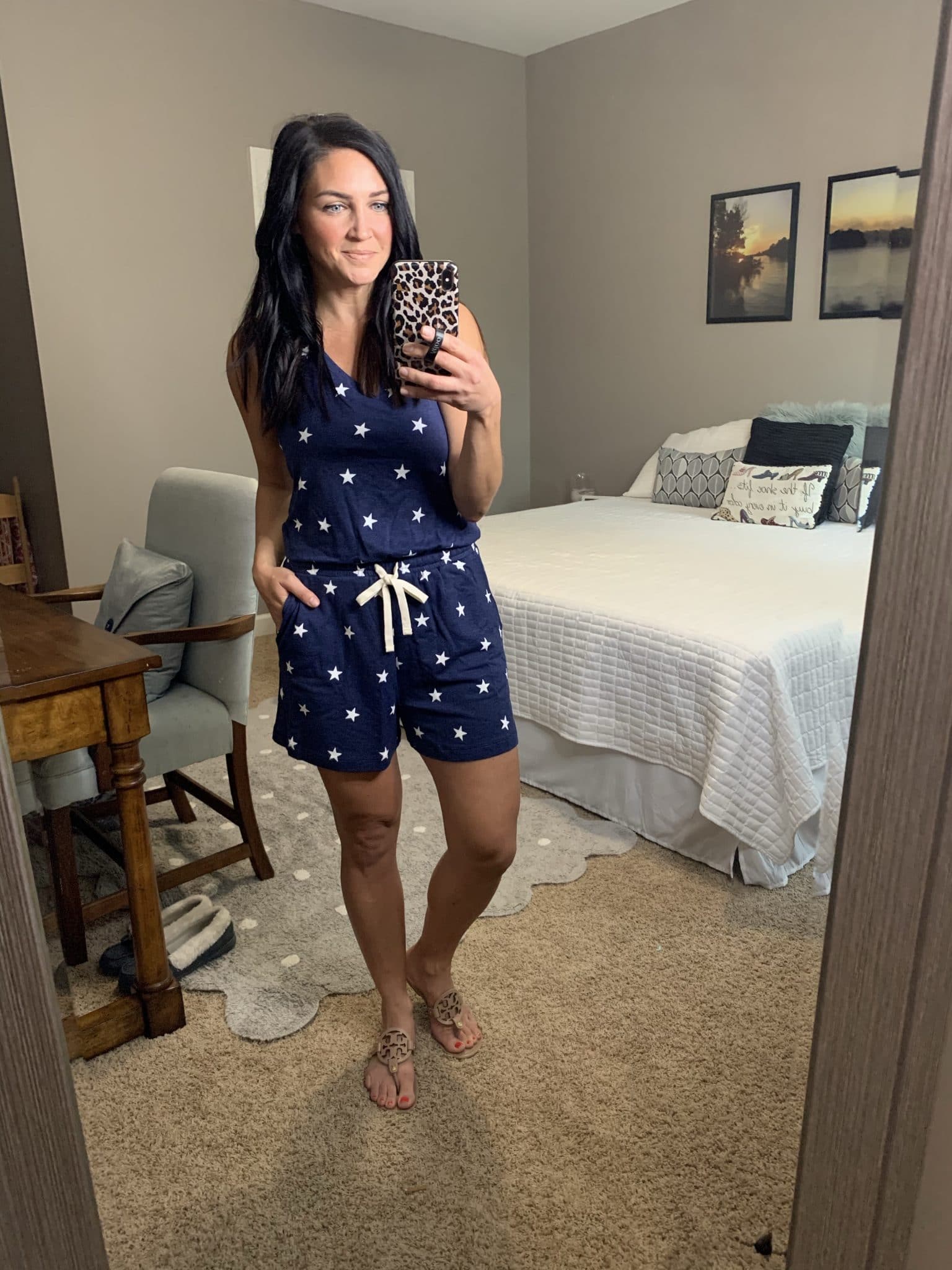 How cute is this cozy romper for Memorial Day or July 4th? I love a themed outfit for the patriotic holidays and this one is great to hide that extra quarantine fluff!
The quality of this dress is super impressive. It is fully lined and comes in tons of color options. Would be great casually with flat sandals, or could easily be dressed up with heels and some jewelry.
I have the short sleeve blue version of this from last year and love it so much that I wanted another! I went with this seafoam green color and decided to try the sleeveless. There are tons of color and sleeve options! It is pretty fitted, but lined and the ruching makes it very flattering.
This one has mixed reviews online, but I really like it! It's a bit oversized, but is super comfortable. I think my only issue with it is that it gets wrinkled easily! It comes in several colors, including black, which could be dressed up really easily.
I have many versions of this – from shorts to pants, sleeveless to sleeves…and I love them all! So comfortable and has enough stretch to not get saggy in the butt. I was afraid of this one being too fitted in the legs so I got a small, but could have easily stuck to my normal XS.
Obsessed with these! They feel like "fancy" joggers because they have pockets on the front and back! They have a bit of stretch and are ridiculously comfortable.
This is my second pair of these because they're what I find I've worn the absolute most being home lately. I have the heather grey and got this second pair in black. They're really good if you're short and don't like the length of most joggers! (The listing is a bit strange as it says "set" but the pieces are sold individually and I only bought the pants.)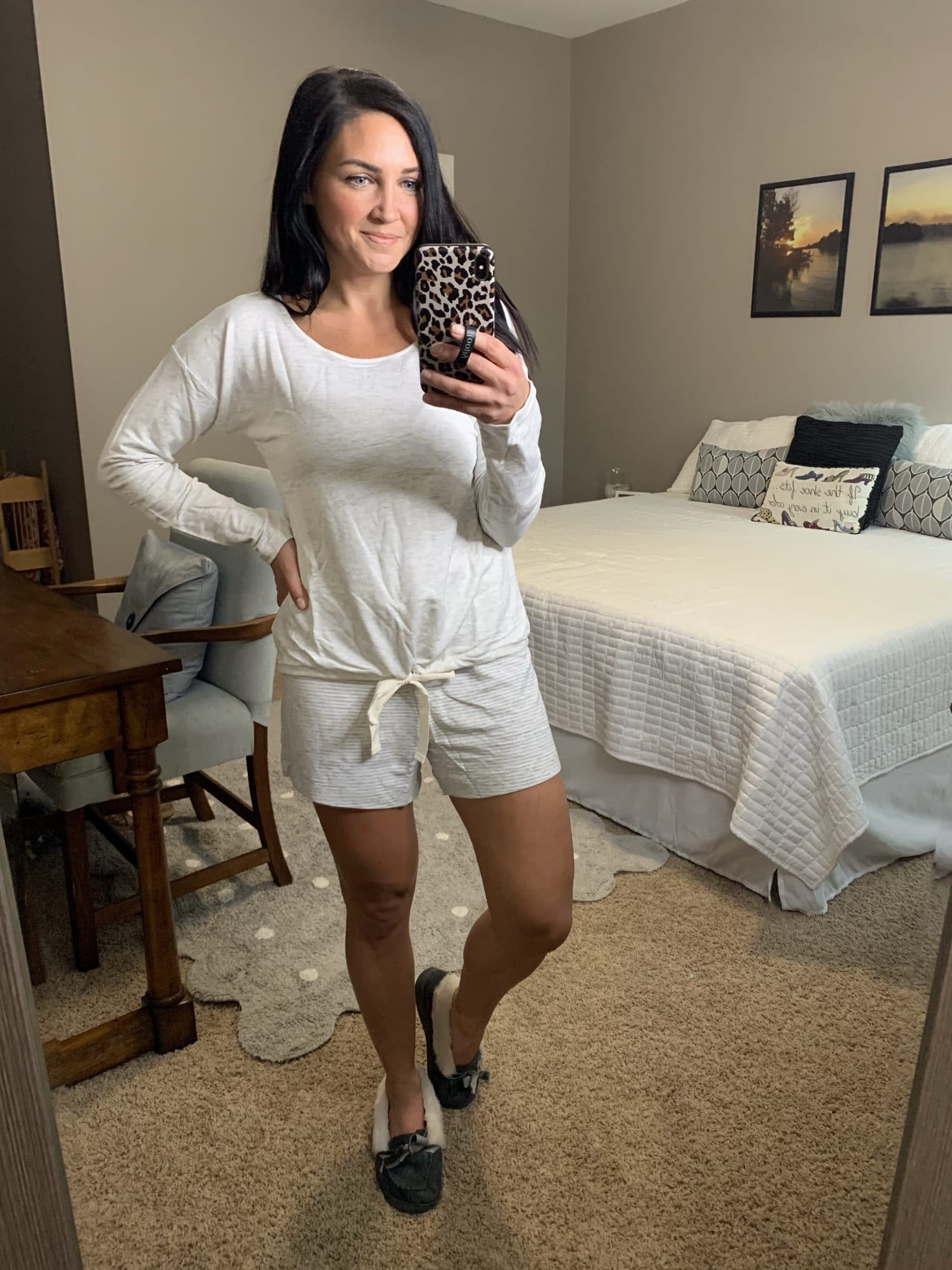 Tie-Waist Top | TTS | Small | White/Grey Heather
This is such an adorable top! It comes in different colors and patterns and has the cute tie on the front. I got it to go with the shorts, but there are too many ties for them to look good showing both! It does look so cute with leggings!
See what I mean about all the ties? Haha. These are so cute and comfortable and I love the tie on them as well. It is actually functional, so if they're larger on the waist, you can tighten them up.
This is such a great lightweight pj set. I ordered the small because I like a bit of room, but even the XS would have been big on me, so size down! It comes in stripe prints and a heart print as well and is very comfortable.
I've worn these 4 times since I got them in the mail last week! They are soft and I love the pom pom trim that gives them a feminine touch. The sides of the shorts overlap, but are open seams, so it can show some booty if you're especially blessed with curves. They come in more colors and I need more STAT.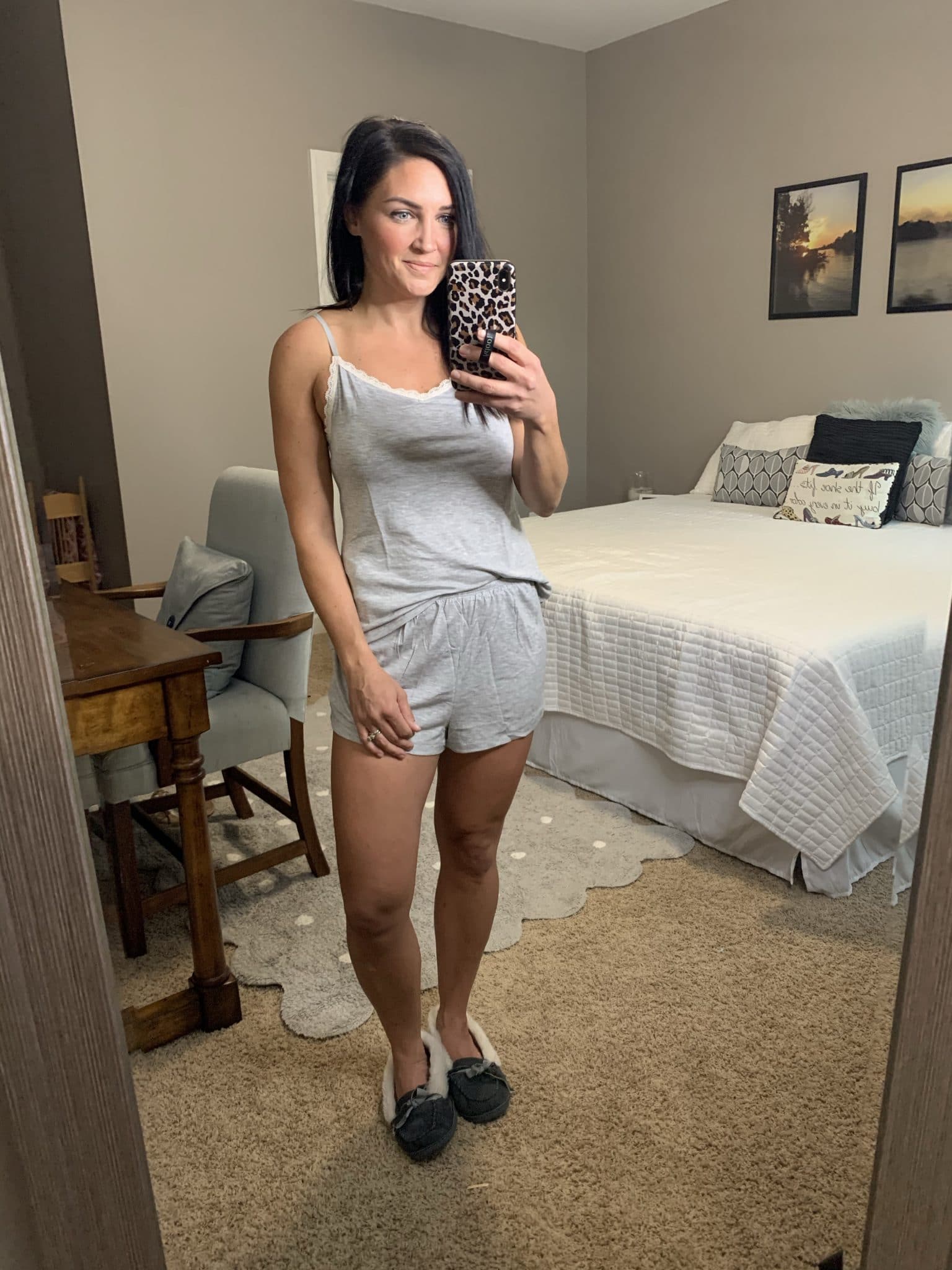 If you like a more dainty, spaghetti strap pj set, these are perfect. Very thin elastic waistband makes them super comfy. They are a bit small and while these have room, I think I would be more comfortable sleeping with 1 size up. They come in a few colors, including a pretty pink!