My last try on in this apartment! The lighting is just not great at all and there is plenty of stuff hidden along the sides of all of these pictures. 🙂 I will be so excited to do January's haul in a bit more space!
I didn't do a huge dress haul like I normally do, but had to try on a few fun ones. If you need more options, I think all but one dress from last year is still in stock!

This dress is fitted, but OH SO PRETTY! There is no zipper or buttons, just pull over your head, which makes it a bit tricky to get into! I do suggest sizing up one, unless you want it bodycon like. The dress comes in other colors and is under $40!
This shirt is so fun! You're looking at my NYE outfit for sure! The undershirt is attached at the shoulders (and can also be removed) and the tie at the waist is removable. This top comes in other colors that are Christmas festive, too!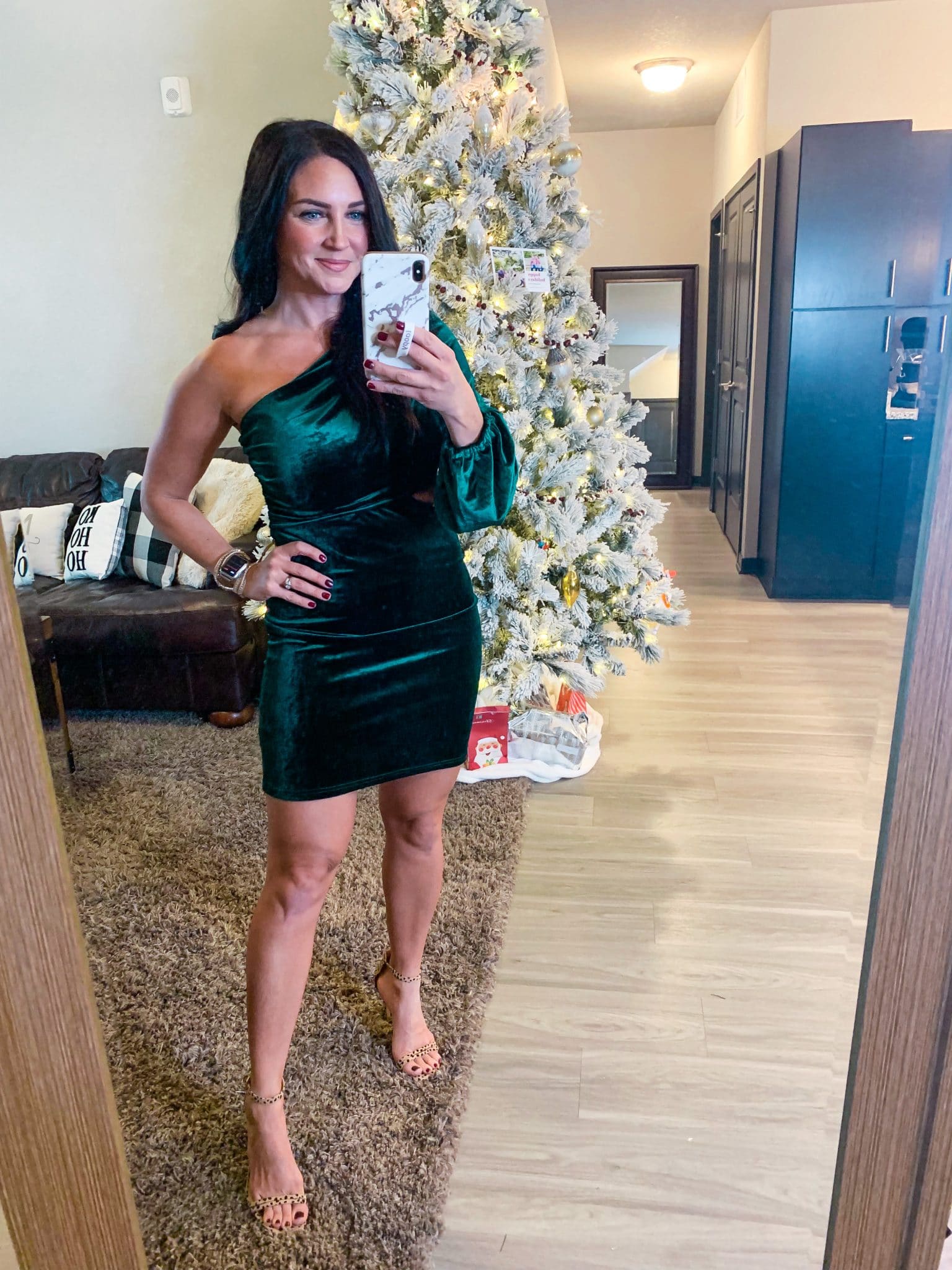 I am in love with this dress. Fitted yet really comfortable! It has a side cutout that I don't show that well in this picture, so watch my Instastory try on! It also comes in other colors and is a great price point.
1 of 2 shackets I tried this month! This shacket is more "jacket" like with a heavier feel, side pockets and larger cuffs. This one also comes in lots of color ways. You can't go wrong with either of these 2!
Plaid Shacket | Longer Length | Oversized | Small
This one is more "shirt" like with metal buttons and bigger cuffs. It comes in tons of other colors and is under $40 at the time of this post.
Love this top for a great layering piece. It's stretchy and a little fitted, but if you want it more like a bodysuit, I say size down. It comes in several other colors and has a nice ribbed texture.
This is called a sweatshirt but feels more like a soft sweater. It is longer in the back with side slits, making it a perfect legging top! It comes in other colors as well.
The sleeve detail on this top is so fun! Cuffed sleeves give the bottom half a balloon look, while the shoulders lay flat. It has scoop sides and is also great for leggings.
This sweater is a favorite because it's insanely soft! It comes in other colors and I love the cuffed sleeves. They're really handy for those of us with short arms! The jeans are some I grabbed on a whim because I love the brand. They fit perfectly and the relaxed fit is really something I am loving lately. The length is probably a bit long on me, but they look perfect on the taller model! I think they'd be good with a pair of heels for me!