Happy Monday! Before I get started with my random diet nonsense, I'm guest posting over at So Loved Co. today. It's a great blog, started by a former coworker of mine and it's filled with inspirational stories of motherhood. You moms need to check it out!
Okay, today is day 1 of Whole30 for me. I've been wanting to do it for awhile now, but the timing hasn't been great. Of course today, I have a sick child, a baby right on the verge of a tooth coming in and need several more things from the store. It's true that there is no perfect time, so I'm actually glad I just started. The Hubs is doing it with me, along with a couple friends. It's really nice to have some support!
I know it's super bandwagon-y of me to do this, but I'm not doing it for the weight loss. I am actually at my pre-pregnancy weight, I think because I usually try to eat pretty clean. It isn't much of a departure from my normal 3 meals, however, I'm a massive snacker and have a sweet tooth that is currently unfulfilled and making me twitch. I love a little chocolate in the afternoon along with a cup of coffee. Those are the habits I hope this 30 days helps to break. I've been struggling with eczema and psoriasis for most of my life and I'm really curious to see if this will help it at all.
If you're not familiar with the diet, you can see all sorts of info on the Whole30 website. Basically, it's 3o days of no sugar, grains, alcohol, dairy or anything artificial. Lots of lean protein, veggies, some fruits and good fats. You can also eat sweet and regular potatoes and I will make sure I'm eating enough of those since I am still breastfeeding.
I found lots of good stuff at Trader Joes. It's hard to find some things without added sugar!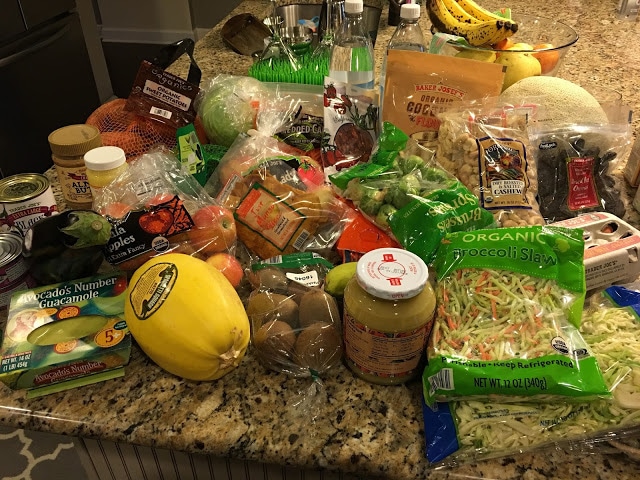 This blog will not become all about Whole30, but I think I will post a little recap for the 4 Mondays that I will be on it. I've taken pictures of my food so far, so I'll share them in case anyone else is looking for inspiration. There is a ton of good recipes on Pinterest.


We finished off our opened bottles of wine last night and today I'm feeling pretty good so far. I'll let you know how long it lasts!