It's BAAAAACK! I've basically taken the summer off from meal planning (which my waist is feeling, y'all). But with school and sports starting up again this month, I need a plan! If I meal plan, I say we stick to it about 90% of the time. If I don't, we're grabbing takeout far more than I'd like. I need simple and I need quick. I also need meals my whole family will eat, so this month is family friendly, easy and clean food focused meals.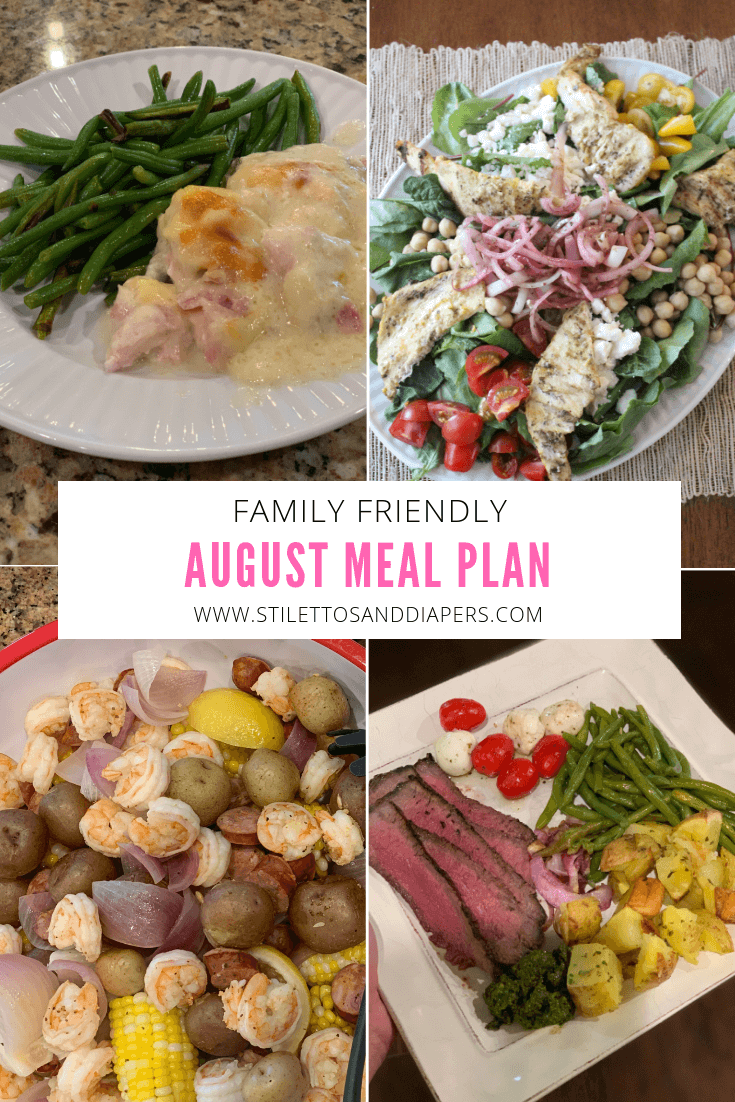 Meals marked with * are ones we haven't tried before! 
Anytime pasta is used, I use Banza garbanzo bean pasta. The kids can't tell a difference! 
August Meal Plan
1: Pork Tenderloin – this has become a total favorite! Serve with mashed potatoes and veggie of your choice!
3: Baseball BBQ night – bringing my Summer Pasta Salad
*5: Chicken Fried Rice (will use frozen cauliflower rice)
6: Fish Tacos (Costco sells egg wraps that are amazing for tacos!)
8. Grilled Pizza– so easy and fun!
9. Burgers + homemade fries
10. Chicken Cordon Bleu Casserole
*11. Sausage and Veggie Packets
13. Cauliflower Rice Burrito Bowls
14. Breakfast for Dinner
*15. One Pan Pesto Chicken Bake
16. London Broil – I marinate in Italian dressing for up to 24 hours, then grill 5 mins/side. Serve with salad and baked potatoes.
17. Shrimp Boil – an easy twist on a family favorite
19. Bang Bang Salmon with rice or cauliflower rice
20. Salsa Chicken (I replace green chilies with regular salsa)
22. Grilled Hawaiian Chicken Packets
23. Burgers + homemade fries
25. Stuffed Peppers
*26. Chicken, Spinach and Feta Bake
27. Spaghetti Squash Taco Boats
28. Crockpot Lemon Thyme Chicken
29. Breakfast for Dinner
30. Chicken Bacon Ranch Packets
*31. Crockpot Ziti
If you'd like to save or print the meal plan, right click and save this one!