Abercrombie and Fitch. I think of stores so dark you hardly know what you're buying, the scent of hot guy, accented by abs I never knew existed and the scowl on my mom's face when I told her that's where I wanted to shop. I never thought there would be a day in my grown life that I'd want to shop at A&F, much less tell my friends that I actually did it.


Well y'all. That's exactly what I've done. I don't know what made them go and change it up, but it's not the store it used to be and I want everything.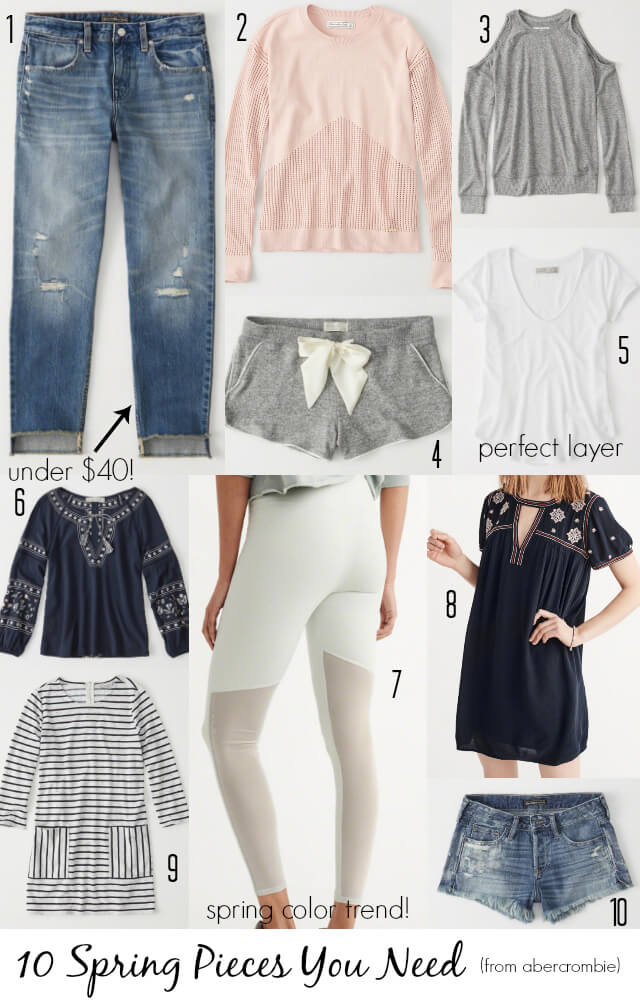 1. Ankle Jeans: love the frayed hem and the casual destroyed look. These would be adorable with Converse (these these are the ones I have), a tee (like this one) and a cardigan as we wait for spring.

2. Mixed Stitch Sweater: For starters, I love the pink. (It does come in other colors, too) This sweater is perfectly lightweight and can be worn with jeans now and shorts soon.


3. Cold Shoulder Sweater: Cold shoulder is my jam right now and this one is soft and cozy fleece like. I would wear this with sweats while lounging at home, jeans or shorts.


4. Sweat Shorts: Speaking of lounging at home, these are super cute and cozy for hanging out on the weekends.


5. Slub Knit Tee: In transition weather, I often will pair my jeans with a basic tee and cardigan or sweater. This one has great length and the v neck is super flattering.


6. Embroidered Peasant Top: I'm obsessed with this shirt! How cute would it be with white skinny jeans and those ever popular espadrilles?!


7. Mesh Workout Leggings: I need a little motivation to get my body summer ready. Mint and mesh are just the ticket!


8. Embroidered Swing Dress: Clearly I'm having a thing for embroidery! It's a hot trend right now and this dress is fully lined and on sale for $34. WHAT?!


9. Striped Shift Dress: Dresses are perfect for spring. This one could be worn with booties, or casually with Converse or Adidas sneakers.


10. Boyfriend Shorts: I like boyfriend shorts the best because I hate when shorts are tight on my legs. These are a cute cutoff style, but there is also a cute longer option. I often wear shorts paired with a sweater or sweatshirt in the Spring.


There you have it. Who would have thought all that cute stuff from Abercrombie? Today is the last day to take 40% off all clearance + $5 flat rate shipping with code 15851. And did you know they have kids clothes as well? Eeeeeep! I'd really like to wear this little dress! You can take 25% off your purchase there with code 20318.


Happy Thursday and happy shopping!