This November Amazon haul has been sitting in my drafts for 2 weeks, but I've gotten so sidetracked lately that it's coming at mid month! I have a couple great Thanksgiving outfit options, plus tried a few different cuts of denim to show how you can incorporate some new trends into your wardrobe!
November Amazon Haul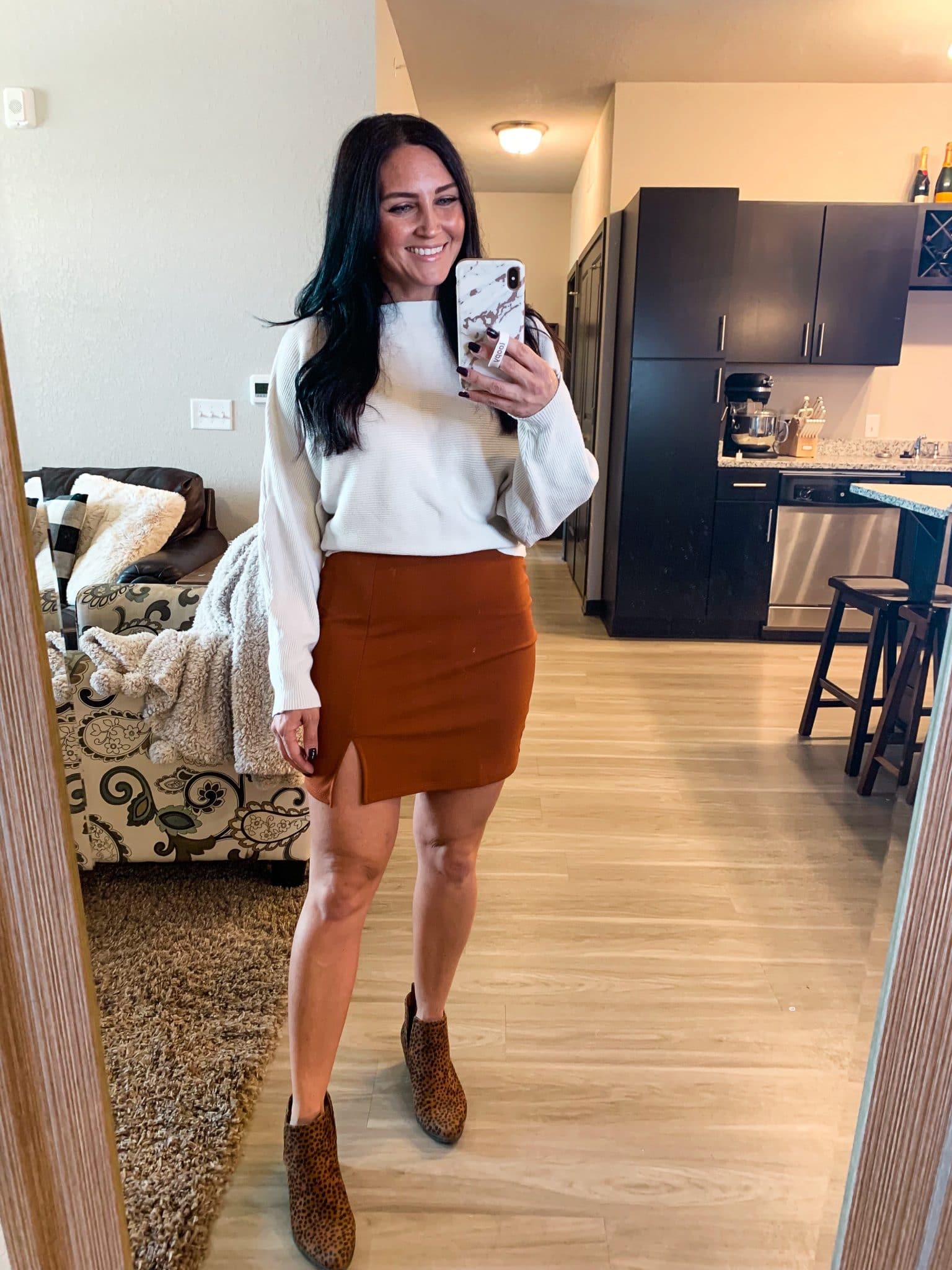 Mini Skirt | Fitted | Small || Sweater | Oversized | Small || Booties (similar)
I love this skirt! It's so great for Thanksgiving and pairing it with an oversized sweater makes it not too dressy. It comes in other colors, but I love this camel color. It's stretchy, has a small slit and elastic waist. This sweater is a ride or die, been wearing it 3 years piece. It can be worn on or off the shoulder and is extremely versatile.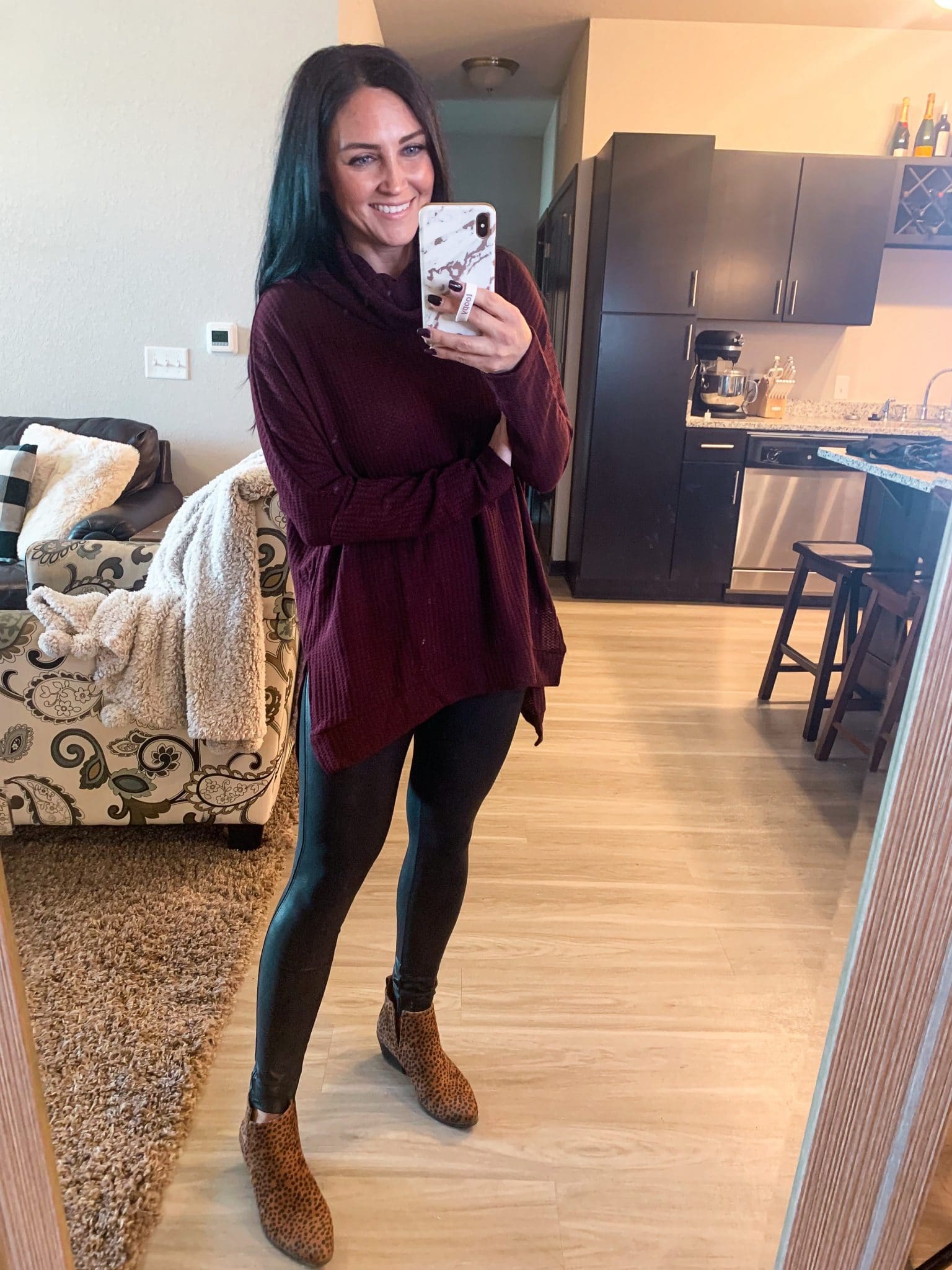 Oversized Tunic | Oversized | Small || Leather Leggings
Another great Thanksgiving outfit, and one that fits a lot of eating comfortably! This tunic is from one of my favorite brands and is 25% off today. It comes in tons of colors and is a fantastic fall/winter piece. It's lightweight, so great for layering, or wearing on its own.
Let's talk denim! I have several different cuts of denim I'm really loving right now, but all of mine aren't in stock. I wanted to share 3 great pairs that I found on Amazon that are a good way for your to try some styles you might not be used to!
The wide leg jeans! Such a controversial style for us older millennials, but one that is oh so popular right now. Honestly, I love them. They're comfy, I love the higher waist that goes with most of them and I enjoy mixing it up. This pair is 28% off today, so if you want to try, grab a pair! I love wide leg with a tucked in fitted shirt, but if going for something more loose, I like to front tuck to create a bit more shape. This sweater is slightly cropped, making it tuck easily. It comes in other colors, has a mock neck and is the softest thing ever!
Girlfriend Denim (straight leg, mid-blue) | TTS | 4
If you aren't quite ready to go wide leg, a girlfriend or straight cut might be a good choice! This pair is under $40, more of a mid rise and comes in other washes. They have a 27″ inseam, which is great for booties.
If you prefer a skinny jean, these are fantastic! I bought them after my friend got a couple pairs and they were so good on her. I ordered the short length to work with booties. They are a mid rise, come in lots of washes and are considered " shaping". They get great reviews and really do hug just right. They're also on sale right now!
This sweater is a classic shape and style that comes in lots of colors and stripes. With a v-neck and side splits, it works great with denim or leggings. I love adding in classic pieces with trendier ones for a well rounded wardrobe. This sweater also washes well and holds it's shape!
It's not really short pajama weather for me, but I loved this set and snagged it! The top is cropped with a twist front, so I need to size up for a little more coverage. But it's the cutest set and would make a great gift!