This month has totally flown by for me! I am still not processing properly that Christmas is in just 3 days! But I did get some great winter wear from Amazon! Many of these pieces I ordered before our trip up north, so I got to try them out in the cold weather. Others I just got in once we were home and I'm excited to show you this December Amazon haul!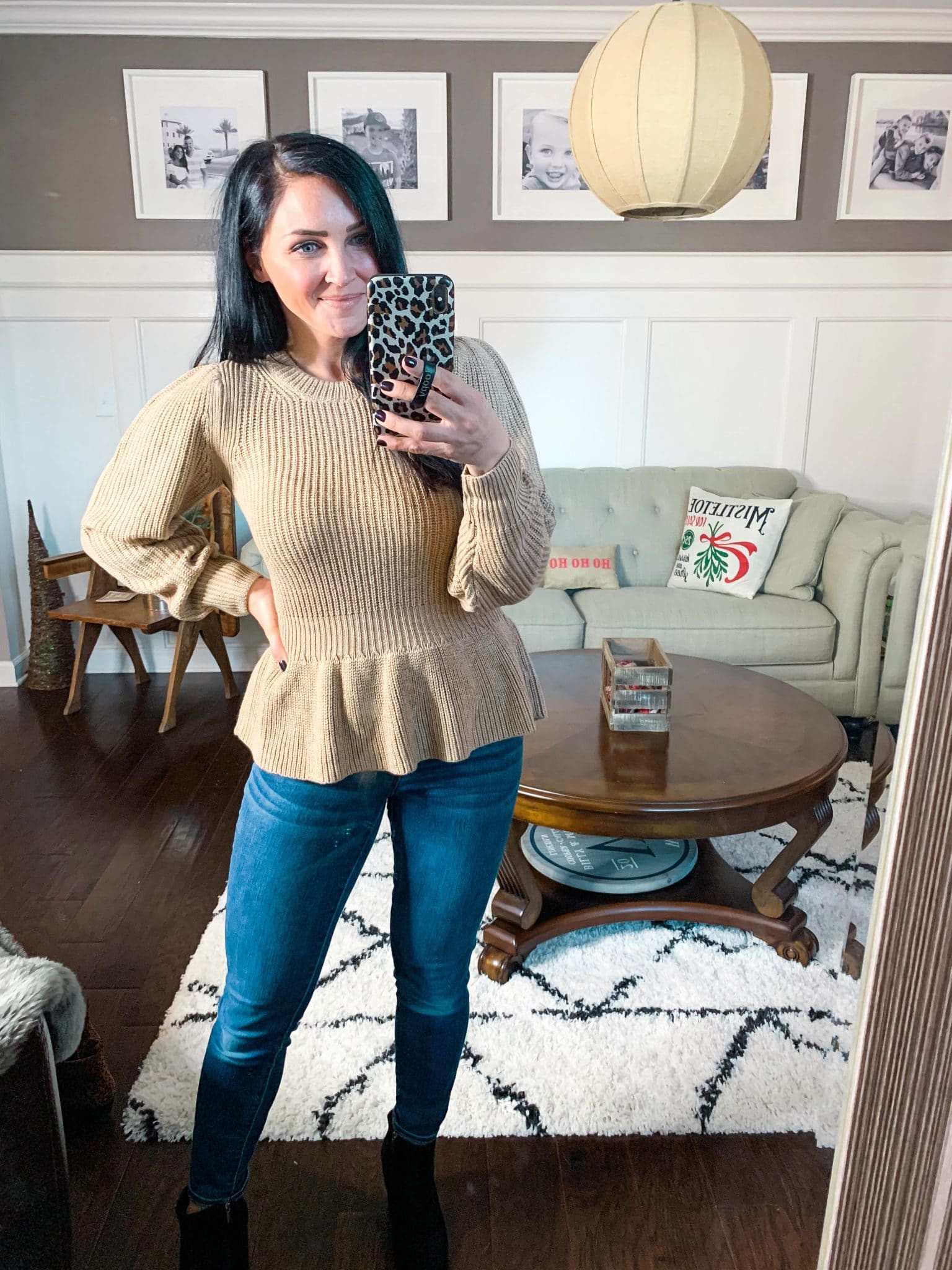 Peplum has always been a favorite style of mine. It's so forgiving in the stomach, yet gives great shape. This sweater is thick and warm, while still fitting perfectly! It comes in several other colors.
This is one of the most popular sweaters on Amazon right now and I had to get one to try. It's not as long as it appears in the stock photo, but it's perfect for leggings. It is longer in the back and the sides come down asymmetrically. The front seam gives it some shape and I can assure you it is warm for the cold weather! It comes in other colors and fits oversized.
This is another piece I wore on our trip last week. It's a great piece for layering and is so crazy soft. It comes in other colors and can be worn dressed up a bit, or super casually around the house.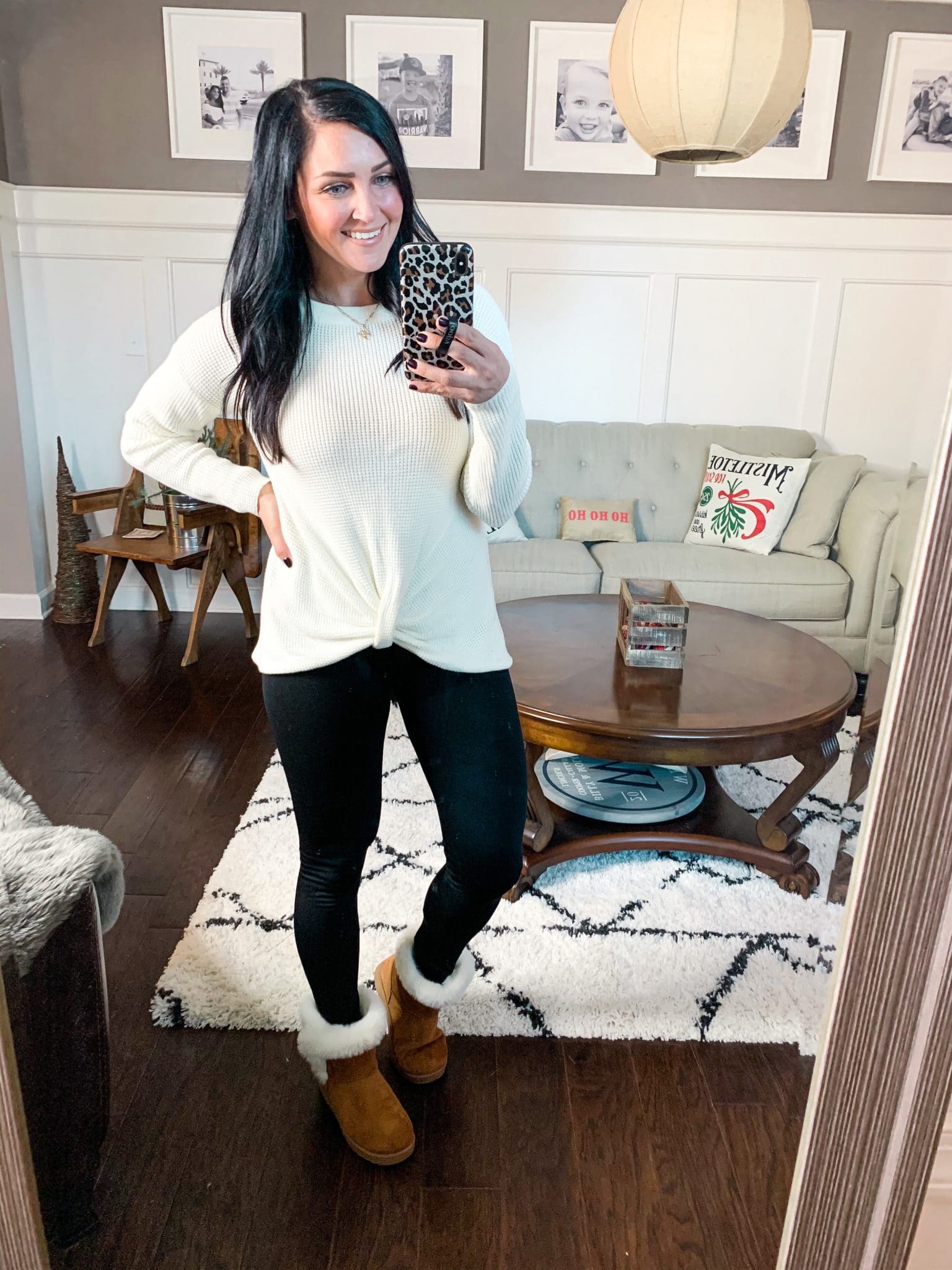 My sisters tried to take this one from me in Ohio! It's soft and very versatile. The waffle knit gives me some free people vibes and the front gives it some interest. The way the shoulder seams are lower than the shoulders makes it have nice shape and lay well on the top. It's a great staple that comes in lots of colors.
These are the leggings shown in all the above pictures. They are WARM! They're fleece lined and very high waist. They only come in 2 sizes, but have great stretch to them. They get wonderful reviews and are very affordable.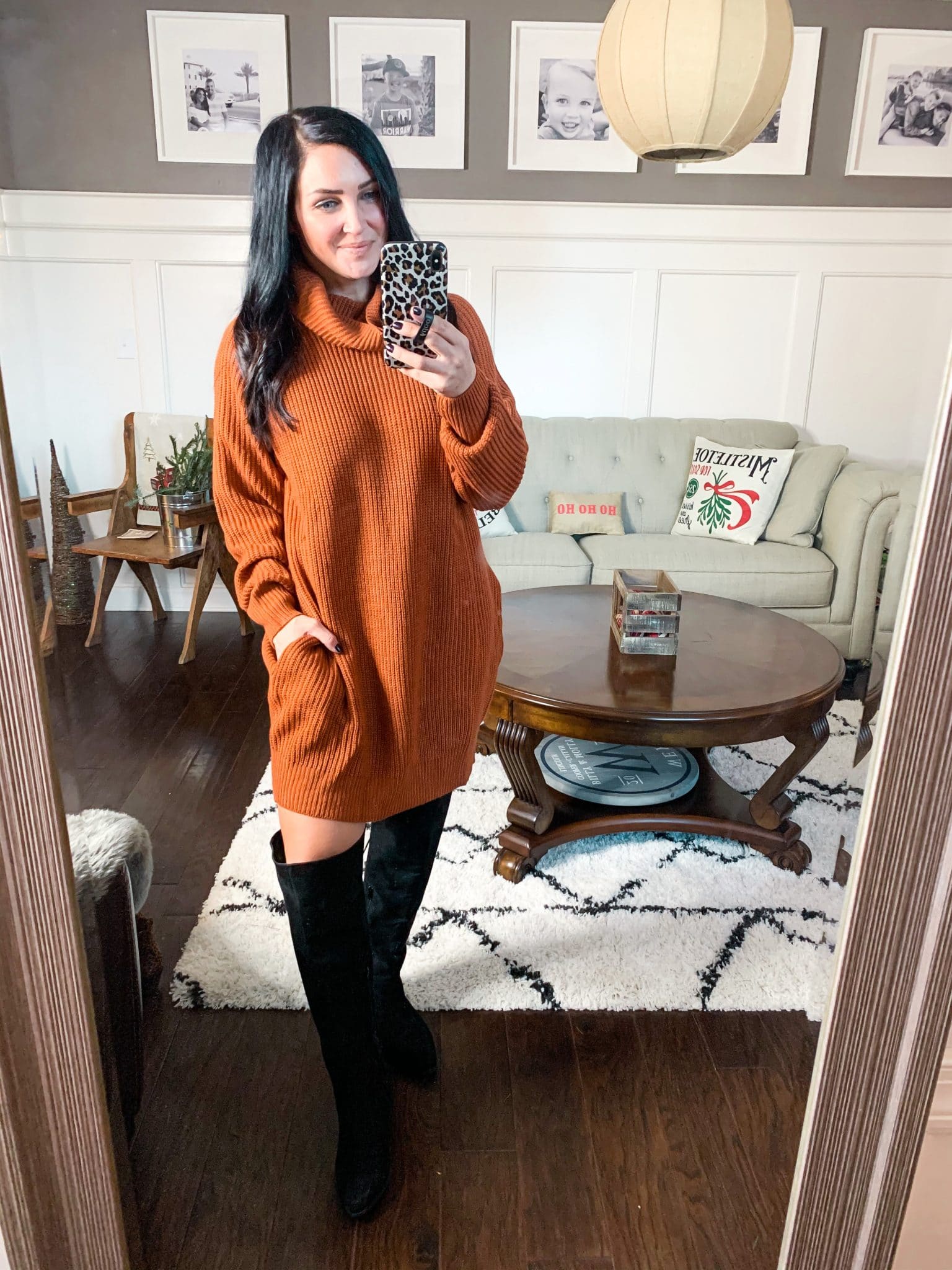 Who's wearing dresses this winter?! The sweater dress trend is in right now and I'm here for it! I love a comfortable dress and wearing this one with high boots makes it a perfect and different winter look. This dress has pockets, which I love, but they do make the sides stick out a bit. Just a warning! I don't mind it and love how the dress looks. It comes in other colors as well.
This is a classic, long length cardigan. It is open front, has pockets and fits true to size. I wear things like this a lot in the winter as I'm a big fan of layers! This one is lightweight enough to even carry into the Spring.
The leggings I have on above are actually these workout leggings! I like to wear workout leggings even casually because they stay more black and don't collect fuzz like other leggings do. This particular pair is one of the best rated on Amazon and they are so comfortable!
I've had some of you ask about work wear in my hauls. I know I tend to post cozy style 99% of the time! This blouse is so pretty and would be perfect for work. (even with sweats for a zoom call!) It comes in several solids and patterns and the fit would be very flattering on all sizes.
Ribbed Henley | Slightly Small | XS | Ginger
I know my colors have a real theme over here, but I love this one! The fit is a bit small and I am going to size up to a small, just for fit preference. If you don't mind fitted like this, stick to your regular size! The buttons are functional on this top and you can open or close as many as you'd like. It also comes in several colors.
These workout pants are so darn cute! I love the print and they fit very well. I would normally order small in workout pants, but went with an XS, based on reviews, and they fit perfectly. If you're looking to add to your workout clothing collection, these are a great add!

Other pieces in this post:
Furry Boots: So cute and warm! Wore these a ton while we were up north and they are under $20!
White Tee: This is an absolute fave of mine and I wear it a ton.
Black and white plaid shirt: I love this one to layer, or to tie around the waist. It comes in other color plaids!
Leopard Booties: This exact pair is sold out, but I found this one that is nearly identical on sale.
Skinny Jeans: I love this pair and they are a classic, mid rise, skinny jean.