Today is our 4th anniversary, and also our move into the new house day! This afternoon, we will be going to the house with a whole ton of cleaning supplies, to scrub the place down to my liking.
(I'm not sitting on any toilet seat that I haven't personally cloroxed…cause I'm weird like that)
The plan is to put Cooper to sleep in his pack and play and we will eat Chinese take out, pop champagne, and CLEAN! Sounds uber romantic, huh?
The modern gift for the 4th anniversary is appliances. I am a lucky girl given my hubs career choice, so we got each other the Whirlpool Duet front load washer and dryer. I am super excited!
Photo Credit Whirlpool.com
So you want to see wedding pictures? Get comfy. Well, there actually aren't tons, because everything is packed and this is just what I can find.
Even my wedding day was all about the shoes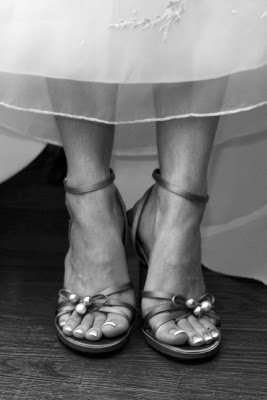 My sis putting on my something borrowed, her veil. My something old was the necklace I wore for the ceremony. Me and my sisters are the 9th generation to wear it at our weddings
.
I was so excited to run out to the limo in the snow!
Our reception was at a hotel that had an indoor courtyard that felt just like outside, minus the freezing and snow. It was all decorated beautifully for Christmas, but I can't find any pics of that!
Our first dance to Keith Urban's Memories of Us

We are both breakfast fanatics, so we decided to have a breakfast buffet reception. We had eggs, all sorts of breakfast meats, blintzes, fruits, pancakes, pastries, crepe and omelet stations, muffins, and breakfast potatoes. And maybe some more stuff that I can't remember. I want to eat it again. Right. Now. It was amazing and exactly what we wanted. It was the perfect blend of a southern, serve yourself wedding, and a northern, 5 course, fancy schmancy wedding.


In our 4 married years, we have lived in 3 states, made 2 cross country moves, and have 1 beautiful baby boy that makes life amazing. I am extremely blessed!
Happy Anniversary, Billy. I love you!