Since becoming a Mom of 2, I've found that grocery shopping is nowhere near as easy as it used to be. And trying to decide what to make for dinner while the toddler pulls on your pants and the baby screams?
Not so easy either.
So, I decided to make a change. A big one.
I decided to meal plan and shop monthly. That means 1 trip to Costco and 1 trip to the grocery store at the beginning of the month, then a mid-month grocery trip just to restock milk and produce. It's worked so well for me, that I wanted to share how I do it with you.
Step 1: Make a list of meals you normally make.
Separate the meals into meat types. It will be easier to create variety in your month this way.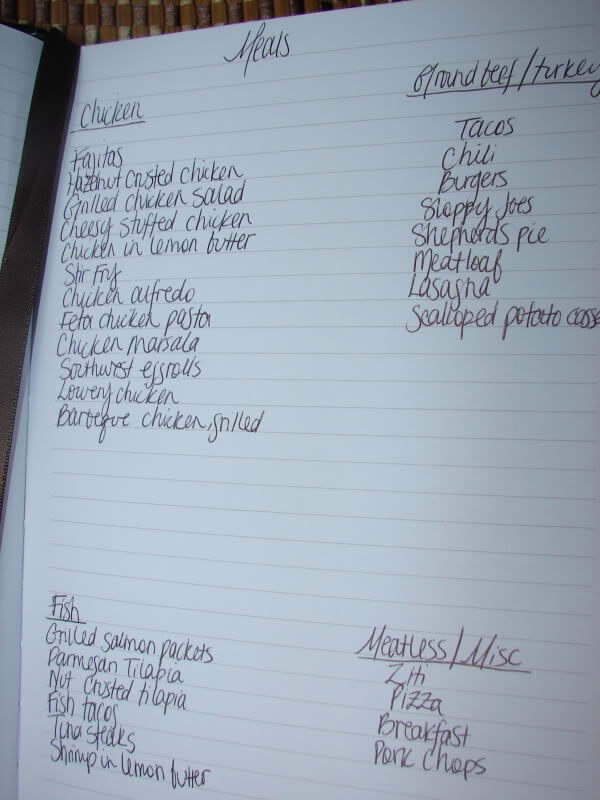 Step 2: Print off a basic blank calendar and fill in your meals.
Don't forget sides!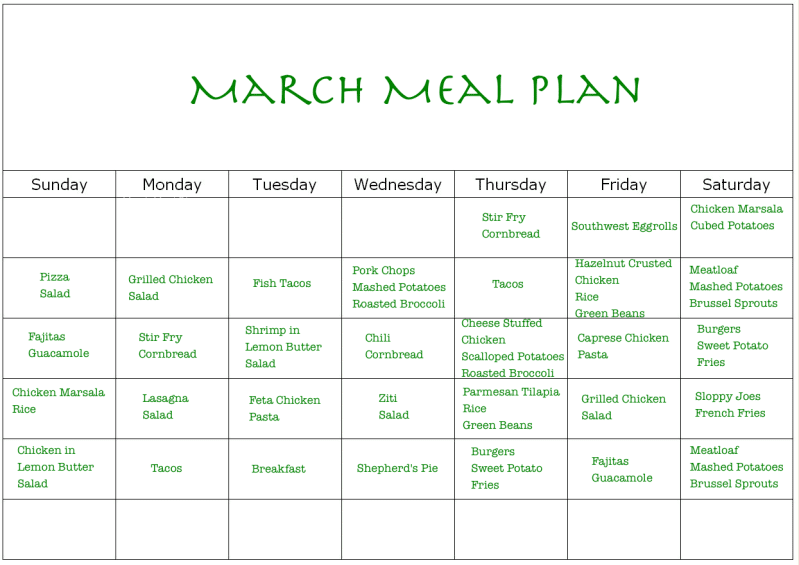 Step 3: Create your grocery list.
Go through each day adding ingredients for your meals. I add numbers to the sides of items if I need more than 1. Then, add what you eat for other meals. Breakfast foods, deli meat, bread, chips, etc…as well as non-food items.
Don't forget to check your condiments and sauces.
Month 1, I bought everything I could possibly think of. Toilet paper, detergent, coffee and several other items I don't need to buy monthly. Some things I didn't even open that month, but as least I didn't have to go back out for anything. You'll get a feel for how often you need things as you keep up the monthly shopping.
Step 4: Shop!
I take 1 day to shop. I start at Costco and buy what I can in bulk. Then, I go to the grocery store, followed by a couple hours getting everything sorted through and put away that night.
Around the 2 week mark, I go back to the grocery store to restock produce, milk and bread.
I created a little space in a storage room of our basement for extra things that wouldn't fit in the pantry. I think installing some shelving will be in the near future, but for now, this works.
My meal plan is hanging on the side of my refrigerator along with my cleaning schedule and a list pad. I add things that are getting low to make sure I remember to put them on the next months list.
Now, we do go out to eat sometimes and there are days that get crazy and we just eat leftovers. That's okay. If your ingredients will keep, push the meal out until next month. Or have it the next day and push out a different meal.
I'm so happy that I started doing this. I can spend much more time with the kids during the day doing fun stuff instead of wasting an entire morning at the store.
As far as budget goes, I'm spending less. A good bit less, actually. It's amazing how much those random trips to the store for 1-2 things really add up!