Amazon Prime Day is one of my favorite times of the year! I love the suspense of not knowing what sales are coming up! The finds I have seen already today are crazy good deals. Something new this year is that a lot of their clothing is included in the sales! Since I've gotten a lot of Amazon fashion pieces over the last year, I'm so excited to be able to share the sales on pieces that I have and know I love. To start off, you might want to grab a gift card, since you will get a $5 account credit when you buy $25 in gift cards!
Amazon Prime Day: Flash Deals
New for 7/16!
RX Bars: 20% off making them about $15 for a 12 pack
St. Tropez Self Tan Mouse: LOVE this brand and this is a crazy deal.
Kids Clothing: up to 50% off. Great BTS pieces like jeans and basics!
Crest Whitestrips: 59% off
Dyson Ball Vacuum: $250 off! We have this one and love it!
Amazon Fire Stick: at just $15, this is a great gift and basically makes any TV a smart TV.
Under Armor Slides: My boys wear these all the time and they're 40% off
Under Armor Water Jug: 30% off. Everyone I know who plays baseball uses this and it's hard to get a deal on!
7/15
Echo Dot: $22! The boys use theirs in their rooms for an alarm, to play music and to ask questions, like what the weather will be.
Smart Plug: We have several of these in our house and love being able to tell Alexa to turn lights on and off, or control with your phone.
Yeti Coolers: 30% off select styles. We just got one and love it!
Echo Show: $159.99. I've been eyeing this and think it's time to take the plunge!
Lincoln's Carseat $157 (Originally $269.99) We love this seat and have one in each car!
iRobot Roomba: 30% off select styles. I LOVE ours and have one up and downstairs.
Ring Doorbell: $69.99 (originally $149.99) I'm always amazed at just how much you can see from the camera on this doorbell and it comes with a free Echo Dot for that price. What?!
Sonos One with Alexa: $179 + $50 Gift card (originally $199) You've heard me sing the Sonos praises many times. We LOVE them and have them all over the house. They're difficult to get a deal on and they're $179 now with a $50 Amazon gift card. That deal is INSANE.
Amazon Prime Day: Clothing Deals
The best deals are on Amazon's own brand of clothing. I have tons of pieces that I love and can vouch for the amazing quality!
Daily Ritual Brand:
Supersoft Romper: $20.30 (originally $29)
Denim Jacket: $27.30 (orignially $39)
Mid-Rise Skinny Jean: $27.30 (originally $39) I have these in 2 washes and the fit is amazing. 
Knit Jogger: $20.30 (originally $29)
T-Shirt Dress: $10 (originally $18.50)
Amazon Essentials Brand:
Short Sleeve Swing Dress: $14 (originally $20)
Tech Hoodie: $14.35 (originally $20.50)
2 pack V-Neck Shirts: $13.95 (originally $19.50) Just grabbed a second set with the camo shirt!
28 Palms Brand:
Linen Tie Dress: $35 (originally $50) I just got this in white for a trip and love it!
Off the Shoulder Maxi Dress: $27.30 (originally $29)
Mae Brand:
Pajama Set: $17 (regularly $34)
Other great clothing brand deals:
Up to 30% off Adidas: I can't believe the prices on some pieces like running shoes!
Levi's Skinny Jean: Such a great fitting jean and they're 36% off.
Miscellaneous Deals: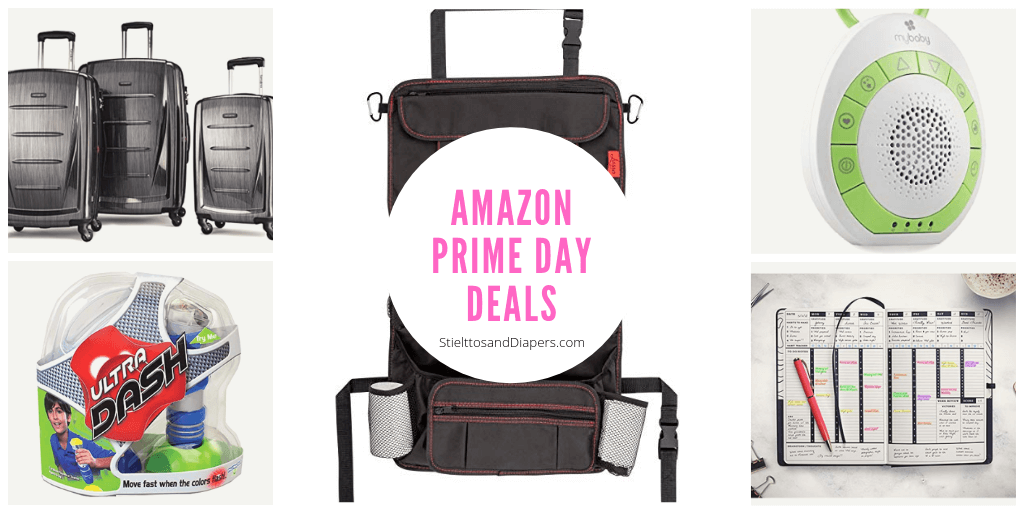 Ultra Dash Game: $7.50 (originally $24.99!) My boys think this is a great game and I'm going to grab a couple as gifts!
Luggage Set: $178.99 (originally $257.00)
Smart Planner: $19.99 (originally $49.99) This one looks amazing and I think it's a perfect mom organizer!
Car Seat Organizer: $15.98 (originally $19.97) There is a spot to put an iPad, plus tons of compartments.
Portable White Noise Machine: $7.40 (originally $12.99)
Camelbak Podium Water Bottle: $9.77 (originally $14.00) My boys use these for school and they're great!
I will be updating Instastories throughout the day when I see other great deals! Tomorrow, my July Amazon Haul will be live here and I have some great pieces, also included in the sale! Happy Priming!