Merry Christmas 2021! We had one of the most wild and crazy Christmases ever with moving into our new house. It's been so fun and also full of boxes, total disaster everywhere and sheer exhaustion. We are trying to take a couple days here this week to regroup and relax before our stuff gets delivered from storage next week!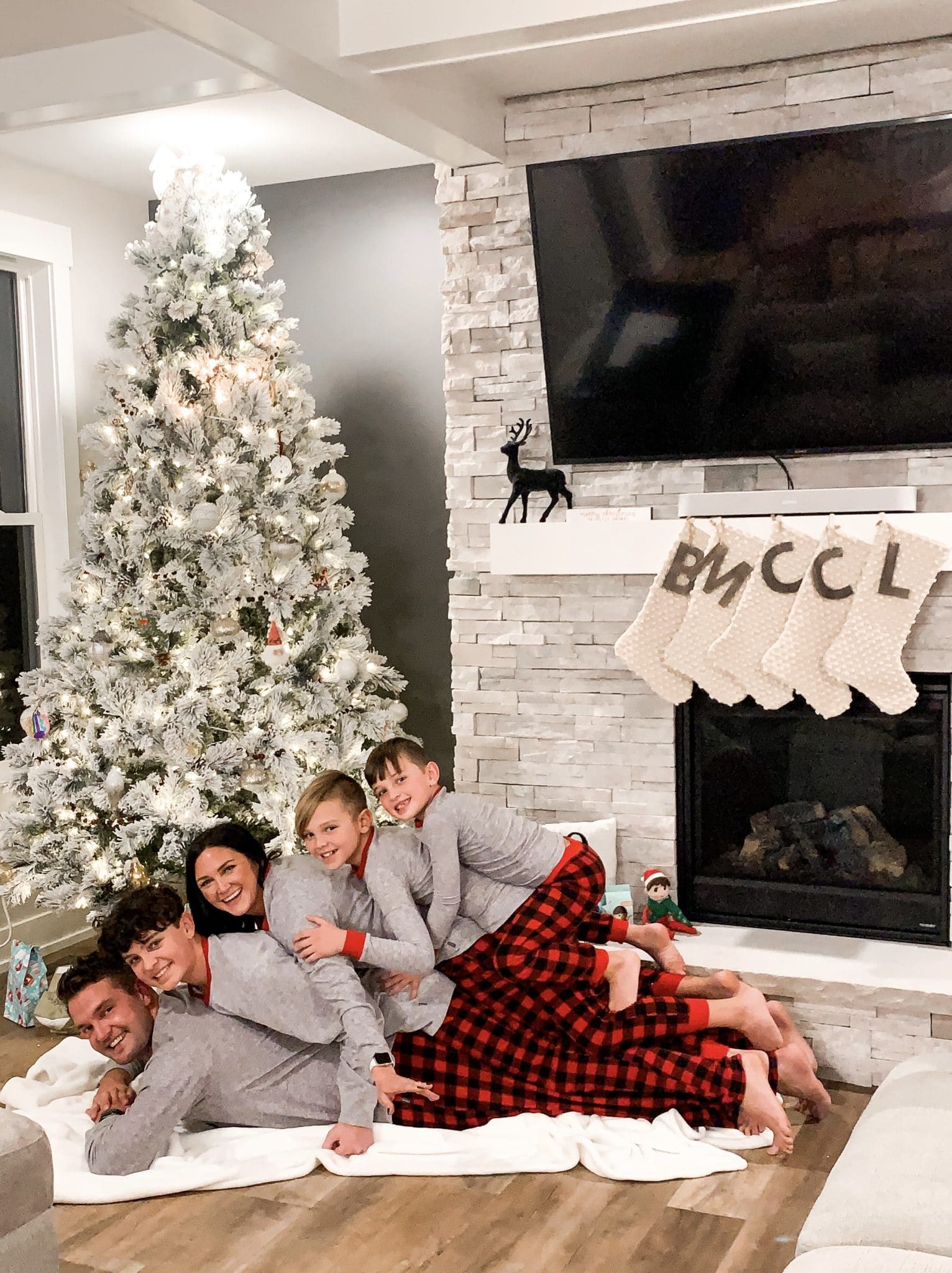 The one room we really focused on getting done was the living room. We put our new sectional together and moved the decorated tree from the apartment to the house! If you've followed the tree saga on Instastories, the tree has never lit up properly, even with replacement parts. I had to put strings of lights on that don't really match and have been back and forth with the company a ton. Luckily they're letting me keep it through Christmas and sending it back afterwards!
We didn't pack our night before Christmas book in our temporary things, so when we saw this version, we knew we had to snag it. I'm determined to fully embrace this stop on our journey, no matter how long it is for.
There wasn't much in the way of decor, but there was enough dollar spot purchases to make it feel festive. I really didn't want to buy much, since we have plenty in storage!
The boys opened their annual 1 gift on Christmas eve, followed by the full shebang on Christmas morning. Cooper was actually the one who woke everyone up at 7am to head downstairs!
These boys of mine…let's just say the excitement level was well over 100%!
Sausage biscuits are a family tradition of mine for my entire life. My mom makes them every year, so now I do too! I've even made them for The Hubs family and they're so delicious. It's just sausage and Velveeta cheese in between refrigerated biscuits. The literal unhealthiest food ever, but you won't regret eating them on Christmas!
Christmas dinner was actually the first dinner I cooked in the new kitchen! It took me forever since we still had totes of kitchen stuff in the garage, but it was such a gift having all my cooking space again. I made bourbon and cranberry cocktails, ham, brussel sprouts with lemon cream and cranberries, potatoes au gratin and herbed carrots. We cheated on the desserts and grabbed a couple pre-made pies and Cooper made a peppermint cheesecake dessert.
We didn't get a white Christmas, but we got one filled with sunshine and pure joy. This Christmas will always be an extra special one for our little family!
I hope you enjoyed your time with loved ones and are still able to soak up some holiday rest time! We since have gotten plenty of snow and the boys are loving the rest of their Christmas break playing in the fluffy stuff!