Hello from my first Amazon haul in Michigan! It's not great lighting in my kitchen/living room area, but it get's the job done! I'm pretty excited for Fall style and many of these pieces are versatile to wear into the next season. I suppose my hauls are going to look pretty darn different here than in North Carolina, but that will be super fun for me and I hope y'all too! (also no one says y'all here!) 🙂
August Amazon Haul
This is an awesome and versatile midi dress that will go from now to fall. I wore it already without a denim jacket and it will be great to go into fall with booties. I like tying up a midi dress on the side to add some interest because of my short height! This one works great for that with slits on both sides. This one is a non fitted cotton that comes in many colors.
I'm loving the square neckline on this dress! It is a heavier material that has a faux wrap on the front. It comes in several prints and has a hidden elastic waist for a great fit.
The color of this dress is what made me grab it! It such a fun fall color! It's a linen feel and easy fit. The sleeves have fitted elastic on the bottom and ruffles around to the shoulders. The higher waist makes it flattering and oh so comfortable.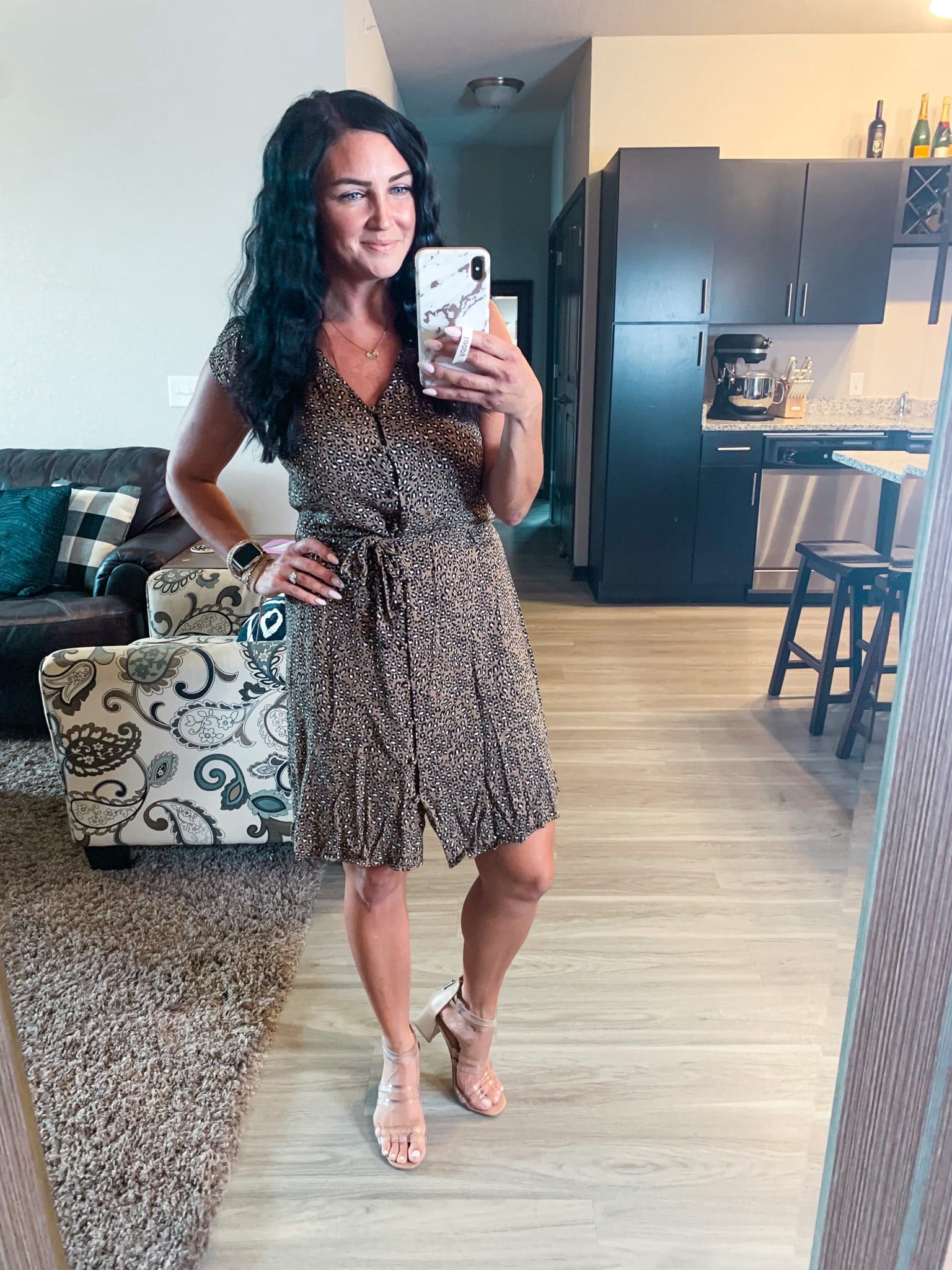 This is actually from last fall, but I brought it here with me and decided I needed to share it again. It's such a great dress that can be dressed up or down and it comes in several prints and solids. I love that there is a piece of fabric along the backside of the buttons to prevent any peep show when you move!
This was the thing I was most excited to get in the mail and it met my expectations! I love that it can be worn off the shoulder or on, it's lightweight and it has the jogger pants. You're probably going to see me in this more than anything else I own!
How cute is this set?! I love the print, how insanely soft it is and the bit of ruffling on the legs. I also like how the sleeves have elastic to keep it on your arms! The shorts do fit a bit smaller and the top bigger. So overall, get your true size, but keep those things in mind if you want to size up or down based on that.
Another piece in this dark green, which seems to be a fave of mine lately! This is an awesome layering piece for fall, with a jersey stretch material and loose fit. I have it tied up for wearing solo, but it's plenty long for booty coverage over leggings.
This is such a fun top! Love the ruching overall, the ruffle on the waist and sleeves and of course the square neck! I'll be wearing this Labor Day weekend with white shorts, but it will also be great with jeans for date night!
I'm a fan of chunky knits and I will sure get to wear them more here! This one is shorter, with a classic v-neck cut and 3 buttons. It looks really good on the model, buttoned up with no undershirt. It's a bit deep for me to wear like that, but super chic!
OH MY these leggings! They're shinier than I thought they'd be, but I love how they look! They have a thick mesh panel down the side of the legs, but it's not see through. They are obviously fitted, but the waist isn't as tight on me as the pant part, eliminating the pooch that sometimes comes when the waist band is so tight! I would totally wear these to the gym, then to lunch styled like this.
White T-shirts are something I tend to replace every season and I was happy to try this boxy tee. It's a bit shorter, but absolutely not cropped and has a pocket. I like that it has a bit of stretch to make it hang well.
Bootcut jeans anyone? These are coming back with a bang this fall! This pair literally fits like a glove. The short length is perfect on me to wear with sandals or heels. They are a mid rise, come in other washes and are a great price.
Speaking of trends, the puff sleeve is big (literally!) this year. This sweater actually has small shoulder pads in it! I think the fitted body compliments the larger arms and I love the fitted wrist area. I'll be wearing this as soon as the weather turns cool! It would be a great one for the office with dress pants.