It's been awhile since we got back from our Carnival Horizon cruise! This was our third cruise, our first with 3 kids and our favorite of them all! We went with an 8 day, eastern Caribbean cruise that took us to incredible ports. I'll share all about our stops in another post, but for now, I wanted to tell you all about the cruise itself!
We decided to do a winter trip, which was so great while our friends online were posting pictures of snow! (Check out my post on where to shop for a  tropical winter getaway!) We also brought my in-laws along with us, as they had never been on a cruise before and wanted to go. We had a room right next door to them and it was so fun having them come along!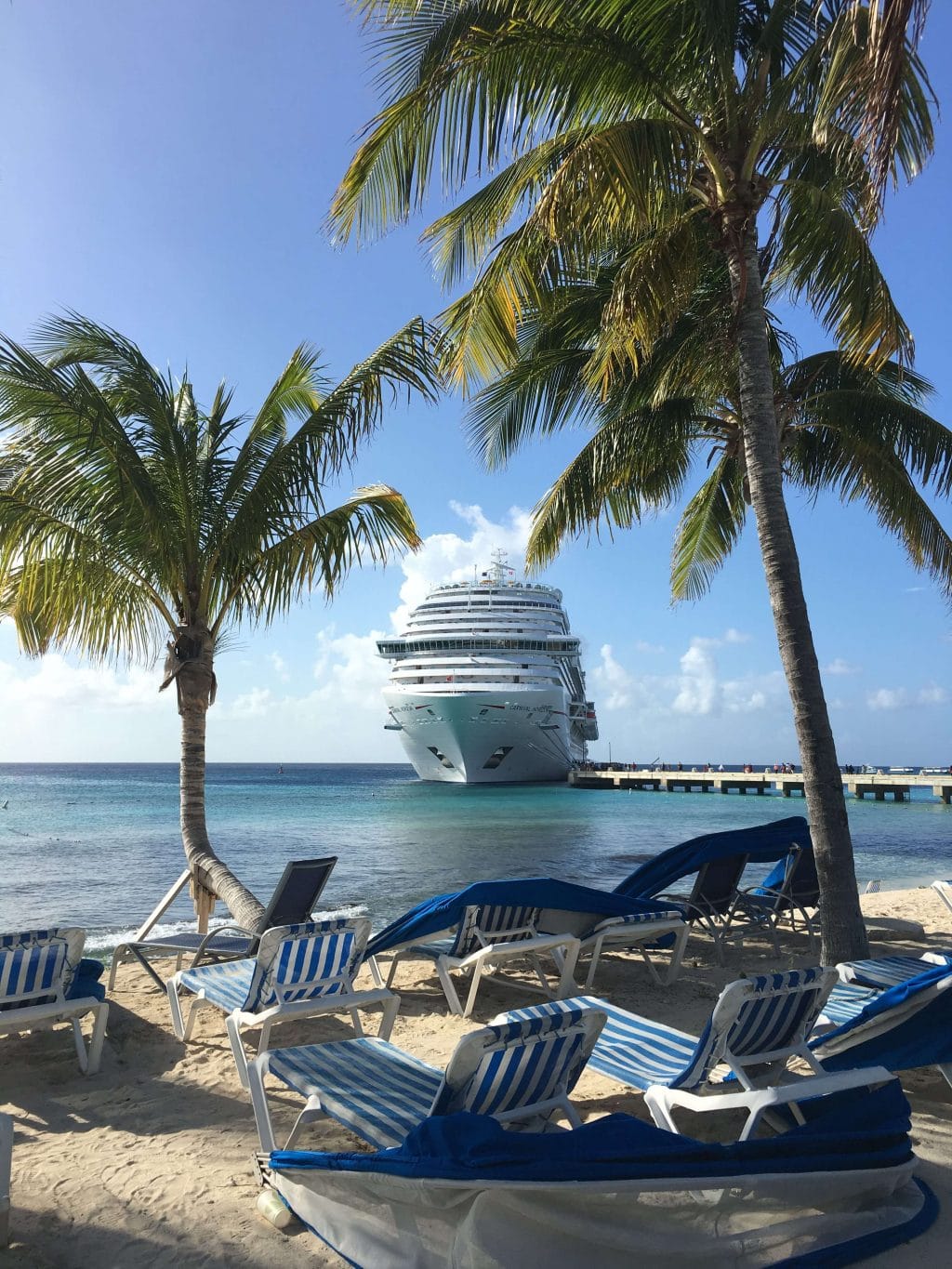 The Ship
Let's start with the ship. The Carnival Horizon is Carnival's newest ship and it's clear they thought of everything before sending this one out into the sea. On top of the expected pools, sun decks, big screens and dance floors, The Horizon packs in game rooms, 3D theaters, waterslides, ropes courses and bikes that dangle you out over the ocean. That Skyride was literally one of the most exhilarating things I've ever done! (Even though I had my eyes closed to start!) Our kids were entertained the entire time, right along with us!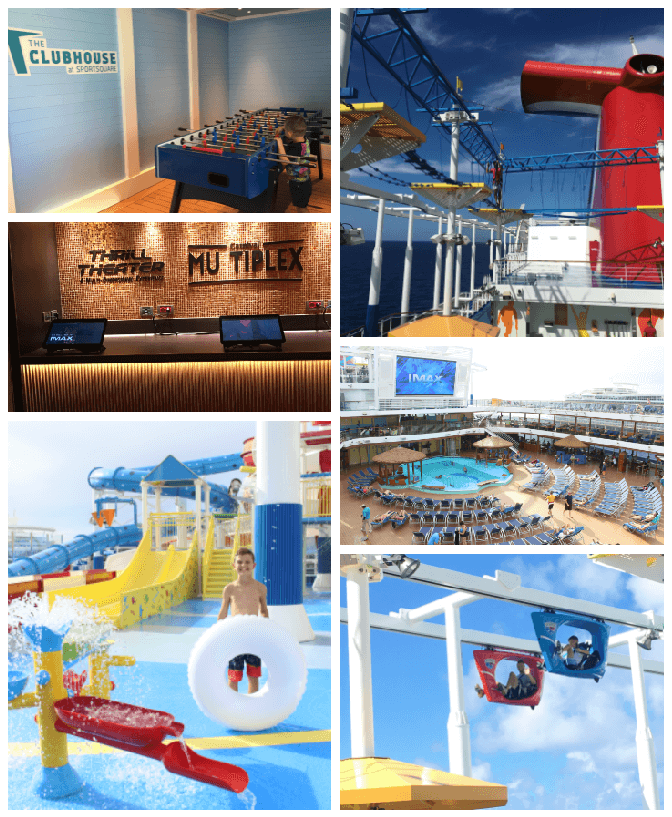 Camp Ocean is where all 3 of my kids went on this cruise. While they were all in different age groups, they were in the same general area and could see each other, if needed. The counselors told me a couple times that they took my 3 year old to see his big brothers because he was missing us. I was extremely comfortable leaving my boys in Camp Ocean and that's coming from a mom who doesn't leave her kids often! If you have a child in the younger group, you are given a phone that you keep for the entire trip. They call you if your child needs anything, which is a huge peace of mind. 
The Room
This is the thing I got asked about the most! We got a Family Harbor Suite on the Carnival Horizon and it was absolutely amazing. It's a night and day different than a regular room on a ship. Having a family of 5 makes it difficult to get 1 room, but not with this suite! We loved being able to be all together, yet have plenty of room. The living room area converts into a double bottom, single top bunk and has it's own tv. There was also a heavy curtain that partitioned their "room" off, keeping it dark and quiet for them to get more sleep and giving us our own space. There was a walk in closet that fit our entire family's clothes, plus a second bathroom with a toilet and bathtub. Having 2 bathrooms was so great and a bathtub is so nice with little kids! Another plus of the Family Harbor Suite, is that there is a dedicated lounge right down the hall. They served breakfast, light meals and snacks throughout the day, in addition to the constant ice cream and drinks! With tv's, computers, board and video games, the lounge was a fantastic addition to our cruise. I could sneak out and get a cup of coffee, or we could easily grab a quick bite without having to go to the dining area on the higher floor.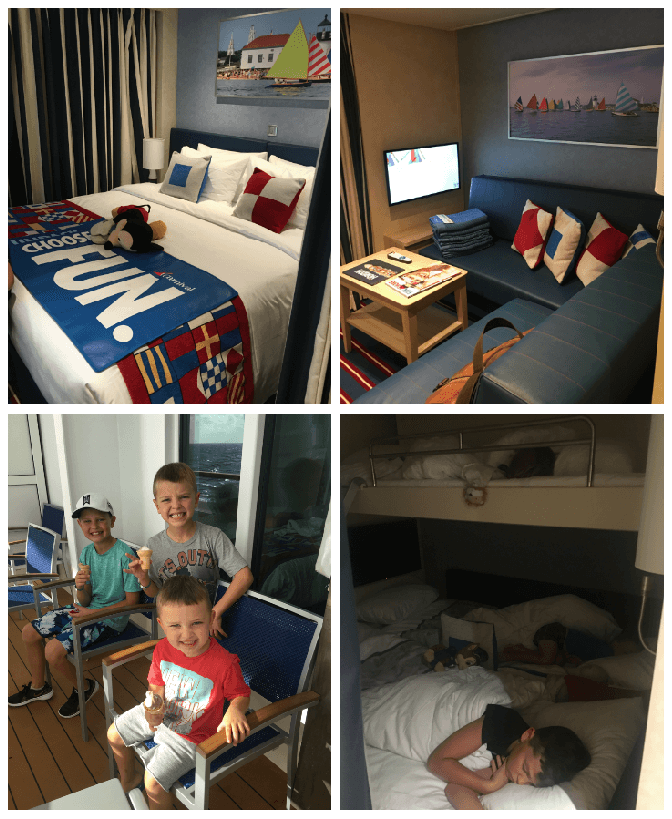 The Food
I don't have enough good to say about the food! We ate delicious meals every day. Guy's Burger Joint was a big hit with the whole family, right along with Blue Iguana Cantina and of course the 24 hour pizza! There's a great salad bar, Fresh Creations on the serenity deck that we went to for amazing and massive, build your own salads. The main dining room had lots of options and included some very fancy dishes on the formal nights. We all fell in love with our server, Jose, and the entire team. My boys wrote them all thank you notes at the end of the trip! Fahrenheit 555 Steakhouse was absolutely delicious and totally worth the additional charge. The lobster bisque was incredible! My in-laws are big Italian fans, so going to Cucina del Capitano was a great choice for them.
I'm someone who tries hard to watch what I eat, but I'm also a massive foodie. I love trying new things! I did eat quite a bit of food that I don't normally eat at home, but with so many healthy options, I came home with only 2 extra lbs on me. I did watch my portions, but didn't feel bad at all to indulge in Carnival's famous chocolate melting cake, or several chocolate martinis!
Drink Package 
This is something we did differently this cruise. We were really on the fence about the Cheers! program, but now I can say that I'm really glad we got it! Our concerns were that we would feel the need to drink more than we normally would to "make up" the cost and that we would actually spend more. Neither are true and it actually ended up being so nice to have. Having a couple cocktails by the pool, a cocktail before dinner and a couple glasses of wine at dinner were enough to make up the cost. Then, 3 or 4 nights, we went out dancing at The Havana Bar, or sitting at the Alchemy Bar and were able to drink all the cocktails without a care in the world. And you don't have to drive home! I ordered a bottle of water with every drink and that made certain that I was hydrated during the trip. Something that would not have been the case if we didn't do the package! The program also includes specialty coffee, Powerade and milkshakes in certain spots, which we absolutely took advantage of!
Once you're on the ship, these are the drinks you need to try:
Havana Bar: Papa Doble
Pig & Anchor: Smoked Boulevardier 
RedFrog Pub or RedFrog Rum Bar: Ting Mojito
Poolside: Pina Colada! (Bartenders will serve you while you're keeping an eye out on your little ones!)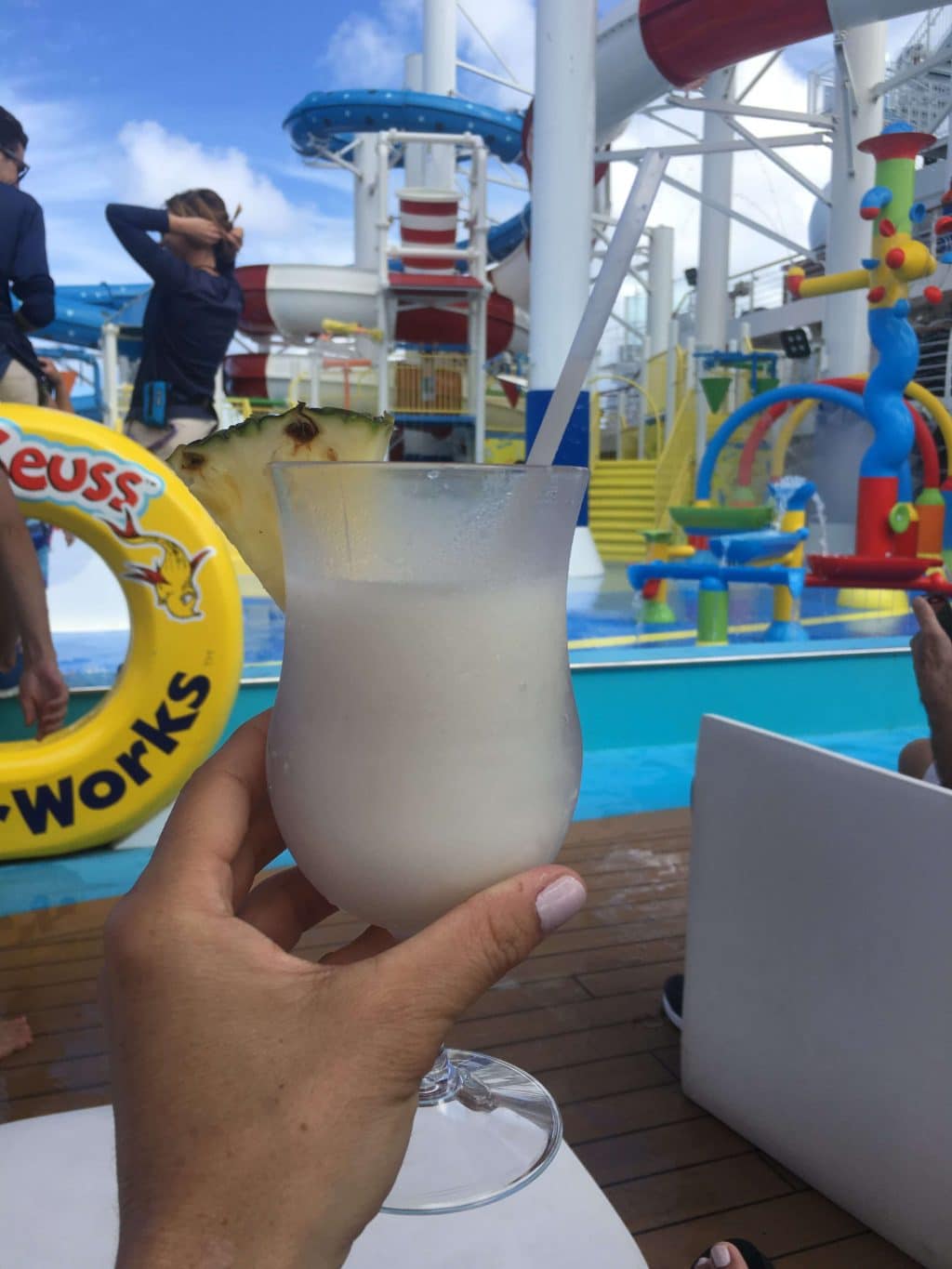 If you're looking to plan a cruise on the Carnival Horizon, here are 10 tips:
Get a balcony room
Go for the Family Harbor Suite
Say YES to the Cheers! drink package
Get the Camp Ocean kids schedule the first day and let your kids pick the activities they want to go. They'll feel in charge of their trip and you can plan fun things around their schedule.
Take a night out – use either the late night babysitting in Camp Ocean or bring grandparents! There is plenty to see and do on the ship after dark!
Try all the food and then take advantage of the great gym or outdoor walking path. 
Check out the Havana Bar. We didn't find this one until later in the trip, because I assumed it was just for people staying in the Havana rooms. But it's a great spot with live music and delish cocktails. 
Get the Carnival Hub app. Even if you don't get a WiFi package, the app still works on board and will give you hours for shows, restaurant openings and port stops. (The WiFi is actually amazing and worth getting if you need internet access, or just want to share your trip on social media!) 
Learn the elevators. You have to select your floor before you get inside. They are smart elevators and work together to group people for rides. Just don't get in and expect buttons, because you'll be riding forever!
Try something different! We went to 80's trivia night on a total whim and it ended up being one of our favorite things on the cruise. The director, Mike, does an amazing job keeping the the fun factor high on board! 
Cruising is literally the best mom vacation. No cooking, no cleaning, childcare and entertainment galore. You literally can't ask for more! I have a whole post about cruising with children and the things I shared there still apply now. We couldn't be happier with this trip and I can help with any questions you have! 
*We were hosted by Carnival for this trip. All opinions are my own.