Oh, the great "all clear" to workout after a baby! I enjoyed the months of not really worrying much about what I ate and not working out more than some power walking, but I'm really ready to get back into the swing of things. I started about 2 weeks ago, but I feel I'm finding my groove now. I try hard to stick to a routine over the holidays, because it's so good in so many ways. I make better food choices, it relieves stress, I fit into those holiday clothes and I have more energy. All of which are extremely helpful over the next month or so!


I've had a few of you ask for me to post my workout schedule. I'm no pro, but I'll share what's working for me right now.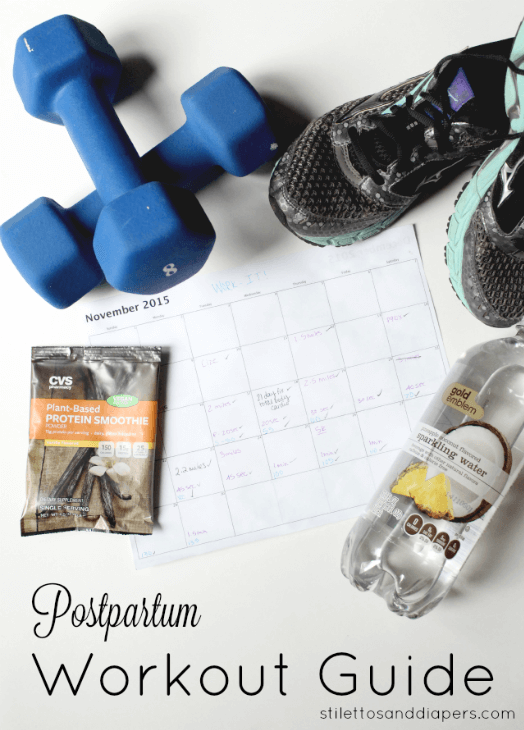 Running
2-3 times a week, 2-3 miles.
My running is done on the treadmill in my garage, usually with this little sidekick. He loves the hum of the treadmill!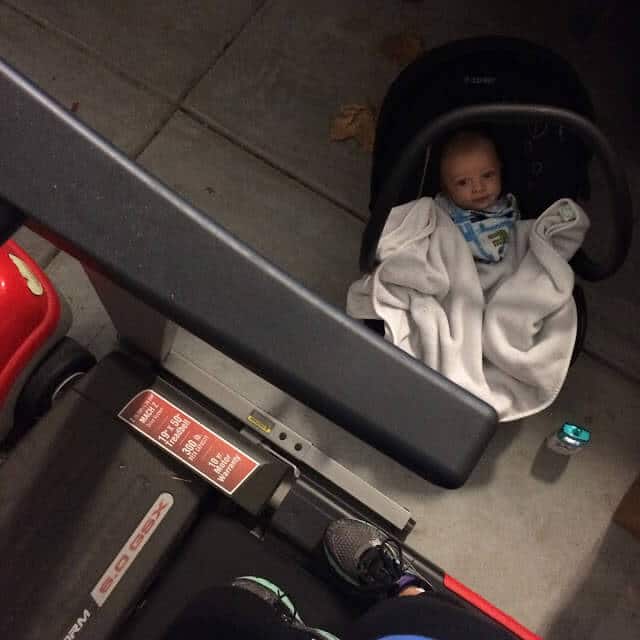 Squat and Plank Challenge
My friend challenged me to this 30 day program and I was happy to join her. My post baby core needs strengthening and these "do anywhere" exercises fit into my life great right now.


Cardio Workout
P90X, 30 day shred, cize…just something to mix it up and work other parts of my body. I like to jump in on The Hubs workouts because it's much more fun with someone else!


Eating
I've always been anti-deprival. I'm the type that will not last if I don't enjoy what I'm eating. Part of this, is to focus on making and eating healthy food that is delicious, but also eating what I want. I am about 80/20 with my diet and it works for me. I like drinking wine on the weekends and having a cheat meal or two. I'm a big snacker and don't take much time to actually sit and eat. (I mean, what mom does?!) I'm also breastfeeding, which means I need to make sure I eat enough calories and protein. I try to start off the day with a smoothie. It's easy, quick and packs some good protein. I use 1/2 cup orange juice, 1/2 cup water, CVS plant based vanilla protein powder, 1 banana, 1 cup ice. This makes enough for me and some extra to share with my 4 year old! I definitely prefer the plant based vs whey or soy protein powders.


Hydrating
Water, water, water. My #1 key to health/weight loss. Seriously. I can tell a huge difference in my body when I have had enough water. I try to drink double my weight in ounces every day. Which gets old and boring, I know. So, I often drink unsweetened seltzers or sparkling water in the afternoon for a little something different.


All of this has to easily fit into my life as a mom. I have to be working out at home and also making foods that my kids will eat, too. It's all about practicality! Keeping my workout schedule on my bathroom counter helps me keep track and I feel really accomplished checking off what I've done. If you're up for the challenge, here is a calendar with the squat and plank challenge for the next 30 days. Feel free to print it off and add whatever cardio you like to do 2-3 times a week. See if putting it on your counter helps you!



I'll be following up in the next few weeks to let you know how my progress is going and I hope some of you join in and share your results, too!


How did you get back in shape after baby?


Any tips for me?



Disclosure: I'm proud to partner with CVS/pharmacy for the #FindYourHealthy campaign. I am being sponsored by CVS/pharmacy for my posts and activities, but all opinions expressed are my own, and all product claims or program details shared should be verified at CVS.com or with the appropriate manufacturers.