We're headed to the beach next week and as soon as I unpack the suitcases from our NY trip, I will be packing again. We've been going to the beach every year for as long as I can remember and I've gotten an arsenal of things that I always bring. We do stay at a family house on 30-A, so there are a lot of things that we leave there and I don't have to worry about bringing. Which is really nice, because once you start traveling with kids…the beach trip takes on a whole new meaning!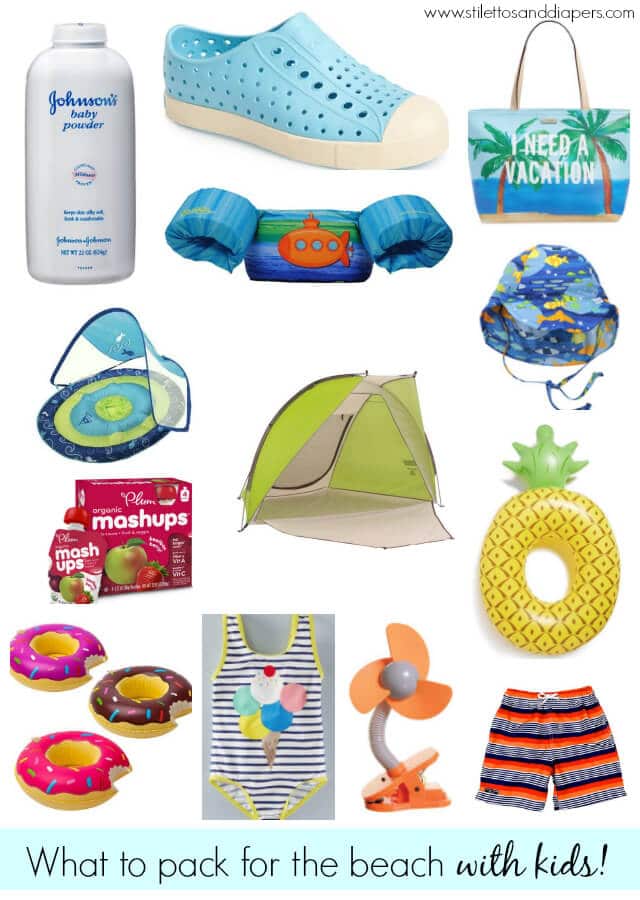 Baby Powder – Did you know, baby powder absorbs all the water on your little sand covered child, making it possible to easily brush it off. Snack time? (for the millionth time) Time to go to the pool? Baby powder them off!


Rubber Shoes – I love these little gems. My boys have these tropical print ones this year and they're perfect for playing outside!


I need a vacation bag: Because we all know that a vacation with kids should just be called a trip!


Puddle Jumper – All of my boys have used these in the pool, on the boat and in the ocean. They're coast guard approved and much safer that arm swimmies, in my opinion.


iPlay Hat – Linc has that exact one and it's so cute! I've had a few different ones of the same brand and love them. They're lightweight, cover really well and dry quickly.


SwimWays Baby Float – I am currently using this float with Lincoln in the pool. I scatter some water proof toys around the mesh part and he's happy swimming and playing!


Beach Tent – If you have a little sand eater that likes long naps on the beach while you sip pina coladas, you need a tent. That is if you don't have a mom's favorite thing in the world is snoozing on the beach while holding your baby.
Plum Mashups – Well, that and every other snack you can possibly carry to your beach spot! I love the Mashups with the fruit and veggies. All 3 of mine love them and they seem to be a favorite variety right now. The price is better on Amazon than in my local stores.


Pineapple Float – These floats that are out lately are all so much fun! I like the pineapple one since it has a hole in it so you the kids can dangle in the center.


Donut Drink Holders – Speaking of fun, these are floating cup holders! Which you will need to hold your drink while you catch flying beach balls, reapply sunscreen and go dive stick searching.
Ice Cream Swimsuit – Someone with a girl, you need this. I would be buying it if it came in my size!


Stroller Fan – I got this before our last trip and used it all the time. Strollers don't have much ventilation and it's so hot at the beach! You can clip this battery powered one to a stroller, your beach tent, or anywhere that you need to get some breeze on your baby. I like this one's foam blades that can't hurt little fingers.


Toobydoo Suit – My boys and The Hubs have this matching suit and it's a great suit. I'm very impressed with the quality of the trunk and the long sleeve rash guard it comes with.


My one big miss for the beach is sunscreen. A couple years ago, I got on a total kick with natural sunscreen. My kids burned several times after using the Honest kind, which was surprising to me. I love their face washes and diapers, but the sunscreen didn't cut it for me. After that, I made some of my own. It was a huge pain in the butt, expensive and messy. I feel like I shouldn't be slathering them in so many chemicals and I use the rash guards all the time to decrease it, but I'd love to know if you have a more "natural" version that works!


PS. If you want my tips on places to stay and what to do around Destin/30-A, check out my Southern City Travel Guide on the area!