Eeeek it's the haul before Spring break! Our school break is very early this year and about half of you answered my questionnaire on Instagram to say yours is in March as well. Since we're headed to the beach in less than 3 weeks, I wanted to share lots of finds with you for some fun in the sun and some coziness to get there.
Spring Break Amazon Haul
This sweatshirt dress is so fun! I imagine I will be traveling in this! It comes in 3 colors and is amazing quality. It has pockets, a decent amount of stretch to it and is a nice, thicker material.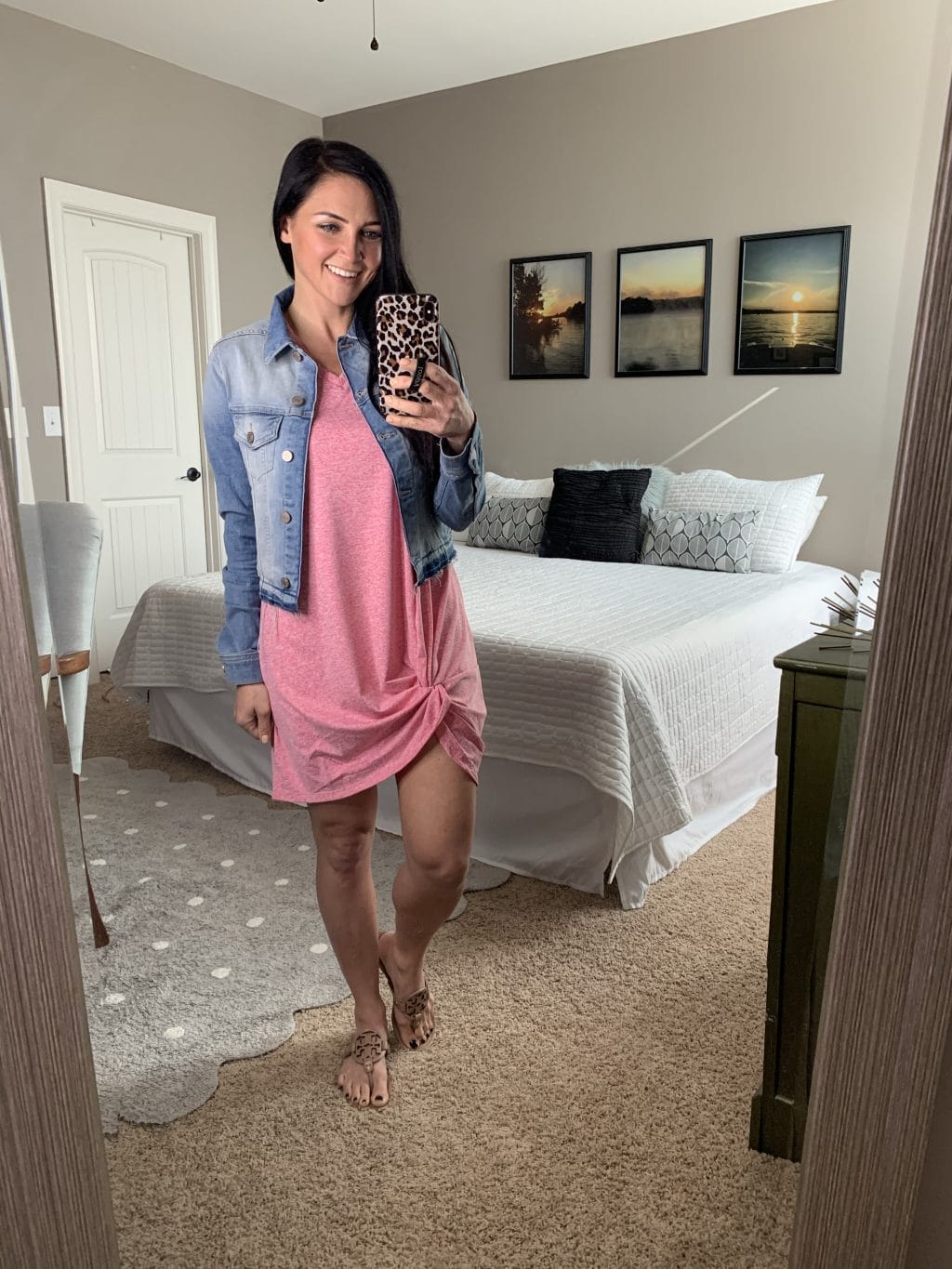 I have a couple t-shirt dresses that I often tie up in the front, so I was so excited to get one that is already ready to go. This one comes in other colors and is a great basic; with a twist. Literally. Hehe.
This t-shirt dress is a bit more basic, but has good shape. With scoop side hem, a more fitted silhouette and a v-neck, I think this one will be flattering on all body types. It is super affordable and comes in several colors.
Apparently, I was on a t-shirt dress kick this month! This one is my favorite, at under $20 and comes in 10 colors. It is longer in the back and has side slits. I wasn't sure about it when I first opened the package, but I actually love the boxier fit!
These come in several colors and are under $18! I was pleasantly surprised by the quality of these and think they're really cute.
These studded sandal dupes are so cute and great for spring break. They come in several colors and are under $25. I was also eyeing the transparent pair!
These are so fun and different! They also come in grey and are perfect for traveling. I said in my story that they're linen, but I was wrong. They do feel like it to me, though!
I'm a big fan of a bodysuit and I love this one. It comes in several colors and is great for summer to pair with flowy shorts. ( I ordered those, just waiting on them to come in!)

These are SO GOOD. I absolutely love these shorts and I think they're a must buy for spring/summer! They fit well, aren't quite as short as my other shorts and are an overall great fit for me.
I LOVE this sweatshirt and have gotten so many compliments on it already. There are several different sayings, including one that says "mama bear" that I like, and it's right around $20!

I'm loving all these Rolling Stone inspired tops lately! When I saw this tie dye one, I couldn't say no. It will be perfect for nights at the beach or cooler spring days.

I sized down 1 in these based on reviews and I wish I hadn't! I'm actually going to reorder them in a 26, because I think it they weren't so fitted on my thighs, I would really like them. They come in 5 different washes and for under $20, you can't go wrong.
This one is a great basic, perfect for layering and I love the thicker straps. I feel like I always struggle with bra straps peeking out of tank top straps, so I'm excited for this one. It comes in a huge selection of colors and is perfectly priced.

I've had this tee in my cart all winter and finally grabbed it. The holes and cutouts are strategically placed, so you can wear a regular bra and nothing is showing. It is a bit oversized and I really wish it came 1 size smaller, so I suggest sizing down.

My friend ordered this suit and I loved it so much on her that I had to grab it too! It has good support, a back tie and a neck tie, so it's great for providing a good fit. It comes in lots of solids and prints and is under $30! I think it's an amazing quality suit.

I'm not quite comfortable showing a bikini pic here, but if I'm not genuine with y'all, this whole deal doesn't work! So, here goes nothing 🙂 I adore the color of this suit. I got a medium because sometimes I need that in a bikini bottom to avoid muffin top! The bottoms fit perfectly and are a great mix between cheeky and full coverage. The top is slightly large, but not as supportive as I really need. I say if you're a C cup or smaller, or if you don't need tons of support, this one is a keeper. It does have padding in the top, comes in lots of other colors and is SO affordable.

I wanted to love this suit so badly! But I thought it was still worth sharing. I have a really short torso, so I feel like the space between the top of the bottom and the bra portion didn't hit me at the right spot. While it does have padding in the top, it's another one without much support. You need to be smaller than a C cup to wear this, IMO. But, it comes in lots of other colors and I've seen so many people wearing this suit that it looks so cute on. Worth trying it out if you like it!

While I fully recognize that I should have taken the time to steam this coverup, it's still stinking cute! I will 100% be wearing this to the beach! It's pretty sheer, so you won't be wearing it anywhere other than the beach, but it's perfect for that. I love all the eyelet through the middle and the lace trim on the sleeves.

These are a great Gucci dupe for super cheap. I wanted to grab some for the beach that I won't be too upset if they get messed up in the sand. These are perfect, come in several colors and are under $15.

I waited about a month for this one to come in and it says unavailable now! But I did find this one that looks identical and has the same dimensions. It's sturdy and a great piece to add to really any outfit.

How cute are these dainty rings? I just loved them and think they're great to stack and add some delicate accessorizing to your outfit.

I got a MacBook for Christmas and have just been putting it in my purse. I needed something to keep it safe and this pouch is amazing! It is lined in the softest fur and has an exterior pocket. That one has slots for pens or chargers and is big enough for a thin wallet and phone. It's around $15, comes in other really pretty patterns and has a 5% coupon as of the time of this post.

My bathroom was getting a little OOC, so I got this container to organize things. It is so stinking perfect! I put scrunchies and larger clips in the bottom, smaller clips and bobby pins in the top and headbands around the exterior. I even have some face creams and stuff on the top tray just to keep my counter a bit more tidy.
Hope you enjoyed this Spring Break Amazon Haul! What are you wanting to see next month?