There isn't much that would keep me away from a good theme party. I offered to host playgroup last week because I wanted to use this awesome printable party pack from RV Parties. It was so easy. All you do is print on card stock, cut and decorate! It took me all of 30 minutes the night before to fancy up my dining room.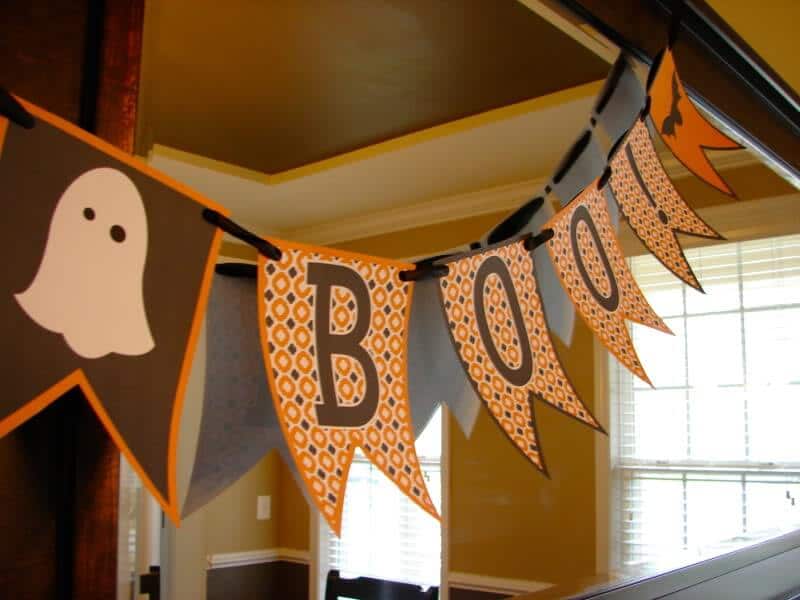 You still have time to buy a kit from RV Parties for Halloween! Just visit their Etsy store, buy your kit for $5 and you'll be decorating in no time. They also have tons of adorable party kits for Birthdays, showers and more! Can't wait to show you what they've done for little man's 1st Birthday!
Apple cinnamon muffins are so much tastier when they are wrapped up and decorated with ghost and black cats!
Remember at Easter time when I made Bunny Bait? Well, I mixed things up a bit for Halloween and used Reeses pieces and fall sprinkles. You better believe it was gone that day. I ate entirely too much.
Probably my favorite thing about Halloween? Mary Janes. Sticky, peanut buttery goodness.
But with all the fun for the kids, there had to be some for the Mommies! Hello, yurbuds.
I am in love with these earphones. First of all, they are smaller sizes for women. The regular white ones that came with my phone will not stay in my ear for the life of me. I was so happy the first time I ran with the yurbuds that they didn't fall out! They are sweat and water resistant and have a TwistLock technology that ensures they will not fall out.
Every Mom in my neighborhood is a gym rat. Races, mud runs, zumbathons, you name it, they've done it. I knew that they would all love the yurbuds in this kit along with a sweat band, towel and Luna bar!
The other awesome part? They come in fun colors! Pink, teal, yellow, green, purple and orange. I (obviously) snagged pink! You can find yurbuds exclusively at Target. Christmas list, anyone?
Thanks to yurbuds and MomSelect for provided me with the earbud kits for me and my neighborhood mommies. I was in no other way compensated.