This past weekend was my first back to work since Callan was born. 2 hours into my overnight shift, a 7 year old little lady protested bedtime by throwing poo on me.
I couldn't get out of my scrubs fast enough.
The only clothes choices you have lying around when you work in pediatrics are well, kid sized. I ended up squeezing into these little black shorts for the next 2 hours while my scrubs were in the wash.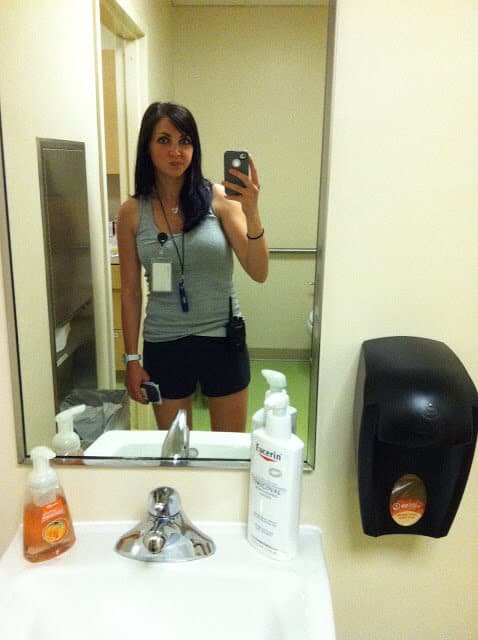 What does this have to do with running? Well, after those couple hours, I decided I loved the shorts and would totally run in them. Apparently, little girl Soffe shorts are just my style. Which made me think of the all the crap I got while my actual runner friends were here for our half marathon.
It started with the girls saying, "you run in Nike Frees?! Yeah, I do. Aren't they running shoes? Apparently not. Even the guy at the running store told me they really aren't half marathon kinda shoes. Whoops.
In our outfit planning chatter, I told the girls I was going to wear a pink tank I had. "Not a dry fit? How do you run in that?"
Then there was the, "I can't let you run 13.1 miles in those Kohl's ankles socks." One of which had a hole just big enough for my big toe to peek through.
And the thing that made me giggle the most, was when I set out my outfit the night before race day…with undies…and my sister laughed at me. Because thats what those tight built in things are for?
I will admit, I tried a dry fit shirt and felt about 700 degrees cooler while I ran. I also bought some $15 a pair socks, which was extremely painful, but I didn't get any blisters after 13.1. (I didn't have any during training either, so I'm not sure if that counts!) I guess all the real gear isn't just a crock. Its a discovery kinda like my shaving cream one.
But one thing's for sure. My momma told me not to be the pantiless girl and I think that rule applies to running, too. I'm not going to be the one that has some wardrobe malfunction and crosses the finish line with one butt cheek out.